World Autism Acceptance Week | Cath's Swansea City matchday experience
29th March 2022
Club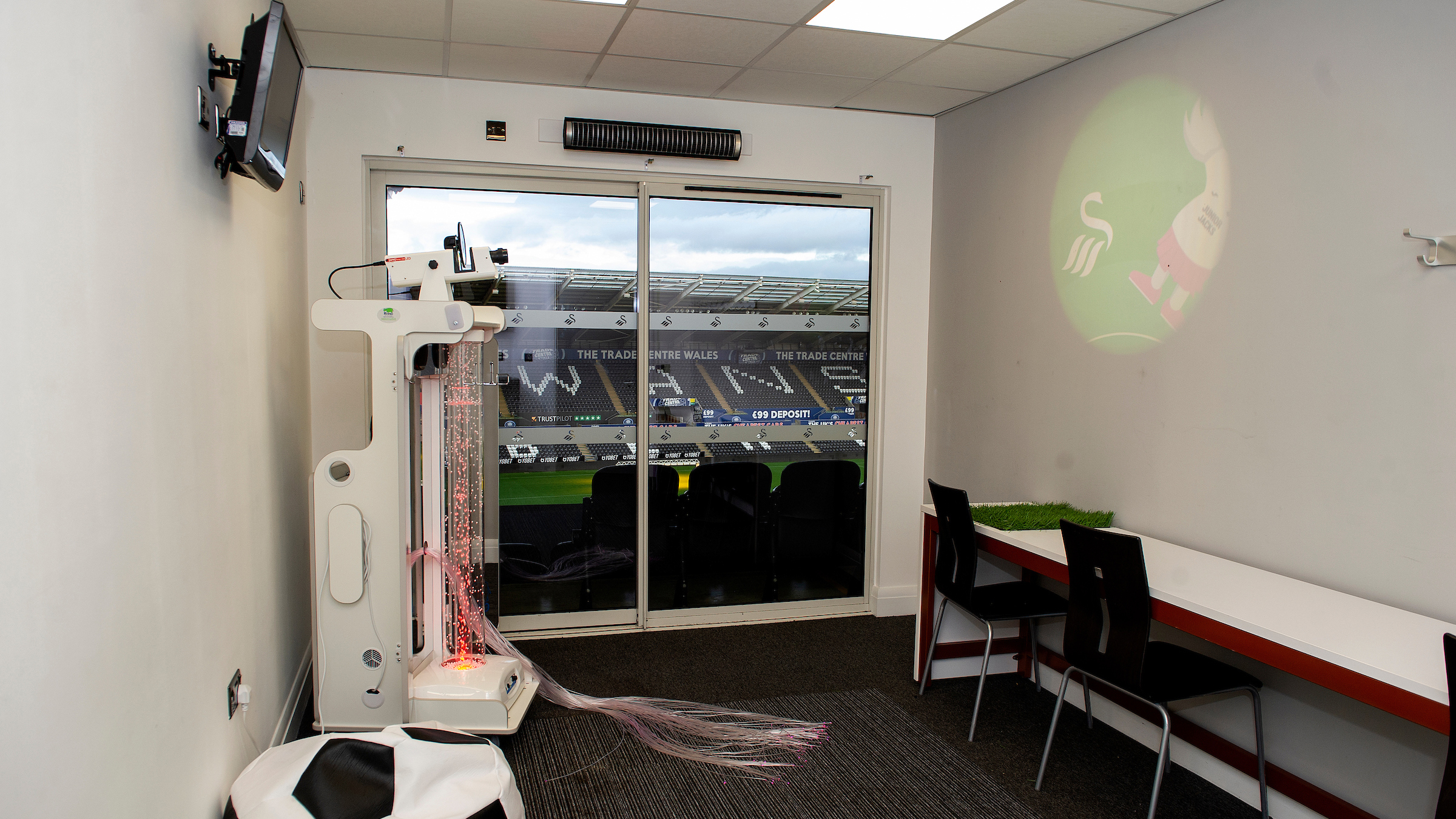 For Autism Acceptance Week, Swansea City Disabled Supporters' Association secretary Cath Dyer has been speaking to Level Playing Fields about her experiences of bringing her daughters – both of whom are autistic – to matches at the Swansea.com Stadium.
Cath's youngest daughter Nicola is 26, autistic and deaf, but she also has anxieties and agoraphobia which can make attending football matches a very difficult experience. Her oldest daughter Claire is 28 and has severe autism and she struggles in crowds due to the noise.
There was a time – prior to the introduction of the sensory room at the stadium – when Nicola in particular would spend most of the match in the concourses. But now, with the specialised room in place, the Dyers are able to cheer on the Swans as a family.
"[The sensory room] is absolutely fantastic," Cath told the Level Playing Field website.
"[Claire] spends her time calm and settled, watching the bubble tube and projector. She would wander outside in her headphones, but due to the noise would immediately return to the sensory room.
"When she used to attend matches, we would spend a lot of our time in the concourse where she used to run around."
Nicola prefers to sit in the stands, but due to her anxieties she likes to avoid crowds and go to her seat as soon as she arrives at the ground.
Cath praised the work of the stewards and the club's disability liaison officer, Catherine Thomas, for their understanding and acceptance when it comes to ensuring Nicola has everything in place to help her attend matches.
"The disability liaison officer and stewards just smile at us, and leave us be until she calms, which could be well into the second half," Cath added.
"The ticket office staff have also been brilliant in letting Nicola into the ground early."
Catherine's family are not the first to benefit from the sensory room. Earlier this month, during Level Playing Field's weeks of action, the club spoke to seven-year-old Max and his family about how the room – which was introduced in 2019 – has helped them attend games together.
The sensory room is available to anyone who may be unable to attend a live match without it. This season the space has been utilised by many supporters with autism, as well as those living with dementia.
To enquire about availability of the space, please contact the club by emailing accessibility@swanseacity.com.