If you've successfully linked your season ticket, you'll be able to renew your ticket online easily. Alternatively, you can renew over the phone or in-person by coming into the ticket office.
Renew your season ticket online
Supporters who have successfully linked their season ticket to their online Swans Club Account can now renew their ticket by completing the below steps.
Details on how to link your Swans Club Account to your season ticket can be found here.
1. If you are reading this on a desktop or laptop: log in to your Swans Club Account by clicking on the icon in the top right-hand corner and then follow the remaining steps
If you are reading this on a mobile: click the burger menu at the top left of your screen, then 'login' or 'account' if you are already logged in. If you are on the app please click here to go to the website and follow the instructions.
2. When logged in you'll be taken to your profile page. You may be redirected to confirm your preferences, just click 'confirm' at the bottom of the page.
3. Click on 'Tickets' in your profile (located between the option for 'Loyalty' and 'FAQs') to be directed to the ticketing site. Please note, if this does not show in your profile, your tickets are not linked correctly and you need to visit the 'Link Account Number' page as shown below.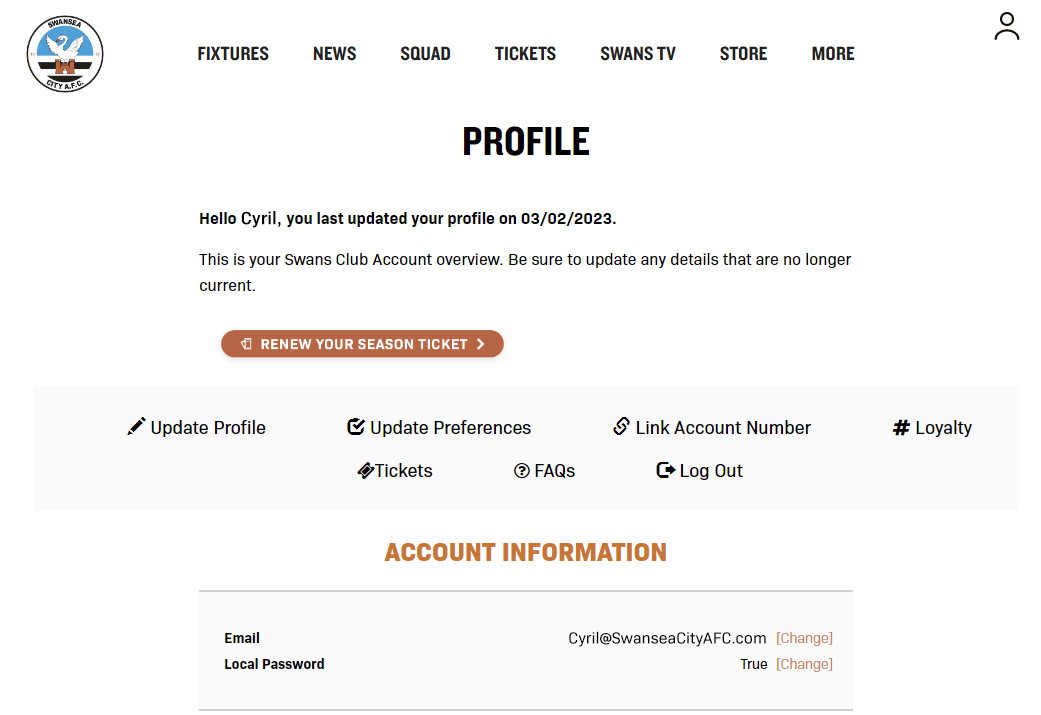 4. When on our ticketing site, click on the profile icon in the top right-hand corner. There should be a red dot which indicates there is a notification available.
5. Your season ticket should show as available for renewal. Click 'Renew Now'.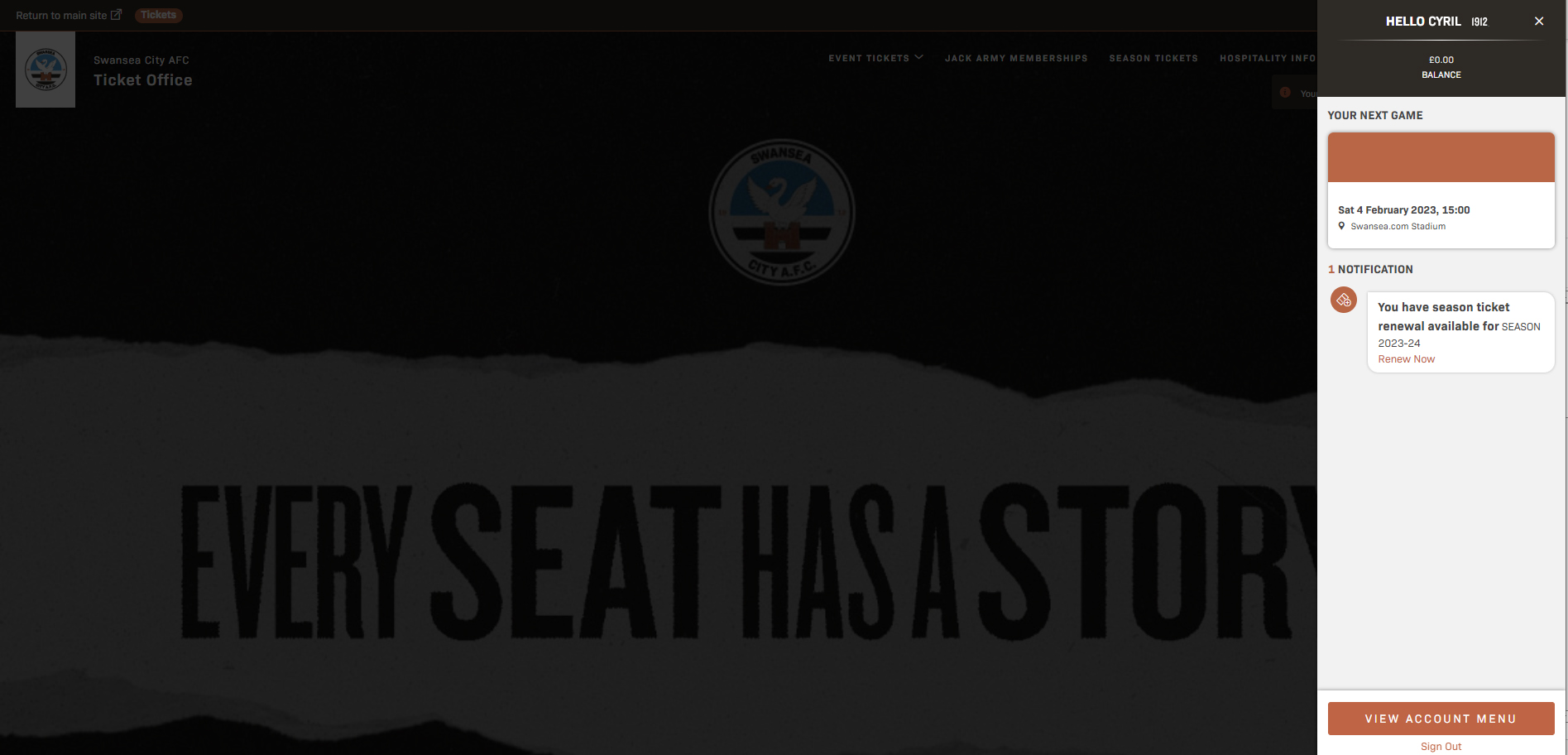 7. You will be directed to the next step, which shows all of the available season tickets in your network to renew. If the ticket(s) you need to renew are showing, add to basket and follow the steps on screen to complete the transaction.
8. If there is a season ticket missing from the list you are looking to renew, you will need to add them to your network, you can read more HERE. Please note if you have a child's ticket, you may need to contact the ticket office or complete a form to manage the permissions on their account. More information is available on this in the 'renewing a season ticket for another supporter' section.
Renew over the phone
Supporters are also welcome to call our ticket office to purchase, by calling 01792 616400 and selecting option 1.
The phone lines are open Monday to Friday between 9am and 5pm. Please note that during this period we may be experiencing a high amount of calls, so your patience is appreciated.
Renew in-person
The ticket office is open for in-person visits on Thursdays and Friday, click HERE to see the ticket office opening times.
Purchasing a season ticket for more than one person
Details on how to link your Swans Club Account to your season ticket can be found here.
The club is aware that supporters who are renewing more than one season ticket online (be that adult or concessions) in one transaction may have experienced some difficulties.
Supporters who are having difficulties managing tickets for other season ticket holders can now complete the below form. The form will require some of the lead contact's information, in addition to the details of the account they are requesting to manage. 
The ticket office team can also process requests to allow supporters to renew online in future, on behalf of those in their network. Please note the team may contact you to discuss your request.
When your request has been processed, you will be informed of the changes made.
Queries
If you require support, please email ticketing@swanseacity.com in the first instance. Alternatively, call the ticket office on the details provided above.
Thank you for your continued support.
Diolch yn fawr.