ACCESSIBILITY
Swansea City AFC is committed to delivering its services in a way that respects the dignity and independence of disabled individuals.  Therefore, we strive to ensure that disabled supporters have the same opportunity to access our services and thus enable them to benefit from the same services, in the same place and in similar way as other customers.
The club regularly reviews its services with a view to introduce improvements as quickly as is reasonably practical.  In addition to this, Swansea City AFC provides a wealth of information on its facilities and services in advance via the website to assist disabled supporters, or someone who cares for them, in the planning of their visit.
More information can be found by clicking HERE or emailing accessibility@swanseacity.com.
ANTI-MODERN SLAVERY COMMITMENT
Swansea City AFC is committed to ensuring that there is no modern slavery or human trafficking in its supply chains or in any part of the operations.  The club's modern slavery and Human Trafficking policy confirms our commitment to acting ethically in all of our business relationships and explains the necessary controls in place to ensure that slavery and human trafficking is not taking place anywhere within our organisation.
More information can be found by clicking HERE.
COMMUNITY ENGAGEMENT
Swansea City AFC is committed to playing a full and active role within the local community.  The club works closely with its designated charity – Swansea Foundation (Registered charity number 1126933) – who run a number of health, education, sports and youth engagement projects to improve the lifestyles of children, young adults and families across Wales.
The club also regularly supports a large number of good causes within the area via monthly signed merchandise donations and matchday collections, as well as personal appearances from players to charitable events and local community occasions.
CUSTOMER COMPLAINTS
Swansea City AFC is committed to delivering excellent customer service and maintaining a continual awareness of supporter concerns. However, if a service or product has failed to meet the standards our customer expects, then they are entitled to make an official complaint.
Where possible, complaints should be submitted in writing so that all details of the complaint are captured in a clear and concise manner. We aim to acknowledge all complaints within 48 hours of receipt, although this can take longer during busy periods. For more information about how to complain and what to expect when you do, please refer to the club's Complaint Policy available HERE.
Any supporter that fails to receive a suitable response or satisfaction to their complaint within 6 weeks of the matter being raised is entitled to refer the matter to The Independent Football Ombudsman (IFO). Complaints to the IFO should be made in writing by post to:
Independent Football Ombudsman
Premier House
1-5 Argyle Way
Stevenage
Hertfordshire
SG1 2AD
Tel: 0330 165 4223
Email: contact@theifo.co.uk
Further information on the IFO can be found on their website at www.theifo.co.uk.
 STANDARDS OF BEHAVIOUR AND SERVICE
Swansea City AFC expects the highest standard of behaviour from its employees. Employees are bound by their contract to adhere to various policies while performing their duties to ensure professionalism within the workplace.
The club also adopts a zero-tolerance approach to its employees being verbally abused or threatened and as such, a high standard of behaviour from customer is expected when dealing with employees, fellow supports and/or the relevant authorities. This applies to attending and/or travelling to or from matchdays both home and away, as well as non-matchdays.
The club reserves the right to ban supporters from membership and/or ticket purchasing privileges where their behaviour has fallen below the required standards. Full detail on the process for club bans will be detailed in a separate policy which will be available on the club's website and available on request.
DATA PROTECTION
Swansea City AFC complies with the relevant data protection legislation. All personal data is stored securely for the shortest duration as possible and all personal data is disposed of in an appropriate and responsible manner.
For more information about how we collect, process and store personal data please refer to our privacy notice HERE.
SOCIAL MEDIA
Swansea City AFC applauds all means of communication with its supporters and recognises that social media such as Twitter, Facebook and Instagram allow the Club to participate in interactive discussions and share information on a global scale about the Club and its Players.
However, the Club is also aware that the use of social media sites can allow for unwarranted criticism and in some cases hate crime. The Club is also aware that behaviour of this nature is, at times, directed at individual supporters or minority people groups. 
Swansea City AFC will #TakeAStand and will not tolerate any hate crime or discriminatory behaviour via any of its social channels. For full policy click HERE.
ENVIRONMENTAL EFFORTS
Swansea City AFC is continually making progress to operate as a more environmentally friendly organisation. It is committed to ensuring it adopts the appropriate policies to introduce and deliver a stander of environmental responsibility which will satisfy the expectations of our stakeholders and demonstrates a respect for our physical community.
EQUAL OPPORTUNITIES
Swansea City AFC (the Club) is committed to promoting equality of opportunity to everyone who wishes to be involved in the Club. The Club is committed to avoiding and eliminating unfair discrimination of any kind and will, under no circumstances, condone unlawful discriminatory practices. The Club strives to ensure it provides an environment where everyone's rights, dignity and individual worth is respected.
All those involved within the Club can be assured of an environment in which their rights, dignity and individual worth is respected, and in particular that they are able to enjoy their engagement at the Club without the threat of intimidation, victimisation, harassment, bullying and abuse.
The Clubs Equality, Inclusion and Diversity Policy can be found here.
GROUND REGULATIONS
Swansea City AFC Ground Regulations are displayed around the stadium and on the club's website available to view by clicking HERE. Stewards are employed to enforce these Ground Regulations and thereby ensure the delivery of a safe and enjoyable matchday. By purchasing a ticket and gaining admission to the stadium, home and visiting supporters agree to abide by thee regulations.
TICKETING
The club seeks to make ticket purchases as simple as possible and therefore, offers the opportunity to purchase tickets via the internet, over the phone and in-person at the Ticket Office. Order places by phone or in person incur a £2.50 fee per ticket. There are no online booking fees, although there is a fee for ticket postage if required. International orders will have the option of postage at £5 per transaction. More information concerning on-sale fares, how to register to purchase and the terms and conditions of sale can be found by clicking HERE.
TICKET PRICING AND ALLOCATION
The club endeavours to ensure all Swans fixtures are accessible by offering a broad range of ticket prices both in terms of matchday tickets and season tickets. From the 2023-24 season home fixtures are split into three categories, with prices adjusted accordingly. This information can be found below.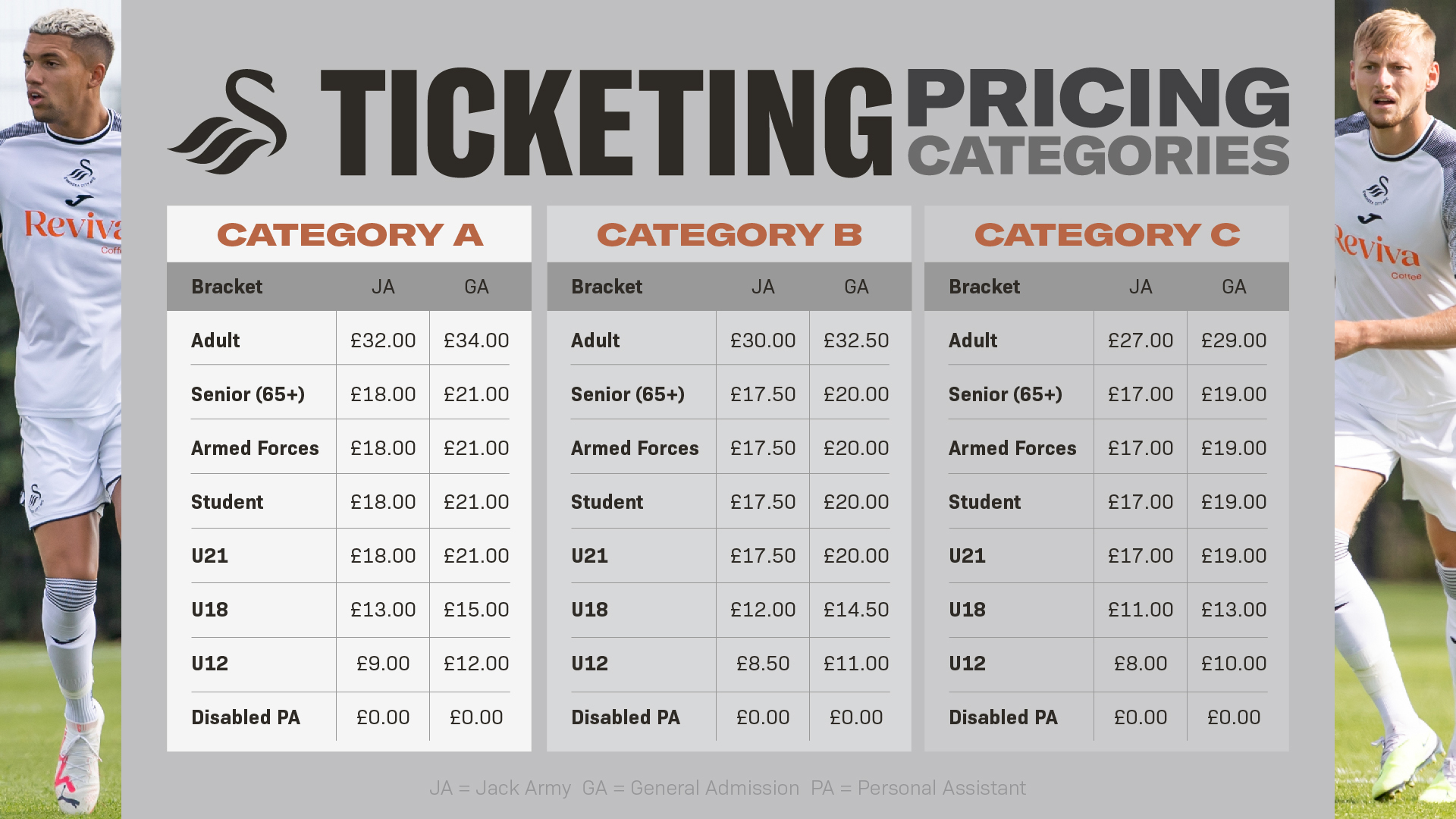 At least five per cent of tickets are made available to non-season ticket holder via the club's Jack Army Membership and then general sale where available after Jack Army priority.
TICKET CONCESSIONS
Concessionary prices are available to junior supporters (under-18) and Under 12, senior citizen (65 and over), and full-time students (16 and over with proof) is required as evidence of concessionary status. If purchasing online or over the phone, then supporters are encouraged to bring the proof with them to the match in the event of spot-checks.
 AWAY TICKETS
The allocation of ticket priority for away games will be announced when allocations from the opposing club are known. In most circumstances priority will be provided to season ticket holders via the Jack Army Membership scheme. Information on available tickets and the appropriate on-sale dates will be communicated via the official website and the relevant official news outlets.
The club reserves the right, where appropriate, to include extra criteria such as Jack Army points and/or alter the selling structure.
CUP COMPETITIONS TICKETS
Tickets for cup matches are priced dependent upon the opponent, the profile of the fixture and the competition. In most cases, ticket priority for home games will rest with season ticket holders. As with all other ticketing information, supporters will be informed via the official website and the relevant official news outlets.
TICKET RETURNS/REFUNDS
Refunds for any tickets purchased is at the sole discretion of the club and can only be considered if the whole ticket is returned to the club at least 48 hours before the advertised kick-off time and date.
In the event of a fixture being postponed, the ticket purchaser may use the ticket for the rearranged fixture if they wish. The ticket purchased is entitled to claim a refund, but only after the date of the rearranged game has been officially confirmed. No refunds will be permitted once the re-arranged game has kicked off or at an earlier deadline confirmed by the ticket office or via the club's official site.
No refund will be offered for season tickets except in extenuating circumstances which renders the individual unable to attend for the duration of the season. Requests for a refund should be submitted in writing at least 15 days prior to the start of the relevant season to ensure there is an opportunity for the season ticket to be resold. Additionally, evidence of the change in circumstances (for example, a change of employment) will be required. Requests received after the start of the relevant season, if approved will be issued on a pro-rata bas only which is calculated from the day your request is accepted and the relevant evidence submitted.
VISITING SUPPORTER TICKETS
The club abides by the English Football League and Football Association rules governing the allocation of tickets to visiting clubs. The club does not charge admission prices to supporters of visiting club which are higher than those charged to our own supports for comparable accommodation. In particular our concessionary rates offered to senior citizens and junior supporters apply to supporters of a visiting club.
MATCHDAY SAFETY
Swansea City AFC will ensure that Swansea.com Stadium adheres to all relevant safety regulations set out by The Sports Grounds Safety Authority (SGSA) and other statutory bodies. As such, the club will ensure that systems exist for the safe admission, accommodation and exit of spectators and that all premises and facilities at the Swansea.com Stadium are constructed, maintained and checked in such a way that the safety of everybody attending the stadium is assured. The clubs general statement of intent can be found HERE.
The club will operate a system whereby all system and equipment used as part of the safety function are subject to continuous inspection and tests. The frequency of inspections and test will not be less than that advised by equipment manufacturers or statutory requirements. Competent persons will be used to carry out such inspection or tests. The result of all inspections and tests will be recorded.
The result of all inspections, tests, on-going safety reporting and recording systems which make up the risks analysis, structural, mechanical and electrical surveys will form part of the annual policy review. The certificates will be available for inspection by the Football Licensing Authority and the SGSA.
The club will endeavour at all times to minimise the danger and effect of fire. This will be achieved by reviewing the fire risk assessments (FRA) regularly to identify all potential risks from fire, in order to remove or reduce the risk to an acceptable level. All change to the FRA will be notified to the Mid and West Wales Fire Service.
Furthermore, a No Smoking Policy will be enforced vigorously throughout the stadium. The club will maintain a policy of acting upon the advice of the Fire Authorities given from time to time and employing specific fire stewards, maintaining all fire safety system in accordance with the FRA, as well as keeping litter to a minimum.
The club will also ensure the provision of reasonable medical, ambulance and first aid cover at all events where SGSA guidance suggests one is needed, including a crowd doctor who will be trained and competent to deal with emergencies at the stadium. They will engage with ambulance services at a level appropriate to current and future guidance. This is currently arranged with the St. Johns[t1]  Ambulance Brigade.
The club will provide facilities for the use of First Aid personnel and engage an appropriate number of qualified officers for each event. This is currently arranged with the St. Johns[t2]  Ambulance Brigade.
MATCHDAY STEWARDING
In addition to this, the club will recruit, train and maintain a sufficient number of stewards to meet its obligations under the General Safety Certificate at all times. The main duties of the stewards include carrying out pre-event safety checks, control and/or direct the flow of people, to recognise crowd conditions for the prevention of overcrowding and respond to emergencies in accordance with the Stadium Emergency Procedures.
In additions to being trained in spectator safety, fire, first aid and health and safety, stewards are also trained to be extra vigilant to discriminatory offences such as racist language and/or offensive gestures. This contravenes Ground Regulations and may be a criminal offence. As such, spectators who contravene the Ground Regulations could face ejection from the stadium and subsequently be arrested by the Police.
MERCHANDISE
Swansea City AFC merchandise is available from:-
Club Shop: Swansea.com Stadium, Landore, Swansea, SA1 2FA
Online Superstore: www.store.swanseacity.com
The Club Shop opening hours are Thursday - Saturday 9.30am – 5:30pm, The Club Shop is also open every home matchday until kick-off. The Superstore re-opens after the final whistle and remains open for up to one hour after the match (unless changed due to crowd circumstances or later kick offs).
Please note: these opening hours may vary due to Covid-19 restrictions and we ask you to check the website for any updates of changes.
The club offers refunds and exchanges on merchandise. If you wish to exchange merchandise or require a refund and these items were purchased online, please return the merchandise to:
SWANSEA CITY AFC
UNIT 26
CWMDU INDUSTRIAL TATE
CAMARTHEN ROAD
SWANSEA
SA5 8JF
Please accompany with either your sales receipt, a copy of your sales receipt or a covering note quoting your order number and details of your requirement refund/change etc. We recommend sending by recorded delivery as we cannot accept responsibility for any items which are not returned to us Registered Post/Recorded Delivery.
For purchases made in person, please visit the Swansea.com Stadium with your sales receipt.
The club will strive to notify our customers of any changes in squad numbered and name changes through our website as so as soon as reasonably possible. As all squad names and numbers are subject to change, Swansea City cannot accept liability for any changes to player details including names and numbers resulting from transfers, requests to leave or a player deciding to change their name or number.
The club carries out its obligations under the Football League rules to prevent price fixing in relation to the sale of replica strips.
SAFEGUARDING
Safeguarding is a key priority for Swansea City AFC and we are committed to effectively promoting the safety of children and adults. We believe safeguarding is everyone's responsibility and as such, all new employees are briefed to ensure a foundational understanding of safeguarding together with those at a senior level within the organisation undertaking additional training.
For more information, please consult our safeguarding policy available HERE.
SUPPORTER CONSULTATION AND INFORMATION
Swansea City AFC is committed to consulting with supporters on a regular basis and meeting Regulation 128 which requires senior executives to partake in supporter meetings on at least two occasions during the football season. This takes part in the form of a 'Structured Dialogue' and is restricted in number. These forums are minuted and these minutes are published on the website for all supporters to access. Additionally, the Club holds various Fan Forums throughout the season which supporters are invited to attend as they provide an open forum for any supporter to address specific matters on a meeting agenda with the relevant club personnel.
In addition to this, the club consults the Supporters Trust on a regular basis via their elected Supporter Director and the club publicises its position on major policy issues via its official news channels where appropriate. The club gives the earliest possible notice of any changes to its policies and the reasons for the changes.
The club, in 2019-20, launched its Champion Jack consultation groups, which are smaller Fan Focus groups. The Champion Jacks are consulted with on a regular basis to assist the club in its decision-making process and to receive direct feedback from supporters and supporter groups. The current Champion Jack groups are matchday experience, ticketing, digital, community and hospitality. These Champion Jack groups may change throughout the course of the season and the club publicises on its website when supporters can request to be part of them. If you are interested in joining a Champion Jack group or wish to have more information please contact  the club on support@swanseacity.com.
 SUPPORTER LIAISON OFFICER
Swansea City AFC has an appointed Supporter Liaison Officer (SLO) who will be able to deal with enquiries relating to stadium and ticketing matters as well as support experience matters generally. The SLO is within the Supporter Services team which provide an opportunity to ensure all communications and feedback is directed to the most appropriate and relevant people. To contact the SLO, please e-mail support@swanseacity.com.
RESPONSIBLE GAMBLING PLEDGE
Swansea City AFC has a Responsible Gambling Pledge. It is committed to managing its relationships with gambling companies, while confirming restrictions on advertising betting on team and replica kit, club website and social media channels, marketing material, matchday and community activity. The club will also ensure players take part in a betting education programme and have access to support networks and treatments if required.
Further details of the club's pledge can be found HERE.