Academy starlets join Foundation for Premier League Inspires Stadium Day
15th December 2022
Foundation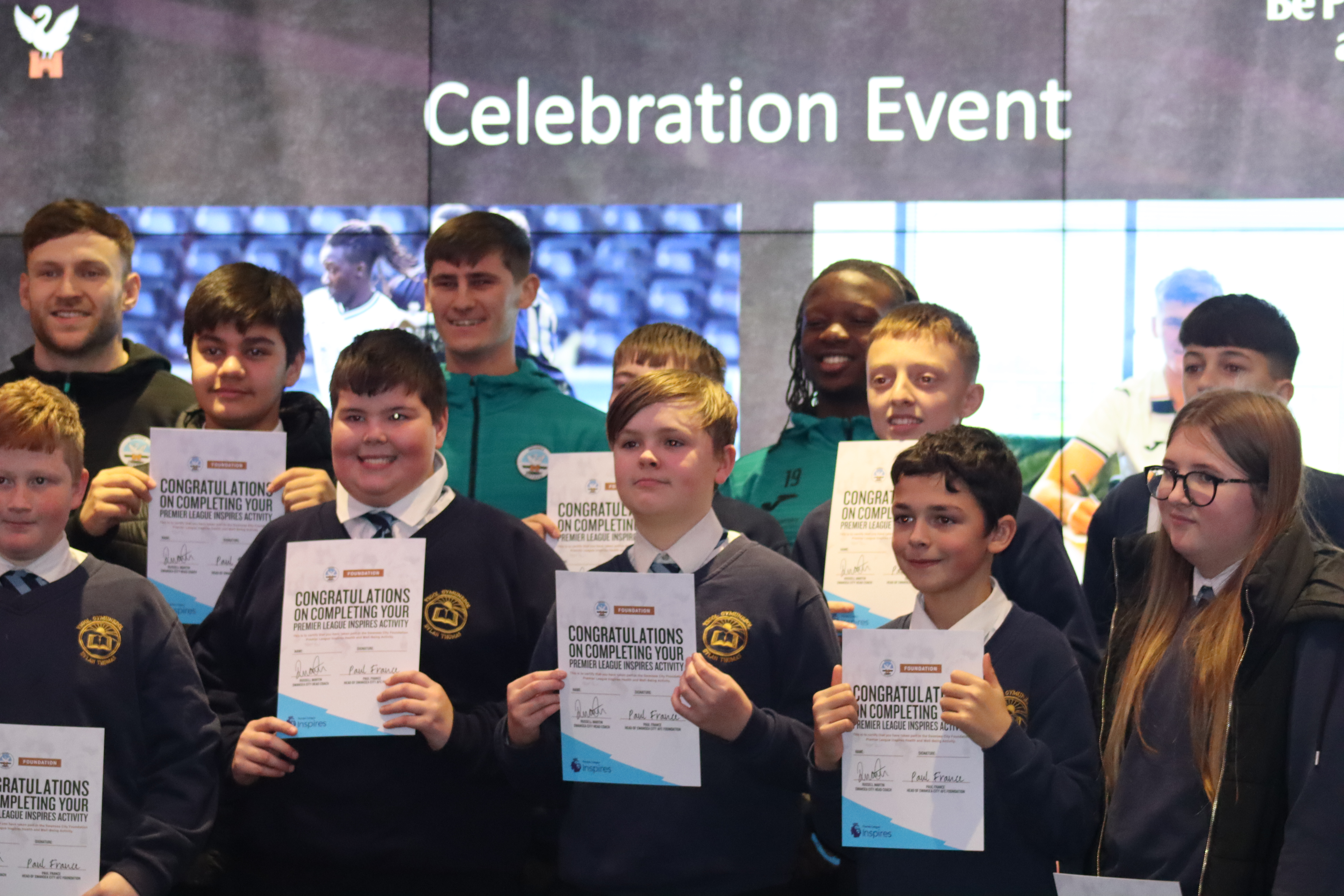 Swansea City AFC Foundation's Premier League Inspires participants were joined by academy defenders Ben Blythe and Tivonge Rushesha for a day at the Swansea.com Stadium.
Participants from Ysgol Gymraeg Bro Dur, Ysgol Bae Baglan, Ysgol Hendrefelin and Dylan Thomas Community School came to the stadium for a workshop led by Fearless, a branch of Crimestoppers who focus on county lines.
The group also completed a task on the subject of football kits and enjoyed a tour of the stadium.
Blythe and Rushesha joined the participants to give an insight into their lives as footballers, hand out certificates, sign autographs and pose for photographs.
Matthew Jenkins, Premier League Inspires co-ordinator for Swansea City AFC Foundation, said: "Our Premier League Inspires stadium days are an integral part of the course. They add further value to the programme by offering workshops outside of our core programme.
"The days allow us to present important topical workshops and offer the invaluable experience of spending the day in and around a football stadium, which broadens the horizons of our young people.
"Having the players attend created a real buzz around the day and offered the young people a unique experience which will further inspire them onto pursuing what they want to achieve in life."
Swansea City Under-21s' defender Ben Blythe said: "It was great to attend the stadium day with the Foundation and their Premier League Inspires participants.
"It's important for the participants to learn about important subjects and topics, but to also have fun. I think the tour and the whole day had a great atmosphere, and I really enjoyed sharing with them what it's like to be footballer.
"I hope the participants went away feeling inspired and that they've learnt something valuable."