Anthony Wright | Players have all bases covered
20th April 2020
Under-18s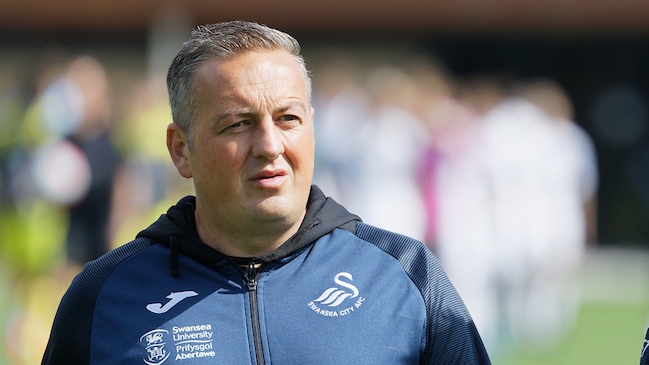 Swansea City Under-18s coach Anthony Wright says he and his staff have ensured that the players' training programmes have all bases covered as they continue to deal with the ongoing Coronavirus pandemic.
The football season was recently postponed indefinitely, meaning it will be a while before the under-18s resume their Premier League South campaign.
With their Landore training base closed in line with the latest guidance from the Government and healthcare authorities, the academy side are currently observing individual training plans from the safety of their own homes.
And Wright revealed that these programmes have all been specifically tailored to suit the players' preferences.
"We're trying to ensure the players have some structure so that it's working to a schedule like what they have when they're at Landore," he said.
"They've all got individual training programmes. We've covered all areas for the players and it's optional to them which one they use.
"If they're able to get out and isolate themselves on a training field, they have a programme for that.
"If they'd rather stay indoors, we have a programme catered for that. We've also got a programme that they can use out in their back gardens."
Wright also revealed that he and his coaching staff have also implemented a specific focus on the players' mental application.
"At times, we can get a little complacent when working from home and become a little lazy with what we do, so we're just trying to keep as much of a structure to their daily plan as we can," he added.
"This includes an hour where they have to do their college work, while we've set tactical-based tasks for them when they can reflect on themselves this season.
"It will keep their minds focused. 
"Everybody's in the same boat at the moment. The key message that we're trying to put over to everyone is to isolate themselves and make sure they stay as safe as possible.
"It's important we follow the government guidelines and, hopefully, we all stay fit and healthy until this virus passes."