Ben Hamer | Growing up in Germany, meeting Roger Freestone and becoming a goalkeeper by chance
27th October 2021
First team
He grew up in Germany idolising Oliver Kahn, met Roger Freestone whilst being a mascot for Bristol City against the Swans and became a goalkeeper by chance after putting his hand up in a training session as a child, now Ben Hamer is relishing life at Swansea City.
By listening to his strong English accent, it may be a surprise for many to discover that the experienced goalkeeper spent a large part of his childhood living in Germany after he moved with his family at the age of three.
"My dad was doing the same job in England but he got offered a job out in Munich so we ended up living out there until I was eight," he recalled.
"We came back and funnily enough I had to do English lessons because my English was so bad. German was my first language when I was growing up and was what I was learning from when I could start talking.
"They had to get me private English lessons for six months because my English was so bad.
"I moved back and integrated into English school and by the time I was there I was fine because I was doing all the English lessons beforehand.
"Throughout school I stopped talking German completely because I wasn't around German people.
"When we were in the house in Germany we'd just speak German to each other because my family had to improve their German too.
"I got to secondary school and did German there but I was a bit of a terror in school. I'd get an A* in it but I didn't really work at it because I knew I was good at it so could sort of cruise through it.
"I can have a basic conversation in German now whereas my parents said to me that when I was seven or eight I was completely fluent.
"They said I sounded like a Bavarian but now I struggle to have a proper conversation. I can get by with very simple German but anything above that I struggle with which is weird because it was my first language."
It was in Germany that Hamer first experienced life between the sticks, however it was a rather unconventional way of becoming a goalkeeper.
"They coach kids from a very young age in Germany," added Hamer. "When I was four we were getting proper coaching at that age.
"I was playing for a local team and it's hard to remember all of it but I actually remember my first session.
"I remember the coach said 'hands up who wants to go in goal' and everyone put their hands up.
"I saw everyone put their hands up so I put my hand up as well and I think I was one of the tallest so he chose me and that's how I ended up playing in goal."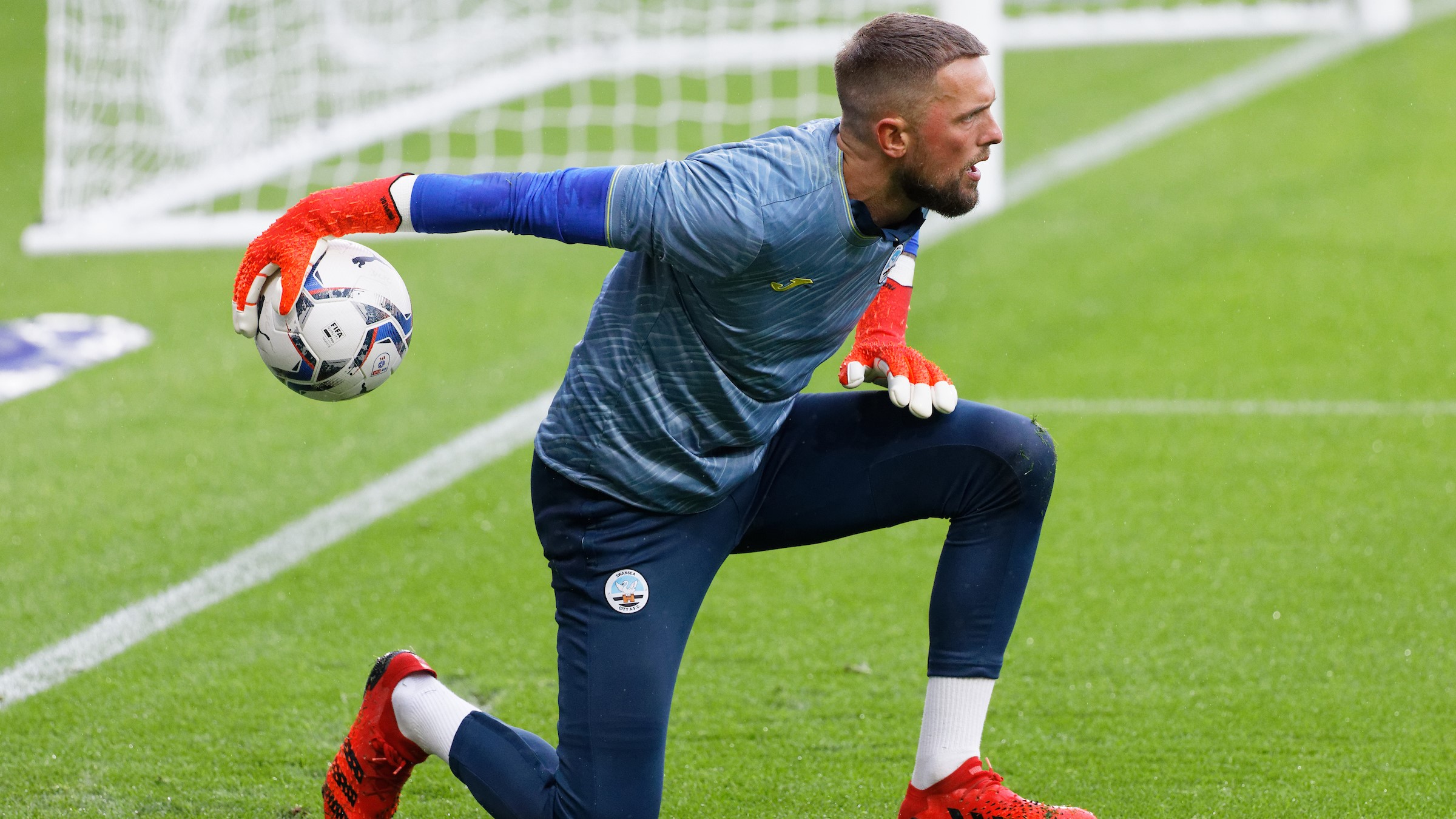 A regular to watch Bundesliga heavyweights Bayern Munich, Hamer was finding himself getting accustomed to watching one of Europe's greatest sides, with one particular player making a significant impact on him. The experience of watching German football on a regular basis fuelled Hamer's motivation to pursue a career as a professional footballer.
"I would have been four or five and my  Dad had a season ticket at Bayern Munich at the old Olympic Stadium," remembered Hamer.
"I remember him taking me to my first ever game there, we watched Bayern Munich against Hamburg and I can just remember walking into the ground and seeing all of the people around.
"I was fixated on the goalkeeper, Oliver Kahn, I remember watching him in the warm-up and throughout the game and I think that was the moment I realised that that was what I wanted to do.
"That was the inspiration for me, just purely from my old man living in Munich and taking me to a Bayern Munich match.
"The Germans are amazing supporters, there's flags everywhere and they sing all through the games, it makes a massive atmosphere.
"The old Olympic Stadium was like a big bowl, it was all one tier with a running track around it and held about 60,000."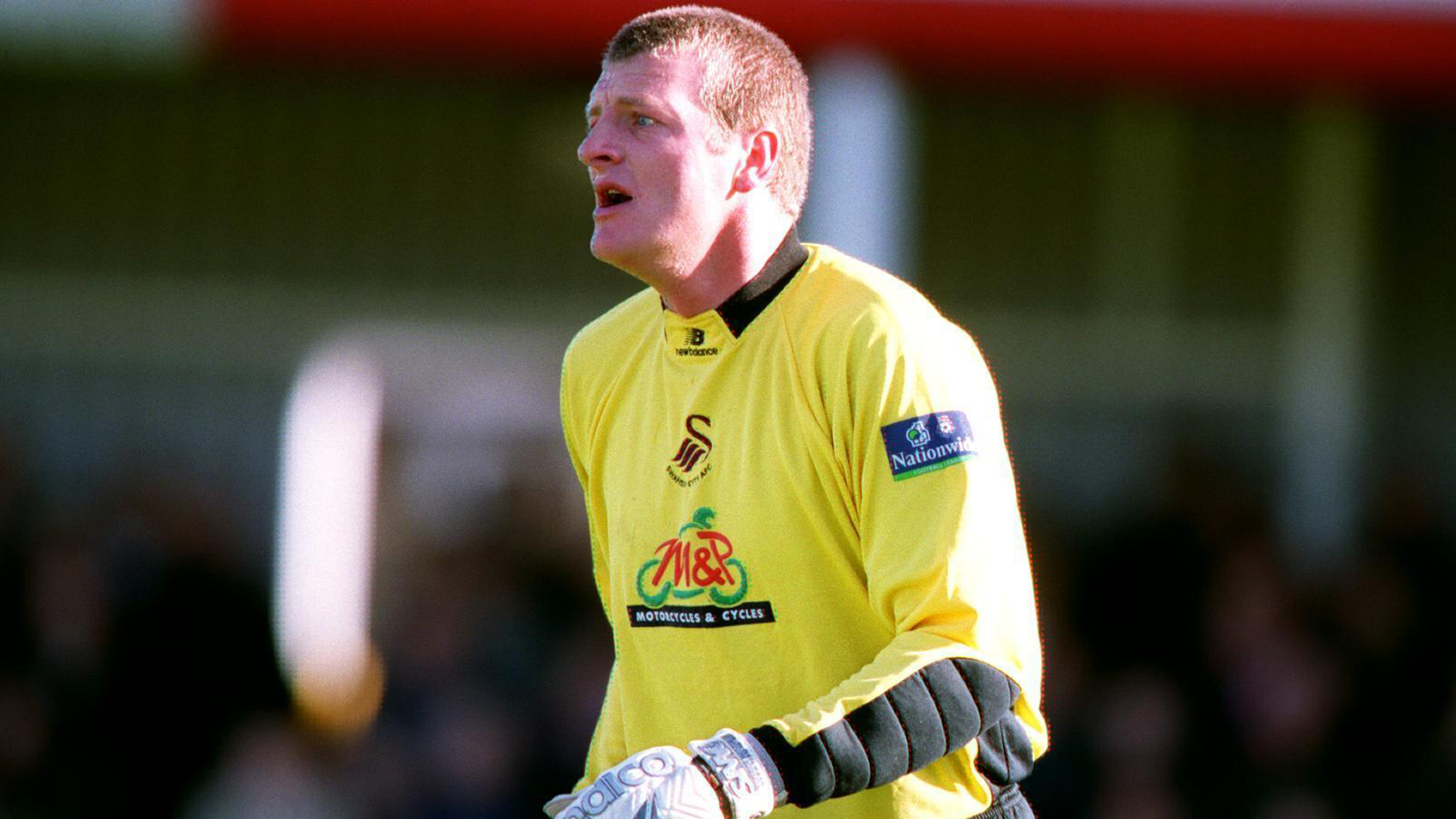 Turn the clock back to Boxing Day 1995 and Hamer, whilst a Bristol City mascot on a trip back to England, met a Swans legend not knowing that one day he would follow in the goalkeeper's footsteps.
"When we moved back, Bristol City was our closest club so when my dad was growing up he supported Bristol City," said Hamer.
"He used to go with his mates and he'd travel to away games too. We were living in Germany at the time and we came back for Christmas and my first Bristol City game was Bristol City v Swansea and my dad had sorted for me to be mascot.
"I remember the Swansea goalkeeper was called Roger Freestone, his name was quite unique so I remembered him through that and remember seeing him when we walked out to the pitch.
"That was my first Bristol City game at Ashton Gate, and my first English football experience."
Upon his return back to his homeland, Hamer continued to pursue a career as a goalkeeper but thought the dream was over at the age of 14 before a chance encounter saw his dream put back on track.
"I played for Bournemouth Centre of Excellence from when I was 12 and I got released when I was 14," he explained. "At the time I thought it was all over and I was heartbroken.
"Through the school you get put through to district and the district put you through to the county so I ended up playing in goal for the county at 15.
"One of the academy directors at Bournemouth was now a scout and he was now scouting for clubs around the south west.
"I was playing a game and saw him after the game and he said 'You played well today, what's your house number? I'll give your old man a call and sort something out.'
"I think I got a call on the Tuesday evening and he said he'd got me a trial at Reading and that was a long way from home, it was about two hours away from where we were living.
"My dad then had to start doing two-hour drives to Reading on a Tuesday night and my mum and dad were a massive support.
"They'd take me to training and all the games and it was a four-hour round trip just to play football.
"I went on trial with them and after four weeks I signed for them and the rest was history.
"I signed an apprenticeship with them when I was 15 or 16 and just went on from there and ended up being at Reading until I was 23."
Hamer's first big break in professional football came with a loan move to Crawley Town in 2006. He ended the season having only missed one league game and was named the club's player of the season.
"When I was 18, I wasn't anywhere near the first-team in Reading and the first thing I was saying was that I wanted to go out on loan," added Hamer.
"They must have thought that I was quite confident and cocky because I was knocking on the director of football's door and saying 'I want to go out on loan, where can I go?'
"I think they quite liked that about me because I just wanted to go and rough it anywhere and everywhere.
"Luckily for me, Crawley went into administration and had a points deduction and I had just turned professional.
"John Hollins was the manager and he got me down there a couple of days before the season started, had a look at me in training and pretty much said 'Yeah, you'll do.'
"I played my first game on the Saturday against Rushden and Diamonds and I was playing against some big strikers and I loved how much I was getting roughed up with the big boys.
"I played the whole season that year and it was the best thing I ever did."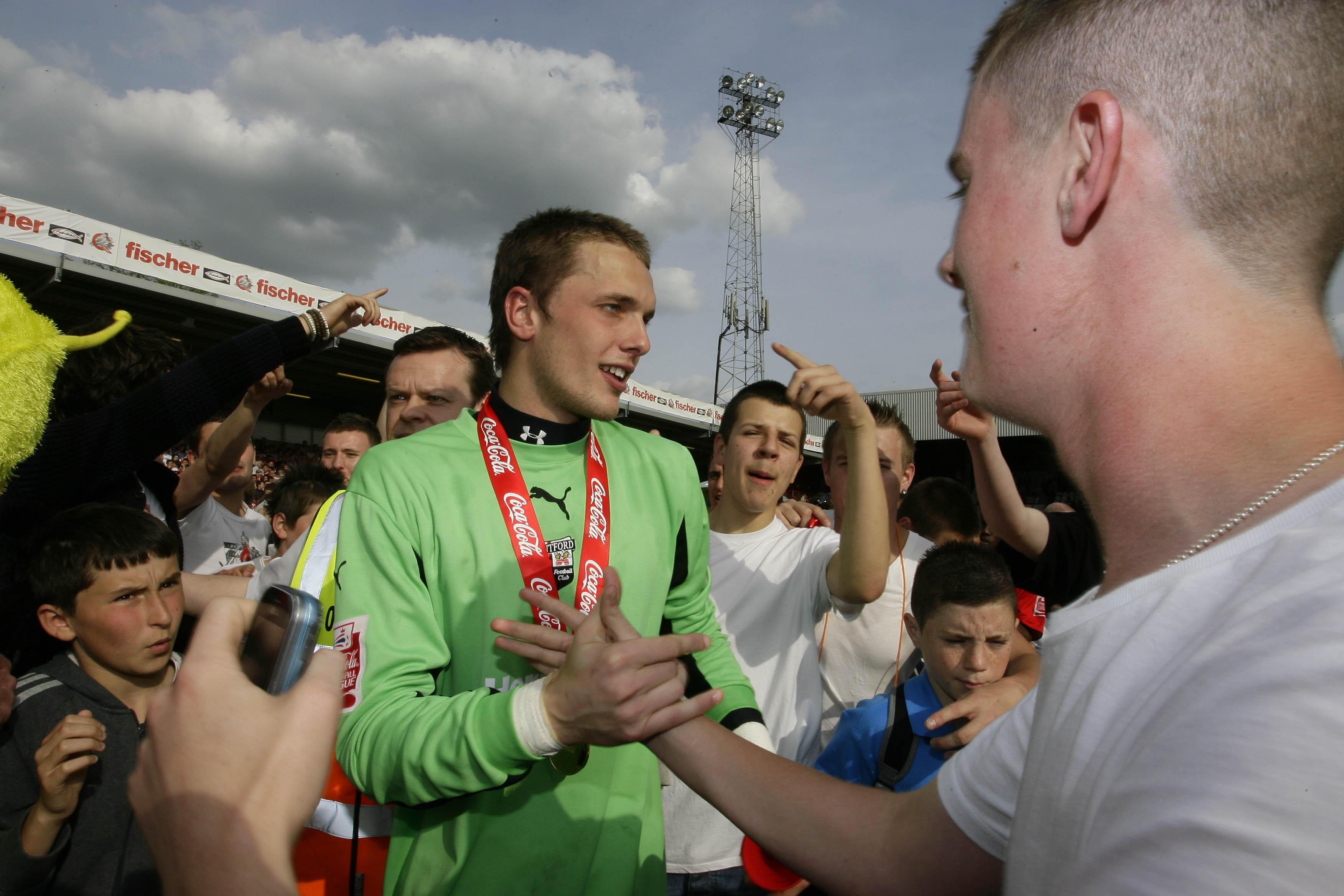 After the glittering season at the Broadfield Stadium, four loan spells at Brentford followed. The third spell proved particularly successful for Hamer, being named as first-choice goalkeeper as the team were crowned League Two champions, while he was also awarded the League Two Golden Glove after keeping 20 clean sheets throughout the season.
"At the time it was really big for me," he said. "I did two separate loan spells at the start because I joined them a day before the season started as their keeper got injured.
"It wasn't the best preparation but I went into it head first. I played eight or 10 games and the other keeper got fit again but then he got injured again in January so I went back there for a second spell and I played more games there in the second spell. I really loved that.
"Leading into the next season, I still wasn't really ready for the Championship with Reading.
"I'm still slim and lean now but back then there was nothing to me, I wasn't a physical specimen and was never going to be strong enough to hold my own.
"I went back to League Two for a third spell, and we won the league that year and I got the golden glove.
"I played pretty much every game, I think I only missed one through injury or suspension.
"It was big but at the time for me it was a stepping stone because I wanted to play in the Premier League.
"It was a gradual process of I'd played in Conference, played League Two and it would then be to go on and play in League One and then Championship and that's kind of how it went."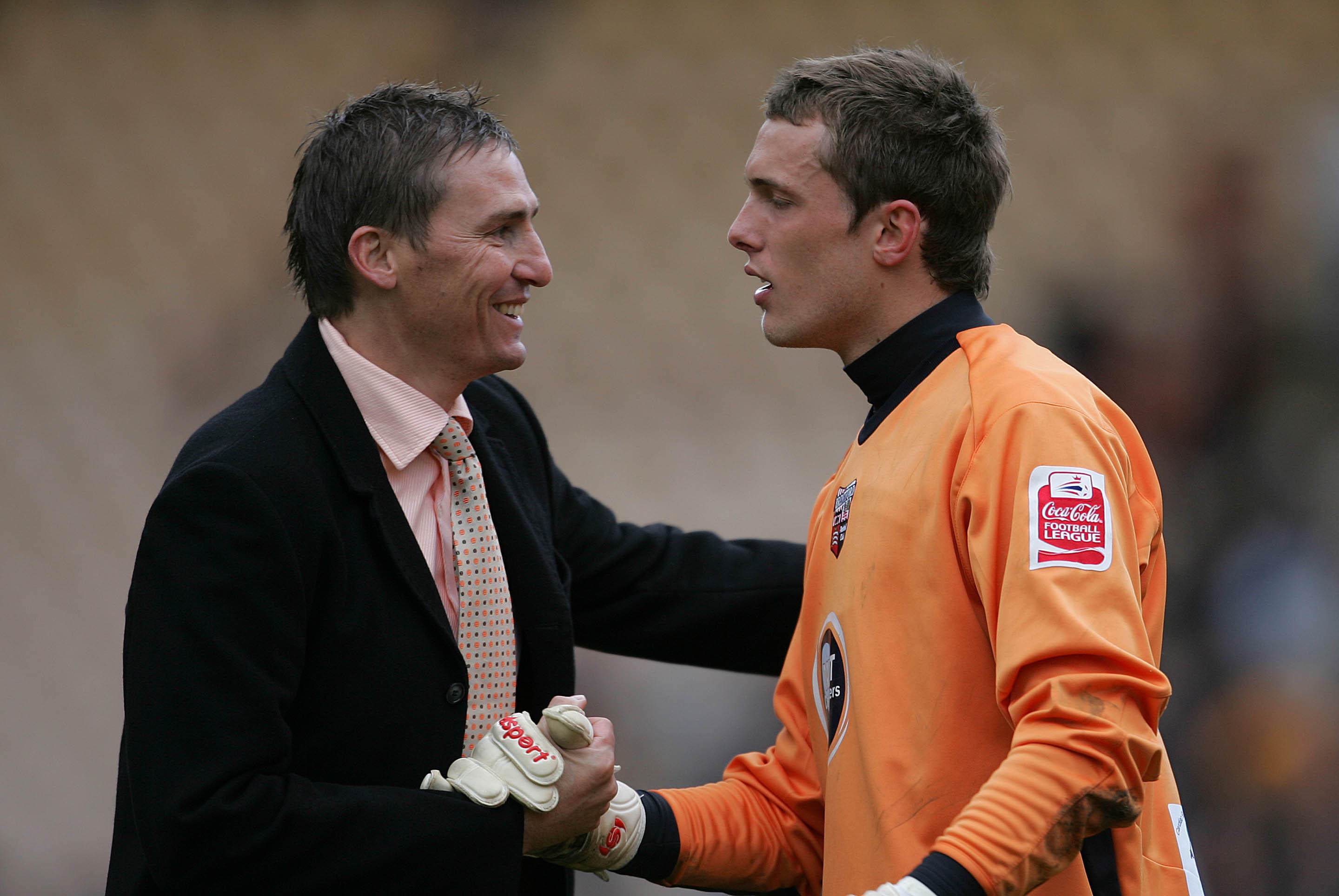 Hamer's stints at Griffin Park marked his first time working with Andy Scott, who was made Brentford's permanent manager following the departure of Terry Butcher. Now the Swans' head of recruitment, Scott would later play a part in the goalkeeper's move to SA1.
"I think it makes it easier if they know what someone's character is like and he worked with me for a good two or three years," added Hamer.
"He knew what I was like as a human. Sometimes you get players in and you don't really know what they are like as people.
"I think that's quite important in a football club, you want good people who are going to affect the place positively not negatively.
"I'm getting on a bit and I've been around a long time, last season I came here and knew I wasn't going to be playing as Freddie Woodman was doing so well but he knew I wouldn't come in and upset the apple cart.
"He knew I'd be positive around the place. He knew I could do a job but he was also quite big on the fact that he knew me as a person so that's why he thought it would be a good option for them to bring me here."
At the age of 23, Hamer felt he was ready for the next step in his career so made the switch from Reading to Charlton Athletic on a permanent deal. Another successful period of his career, Hamer played his part as the Addicks won promotion to the Championship as champions of League One.
"That age is like a crossroads, I'd racked up about 150-200 games by that age, and obviously I wanted to carry on playing – I didn't want to sit around at Reading doing nothing," he explained.
"Charlton came in and bought me and in that season they bought about 18 players, and we gelled straight away as they were all great lads.
"There were some great players there, I think they just picked the best player from each club in the league and brought them to Charlton. We went up with 101 points, it was amazing.
"I did two more years in the Championship with them and we missed out on the play-offs by about two points in the first year but the club started to decline with the ownership in the second season there.
"You could sense it was getting a bit toxic. Coming to the end of that third year, my contract was up and it was actually perfect timing for me to leave.
"The year after that they got relegated and I was gutted that they went down - they're a big club Charlton."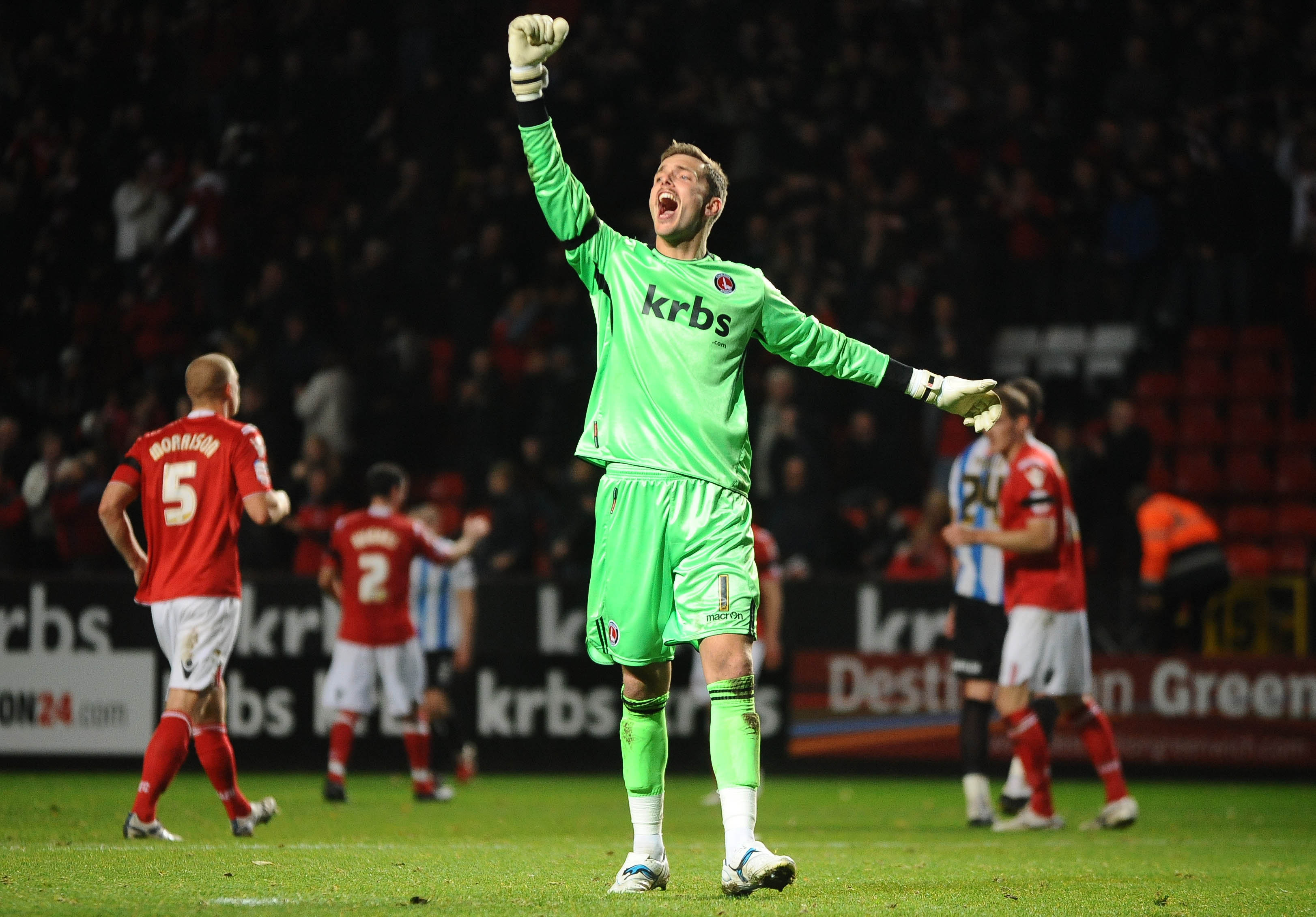 Throughout his career, Hamer has come up against some of the best strikers in the game, but there's one particular striker that he wasn't particularly fond of facing.
"Jon Parkin was playing for Huddersfield at the time and I don't know why but I was just scared of him, he was such a big lad, a beast of a man," he adds.
"I remember when I was playing for Charlton, I was 22 or 23 at the time, and I remember we were winning the game and I was time wasting.
"I used to do this thing where I'd keep the ball at my feet and wait for the striker to come up to me and I'd pick the ball up.
"I'd done it twice to him and I could see he was seething and on the third time I did it he came up to me and he threatened to put me in the stand.
"The next time I just picked the ball up and didn't make him come towards me!"
Hamer's success at Charlton secured him a move to the Premier League as Leicester City came calling, the top-flight move that Hamer had dreamt of all his life.
"As soon as the chance to go to Leicester came up I was buzzing, I snapped their hands off," recalled Hamer.
"They'd just got promoted to the Premier League and I'd happened to play well against them every time I'd played against them in the Championship, so I think that played a part in getting signed there.
"I think it was after two or three weeks and Kasper Schmeichel got a knock so I played against Stoke away and we won 1-0.
"I felt like I had a really good game for my Premier League debut and I was buzzing after it.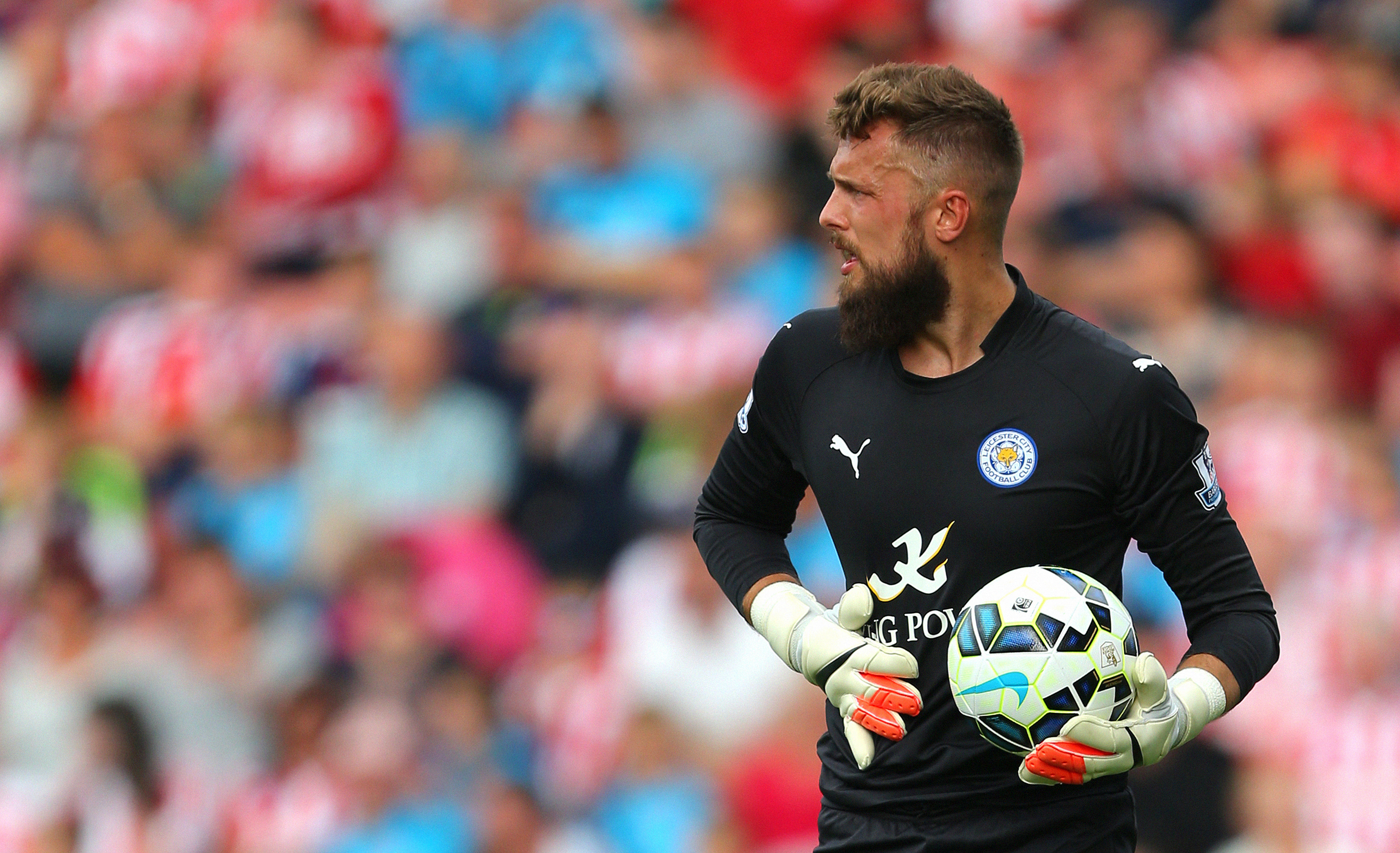 "We were playing Manchester United the following weekend and naturally I thought I'd done alright so just thought I'd play the next game but Kasper was then fit and played the next game.
"I just thought then that it was a sign of things to come then. Kasper is a top goalkeeper and it was always going to be tough for me to get in the team.
"At that age I was confident and I thought that if I played well I'd stay in the team but it wasn't the case at all.
"I had to stick with it at Leicester for a good few years and just worked hard and kept my head down.
"I'd gone from playing every week until I was 26 to now all of a sudden not playing every week so that was quite a tough transition for me.
"I did it for two or three years and in the last season at Leicester, Craig Shakespeare came in as manager and involved me a lot more, he was brilliant with me.
"He played me a few times after that and it ended up being a really good last season compared to the two middle ones."
Hamer experienced a turbulent start to the 2015-16 season, after his loan move from the Foxes to Nottingham Forest lasted 11 days due to a transfer embargo at the City Ground.
"It was a bit of a weird one really because at the time I had just finished my first season at Leicester and I'd played eight games in the first part of the season and was doing quite well," recalled Hamer.
"Leicester then signed another keeper in January and I kind of got pushed to the side and I wasn't really enjoying it because I wasn't involved.
"I wanted to be playing, I didn't want to be sitting around doing nothing and I had three years left at Leicester so I went to speak to the director of football and said 'If I'm not going to be used here I'd like to go out on loan.'
"We kind of came to an agreement and I spoke to Dougie Freedman at Forest in the summer and he wanted to take me on loan.
"I had a conversation with him, agreed with him and went down to Forest and signed a week before the season started.
"It took about six weeks to get the deal done which wasn't ideal and when I got there I did my first week of training and then got a call from the director of football saying I had to report back to Leicester.
"He said Forest were in an embargo so the FA wouldn't allow the loan to go through.
"I'd only been there a week so I went back to Leicester and had missed the first game of the season so I was back to square one.
"I could have gone to other clubs that summer but because I had already spoken to Dougie, I had already given him my word that I was going to sign for them."
Just over a week later, Hamer thought his season was moving in the right direction when the opportunity arose to join the club his dad had supported all his life on a season-long loan.
"Frankie Fielding got injured for Bristol City in the first week of the season and it came about that they needed a keeper," he remembered.
"My agent rang them up and asked them if they needed a keeper and then it was just a case of 'Right, let's do it.'
"I went there and I'd obviously supported them since I moved back to England so naturally I was happy and my dad was buzzing so it made perfect sense as I'd always wanted to play for them.
"I went there and for one reason or another the manager there didn't really take a shine to me.
"It happens sometimes in football, whether it was the way I was at the time, I don't think I gave him the best version of myself. I played a few games and could sense he wasn't really happy with me.
"Frankie got fit again and he put him back in goal for a couple of games and I had a conversation with Steve Cotterill and he said it wasn't really working out.
"I agreed it wasn't but I was a bit gutted because my dad was so excited to see me playing for them and I only ended up playing five games."
Hamer returned to his parent club in October 2015 as Claudio Ranieri's side enjoyed a spectacular season and defied the bookmaker odds of as much as 5000/1 to be crowned Premier League champions. Despite being present throughout the campaign, Hamer was third-choice keeper and was forced to watch on from the stands.
"I came back and was obviously was able to be a part of that amazing season and could see the big strides they were taking," he added.
"I was third choice, I wasn't involved but I was a part of it every week and it was an amazing season.
"It was 5000/1 and for them to go on and win it was unreal. I was really happy for the boys, they deserved it.
"I didn't play so I wasn't involved in all the celebrations. I was there in the stadium when they lifted the trophy but I just wasn't on the podium.
"I couldn't really grumble because I was supposed to be with another team for the whole season, I was just happy for the boys to be honest."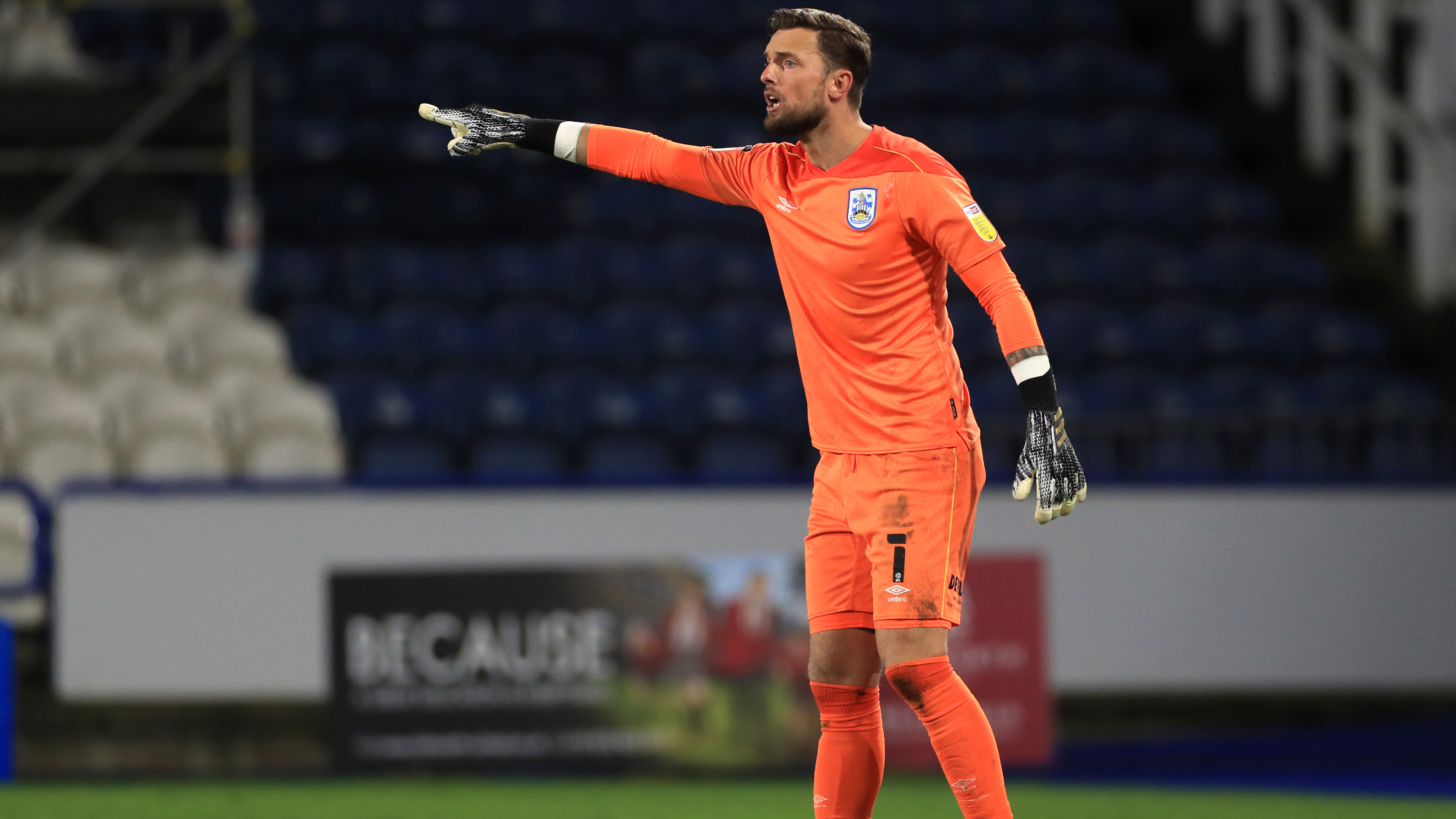 His ever-present ambition to fulfil his aspiration of becoming a Premier League number one saw Hamer sign a three-year deal with Huddersfield Town after his contract expired at the King Power Stadium.
"I was out of contract at Leicester and got offered a new contract there but I also got offered a contract at Huddersfield," he explained.
"I just knew that I was never going to play at Leicester because what I was up against was a world-class keeper.
"In my heart I knew he was better than me so even though I tried to train as hard as him he just had it.
"I thought that if I went to Huddersfield I'd have more chance of playing in the Premier League because it was always my dream to play in the Premier League.
"I loved it at Leicester even when I wasn't playing, it's an amazing football club, but it was a big decision and I knew that if I didn't go then I'd regret it because I actually had a chance of playing.
"I went and it didn't go well at all. I played the first few games and I think we got battered by Chelsea and Manchester City and then the third game I had a 50-50 with one of Cardiff's players and ended up getting injured.
"I was out for three or four weeks and couldn't get back in the team then.
"I started the season and then next thing I was out of the team until February and I think I only played one game against Arsenal at home.
"I played a few games at the end of the season too but by that point we'd been relegated and it was doom and gloom.
"I ended up going to Derby on loan for the season and returned to Huddersfield for half a season before the move to Swansea came about."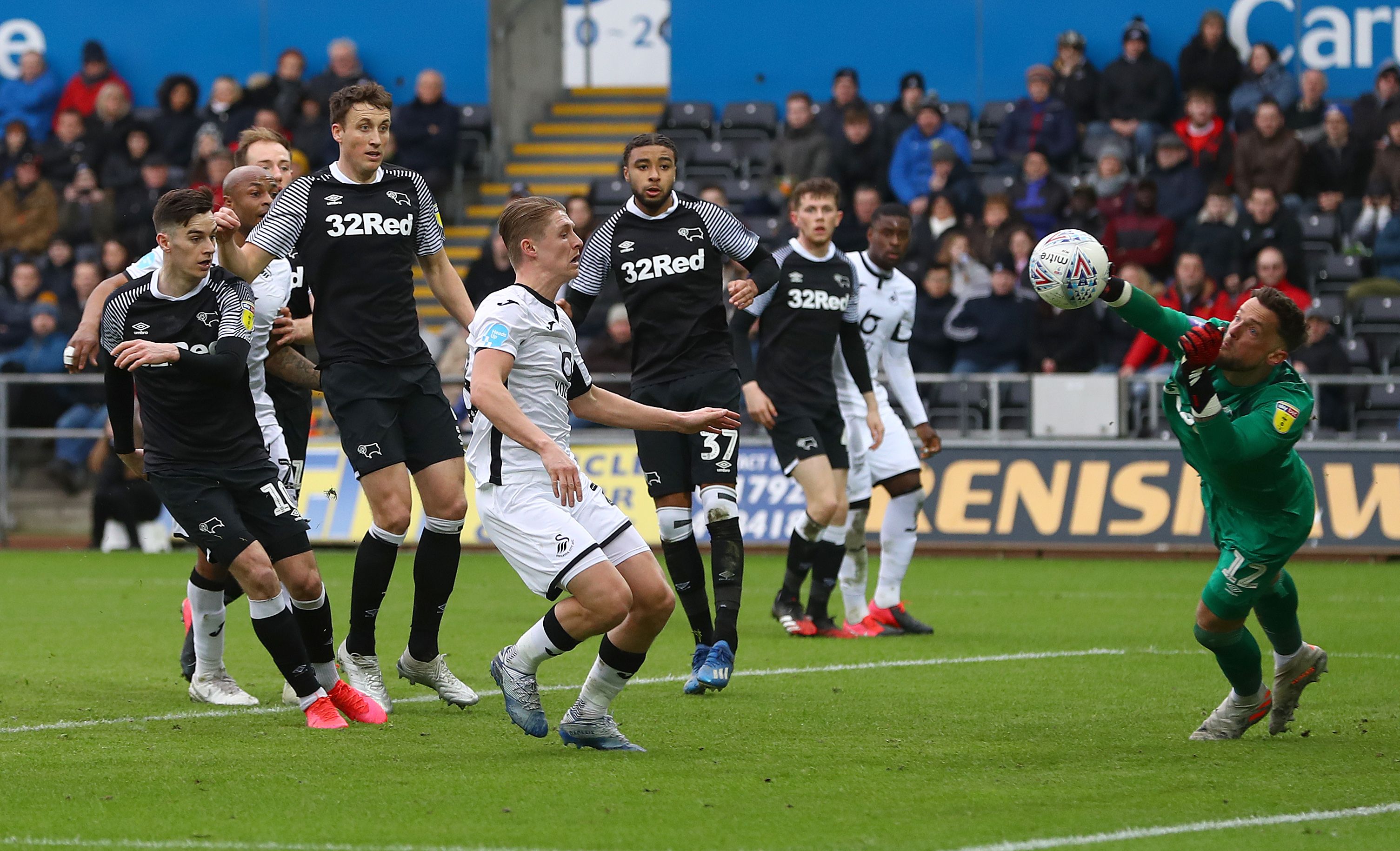 Whilst at Derby, Hamer worked closely with the Rams' goalkeeping coach and former Republic of Ireland international, Shay Given, who brought a wealth of experience from his career which spanned 23 years.
"He was a great guy, I really enjoyed working with him," expressed Hamer.
"He's a funny guy and a good coach, my memory of him was just how much I enjoyed working him.
"I hope he does get back into coaching because I think young goalkeepers and even goalkeepers my age will benefit from it because he's such a legend in the game, especially in our position. He's got a lot to give."
After making 17 appearances for the Terriers in the first half of the 2020-21 season, Hamer joined the Swans in January 2021. Patience was key as he had to wait patiently behind the likes of Freddie Woodman and Steven Benda, but made his Swans debut in the club's Carabao Cup win over Plymouth in August.
Since then, Hamer has taken his opportunity to make an impact as a starter in his stride, with Russell Martin noting the importance and calmness of Hamer in recent weeks.
"I came in in January and I knew I wasn't going to play because Freddie was on loan from Newcastle and he was doing really well," he said.
"Also in the back of my mind if I'm being honest I was at Huddersfield and we were doing okay but Swansea were flying and I really saw it as an opportunity seeing the way Swansea play that there was a real chance of going up.
"That was a big draw too because the club had been in the Premier League for a long time and it's a club that is big enough to be in the Premier League so I thought I just had to suck it up and if anything god forbid happened to Freddie or if he got sent off or whatever, then I could just come in and do a job.
"It turned out that I just sat on the bench all last season and then came in pre-season and the aim was to try and play this year in the Championship and do well.
"Steve started the season and did well and I was struggling with my health with COVID.
"I had a conversation with the manager when I came back and he said what he wanted for me, what he wanted me to work on and wanted me to get my head down which I was doing anyway.
"If I'm playing or not, I'm always the same guy. He gave me an opportunity and I've really enjoyed playing."