Ben Hughes feeling good after return from injury lay-off
4th May 2022
Under-18s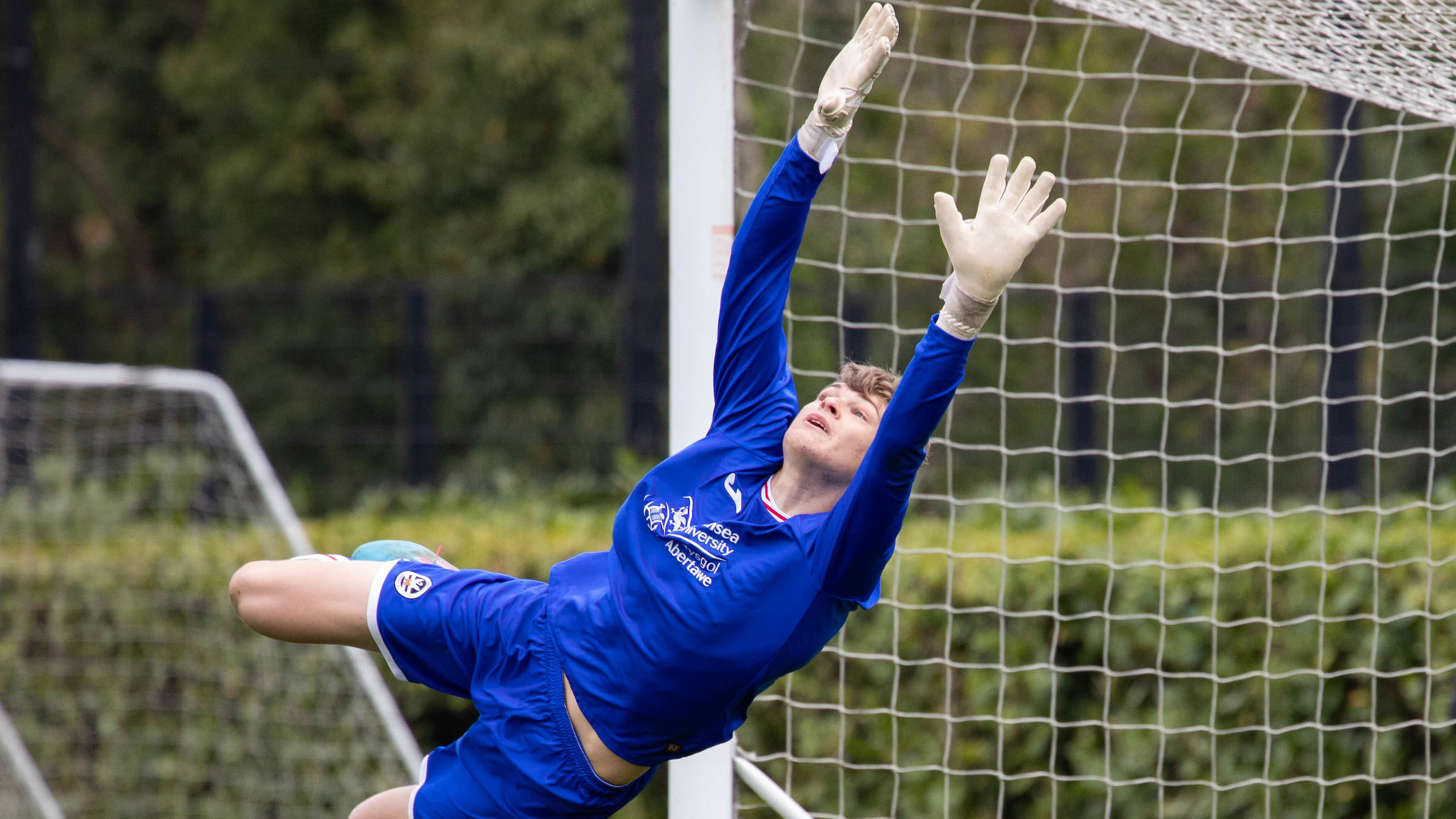 A long season may be drawing to an end, but Swansea City Under-18s goalkeeper Ben Hughes is one player who would prefer the campaign to be continuing.
The teenager has only recently returned from three months on the sidelines, with rotator cuff and bicep injuries derailing his season.
He has made a few appearances since getting back into the action, and was involved as the young Swans lost 2-1 to Watford at Landore on Saturday.
"I'm just a few games into being back after the injury, I'm feeling good, there are still a lot of things for me to learn from to get back into the shape I want to be," he said.
"I'm more than happy with how I played, I will look at the second goal again because I think I could do better personally but I'm really happy to be back.
"I injured my rotator cuff in my shoulder and I also did my bicep tendon in training while diving, I was out for maybe three-and-a-half months which was tough and annoying, but I worked back.
"I came on unexpectedly against Wigan, that was my first game back then Hull City was my first start back, but I'm happy to be back and put my injury aside.
"There was a little bit of fear in the first two games back diving onto that arm, in the friendlies I was a little more concerned because if I'm going to reinjure myself I would much rather it be in a league game than a friendly.
"I've been training on it and it all seems to be okay, I'm doing my activation and rehab still just to keep on top of it to get through the season."
The Swans had found themselves two down against the Hornets after goals either side of half-time, with Adian Manning burying a free kick just before the break and Remerio Moulton scoring just three minutes after the restart.
Iwan Morgan started the fightback for the Swans, capitalising on a mistake at the back before tapping into an empty goal to half the deficit.
But a red card for Josh Carey made the fight tougher for the Swans, and despite Filip Lissah and Geoff Bony both coming close, their three-game winning run was brought to an end.
Hughes thought the Swans showed excellent fight and felt that they deserved more from the game.
"I think we are all disappointed with the result, going down to 10 men really changed the game, in the first half we played really well, and we all said that's probably the best half we've played," said Hughes.
"Going into half-time 1-0 down felt harsh, second half we felt positive, and we were ready to go for it, but the red card changed the game. Josh knows that it was his mistake and he's been told to learn from that and we know he will.
"Overall, we did well when we were down to 10 men, the boys dug in really well.
"The second goal we will take a look at, especially from my department, I think I could do a lot better from that, but I'm really proud of the boys and I thought we were really solid.
"We went down to 10 men with 25 to 30 minutes to go and we were really solid, I thought it was really positive from us.
"The fight from us was really impressive, Filip Lissah hit the post, we had a few balls in and Iwan and Geoff came close all while we were down to 10 men.
"It just shows the spirit that this team now has and that we will fight for everything, we attack with everything that we have until the final whistle.
"It also shows how much we have progressed, (coach) Darren (Davies) was saying that maybe six months ago we might have dropped off and not kept our standards, but now we are attacking and going for everything we can."