Darts-mad Tyler Evans aiming to hit bullseye at Swansea City
9th June 2021
Under-18s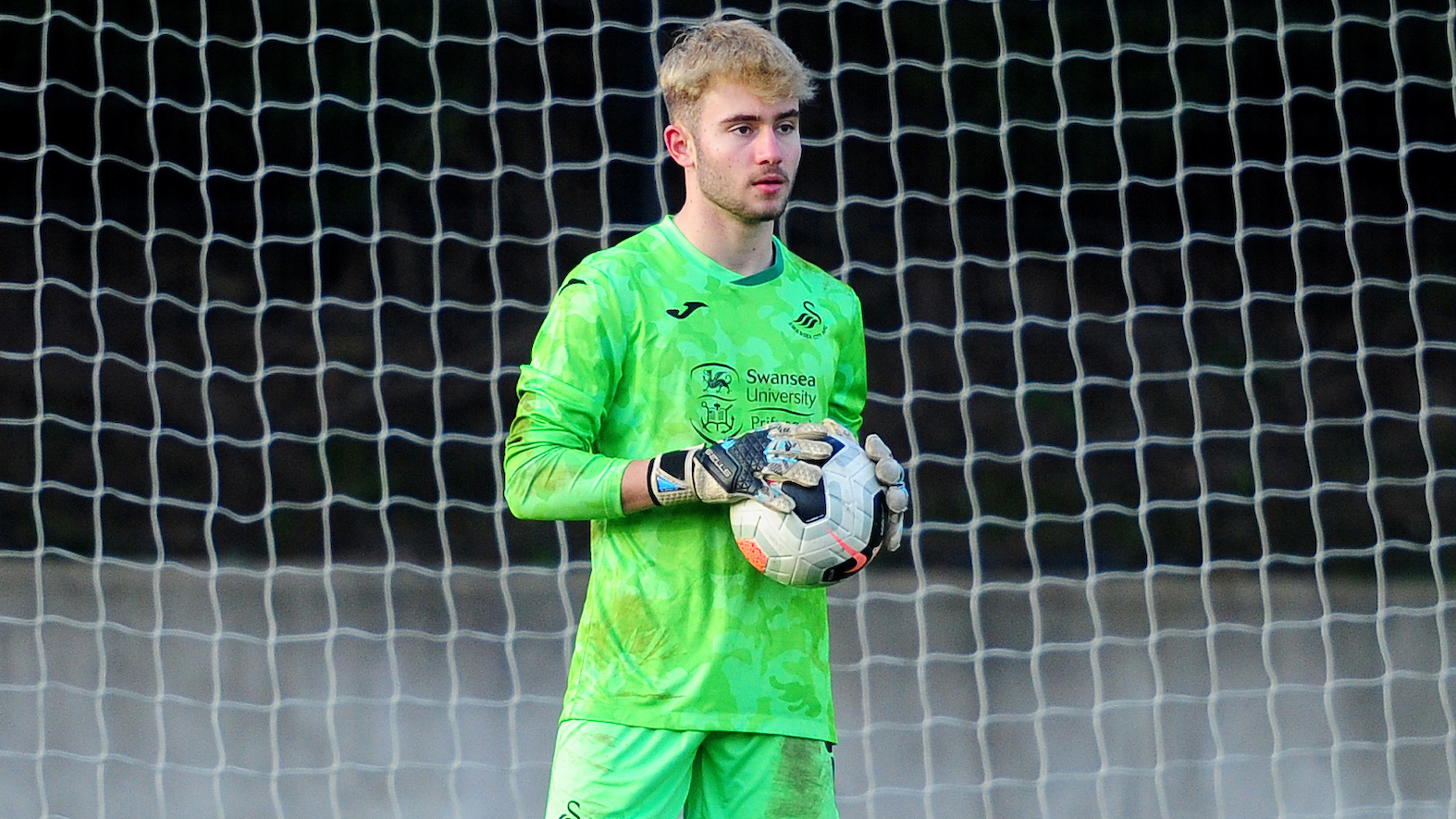 Tyler 'The Destroyer' Evans. Remember that name.  
While the Swansea City Under-18s' goalkeeper is firmly focused on his fledgling football career, he does have an eye on an avenue he would like to explore at some point in the future.
Evans regularly featured for the under-18s last season, while he was part of the under-23s' matchday squad on several occasions.
But when not stood between the sticks for the Swans' age-grade side or grafting away behind the scenes at Landore, he can be found spending many happy hours playing darts with his father at the family home in Llanelli.
The young stopper, who has been with the club for eight years, has quickly developed a strong interest since taking up the sport, which has been dominated by Welsh players in recent times.
Caerphilly's Gerwyn Price is the reigning world champion and current world number one, while Llanelli-born Jonny Clayton has already captured the Masters and Premier League titles this season.
The pair are also the defending World Cup of Darts winners, having formed the Wales team that triumphed in Austria last November.
Such is the extent of his passion for the sport, Evans admits he would love to follow their lead and step up to the oche after hanging up his boots – even going as far as already choosing his own nickname.
Although, he isn't the only Swansea goalkeeper with a strong interest. 
Regularly circulating on social media over the past couple of years would be Freddie Woodman's post-training duels with kitman Mike Eames at Fairwood.
And the Wales youth international would love the chance to be a part of that himself in the near future.
"I just love playing and watching the darts," he said.
"I've got a dartboard in the house and my dad and I never stop playing on it.
"I've only been playing for a couple of months, but I hit my third 180 the other day and I'm hoping to get a bit better over the summer.
"It's good to get away from football and have a little side-hobby.
"One day, it would be great to play in the Premier League after my football career has finished.
"I think my nickname would be Tyler 'The Destroyer' Evans, but I've still got to decide on my walk-on music.
"I've seen the darts tournaments at Fairwood on Instagram, so hopefully I can go there and show them how it's done!"
Of course, that is only one of the reasons why Evans would love the opportunity to go to Fairwood; his primary motivation being to train with the first-team squad.
But, before that, he is looking to make the under-18s' number one shirt his own, while also getting minutes under his belt with the under-23s.
With the right application heading into the all-important second year of his scholarship, Evans believes that anything is possible.
"Even though I haven't got out on the pitch, spending time around the under-23s environment has been massive for me," he added.
"Hopefully, I can build on that and try to get some game time next season.
"Obviously, I want to nail down that number one shirt with the under-18s and push on from there and maybe train with the first team.
"It's going to be tough, so I'll need to have a good off-season.
"But I've got to aim high, otherwise there's no point in playing."