Media round-up | Cardiff City v Swansea City
4th April 2022
First team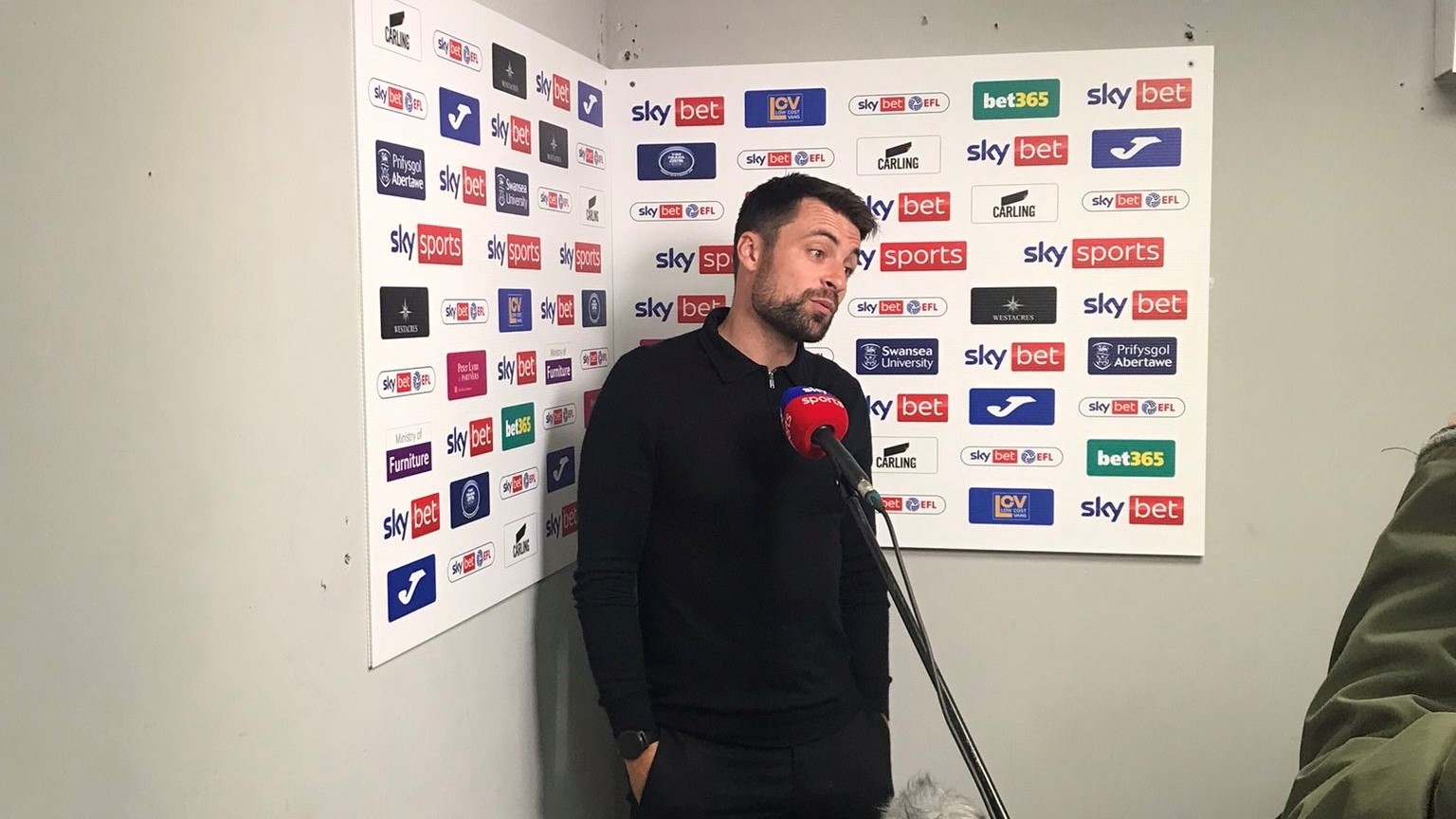 Following Swansea City's historic south Wales derby double, we round-up the verdict from local and national media outlets.
BBC Wales – Michael Pearlman
Russell Martin's side were clear and deserved winners in a contest that will do much to offer Swans fans hope that they can improve next season, while at the same time exposing the limitations in a Cardiff squad that will be overhauled this summer.
Put simply, the hosts were found wanting in their biggest game of the campaign. Their big rivals stepped up their level of performance, as they have tended to do against Cardiff, who have won and scored in only one of their last seven games against Swansea.
This contest is always huge for the managers of the south Wales clubs, with the rivalry between the sides undiminished despite this being a disappointing campaign for both clubs.
There was certainly plenty at stake for the supporters despite this contest having virtually zero impact on the Championship table, but Cardiff fans knew only too well the unfortunate piece of history facing them if they lost. That worry is now reality.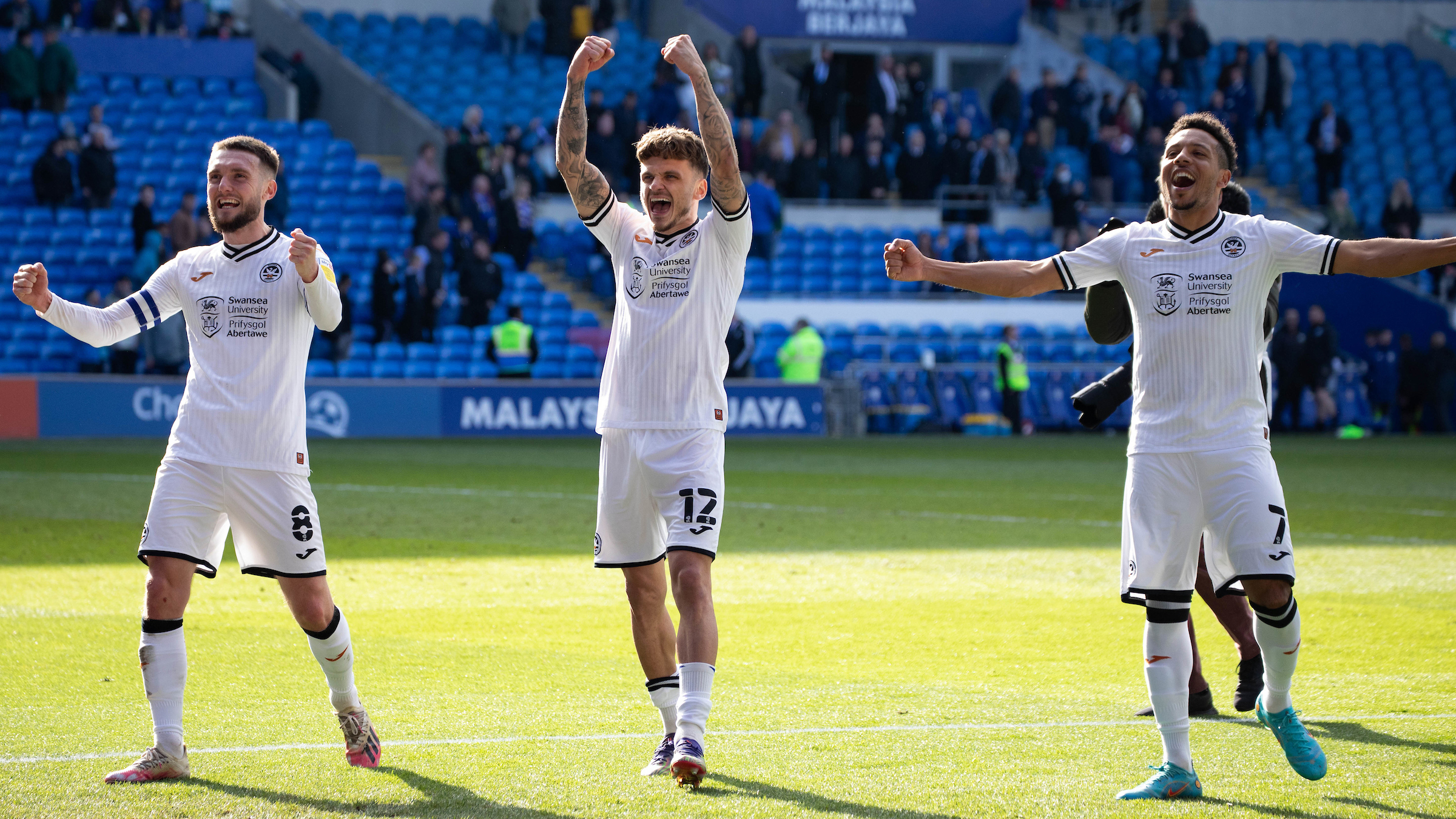 Daily Mirror – Ricky Charlesworth
Swansea City thrashed bitter rivals Cardiff City 4-0 on Saturday to seal a league double for the first time ever in the fixture's long history.
In the 110-year history of the South Wales derby no side had ever managed to string home and away wins together - until today. The Swans were clearly the better side as they followed up a 3-0 win at home earlier in the campaign with an even more emphatic Championship victory.
Michael Obafemi opened and finished the scoring at the Cardiff City Stadium, with goals at either end of the contest. Inbetween, Ben Cabango fired home from a corner and Hannes Wolf headed in his first-ever Swansea goal.
Press Association, Phil Blanche
Swansea made South Wales derby history by thrashing Cardiff 4-0 to secure the first league double in 110 years of the fixture.
A Michael Obafemi brace and goals from Ben Cabango and Hannes Wolf rewarded Swansea's supremacy in this one-sided Sky Bet Championship contest in the Welsh capital.
It was a particularly sweet moment for Wales defender Cabango, who was born and raised just a few miles away from the Cardiff City Stadium.
Swansea won the reverse fixture in October 3-0, a result which paved the way for Mick McCarthy's departure and the appointment of Steve Morison.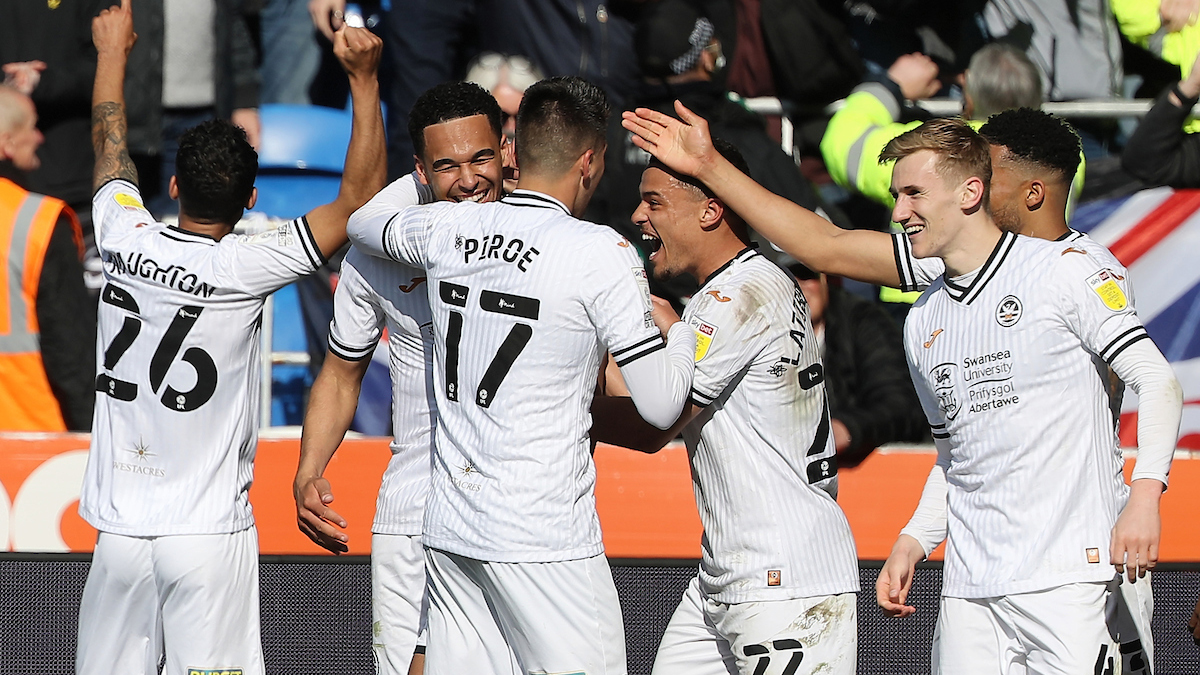 Wales Online – Ian Mitchelmore
Russell Martin described the celebrations after Swansea City's 4-0 South Wales derby triumph over Cardiff City as the best moment of his managerial career to date.
The Swans produced a dominant display to thump the Bluebirds at Cardiff City Stadium courtesy of a Michael Obafemi brace along with goals with Ben Cabango and Hannes Wolf. It meant the Swans completed a first ever league double in the 110-year history of the fixture.
"I have not felt as emotional as this after a game, I am incredibly proud of the players and what they have done," he said. "It was a big build-up to the game, we were written off by a lot of people and to do that and show that courage is fantastic."
Wales Online – Tom Coleman
It is, in many ways, the be all and end all game that matters far more than any other. Until Cardiff show some grasp of that reality, and mirror that level of passion, this is a fixture that could well continue to inflict pain.
We can talk about tactics and team selection all we like. But when watching Saturday's game, there was an inescapable fundamental reality; Swansea simply wanted it more. On derby day, where the form book can so often go out the window, desire alone can sometimes be enough to see you over the line.
As Morison himself acknowledged, too many Cardiff players didn't seem to be up for the occasion. Joel Bagan, so confident and full of vigour in recent weeks, shied back into his shell. Tommy Doyle and Joe Ralls succumbed to passenger status in midfield, and Jordan Hugill fluffed his lines on the rare occasions Cardiff did manage to step into the spotlight.
In contrast, Swansea oozed composure and class on the ball, keeping the Cardiff press at arm's length all afternoon. Flynn Downes ran the show in the middle of the park, while Jamie Paterson and Michael Obafemi will be in the nightmares of that Cardiff defence for many years to come. Even Obafemi's controversial celebration, whatever you may think of it, showed an understanding of the culture around this fixture.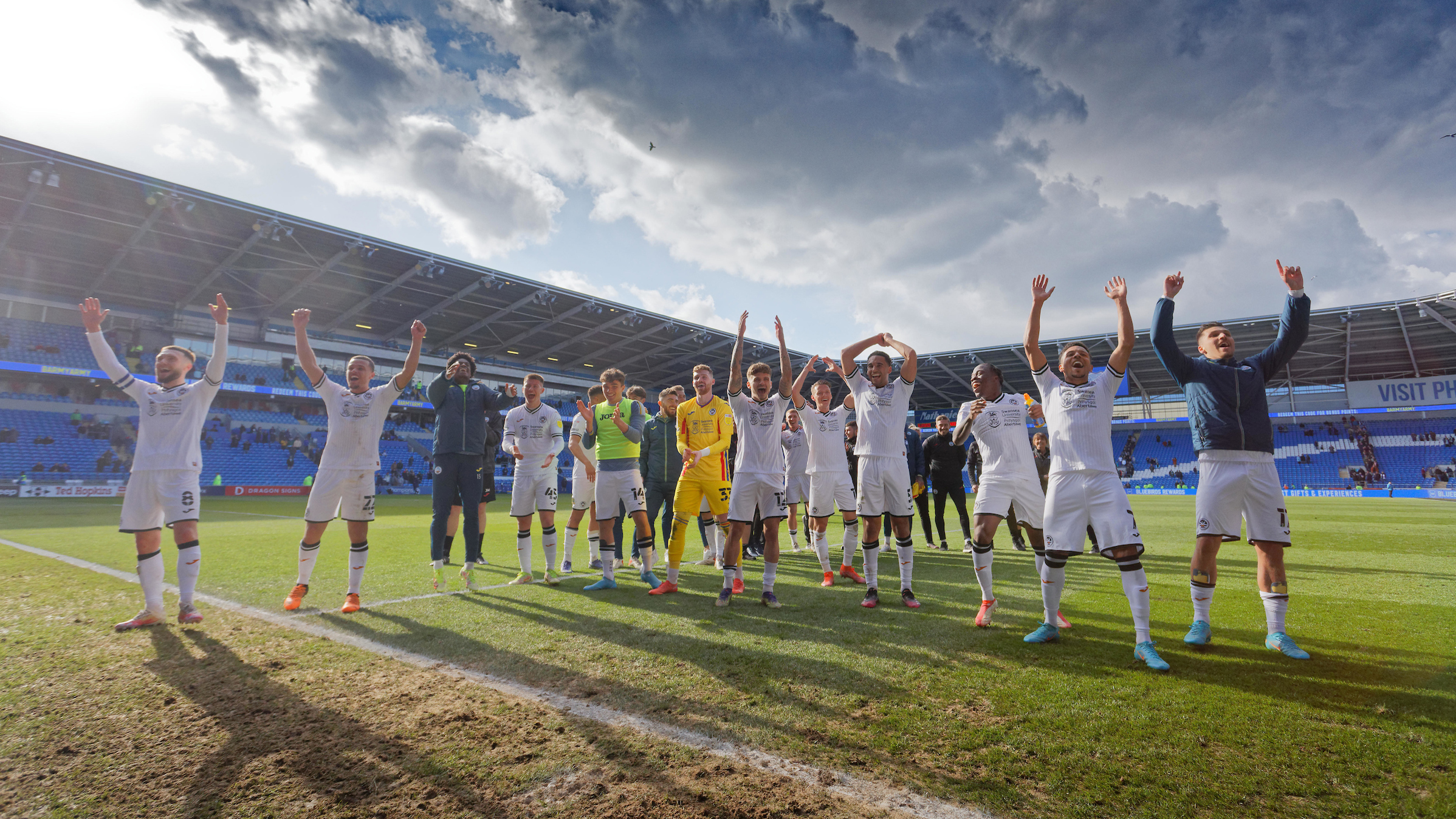 Dai Sport - Graham Thomas
Michael Obafemi has transformed his character as much as his goal return in the past few weeks at Swansea City.
That was the assessment of his head coach Russell Martin after Obafemi drove a bulldozer through a stacked 110-year history between Welsh football's biggest clubs to leave Cardiff City's recent revival in ruins.
The Swansea striker scored his team's first and last goals as they totally outclassed their rivals with a 4-0 away win – their biggest Welsh derby victory since 1949.
The Obafemi destruction – which sandwiched goals from Ben Cabango and Hannes Wolf – also demolished one of Welsh football's best known and quirkiest statistics.
No club had previously done a league double over the other in over a century of trying, but that record can now be swept away with the post-match debris.
Martin has plenty to build on, with dominant displays all across the field, including from Obafemi, who has now scored eight goals in 11 games.
Wales Online – Paul Abbandonato
Steve Morison's own learning curve as Bluebirds manager was laid bare amid questionable team selection and tactics as his team were out-thought and out-fought by Russell Martin's Swans.