Report | Bristol City U18s 4 Swansea City U18s 3
20th November 2021
Under-18s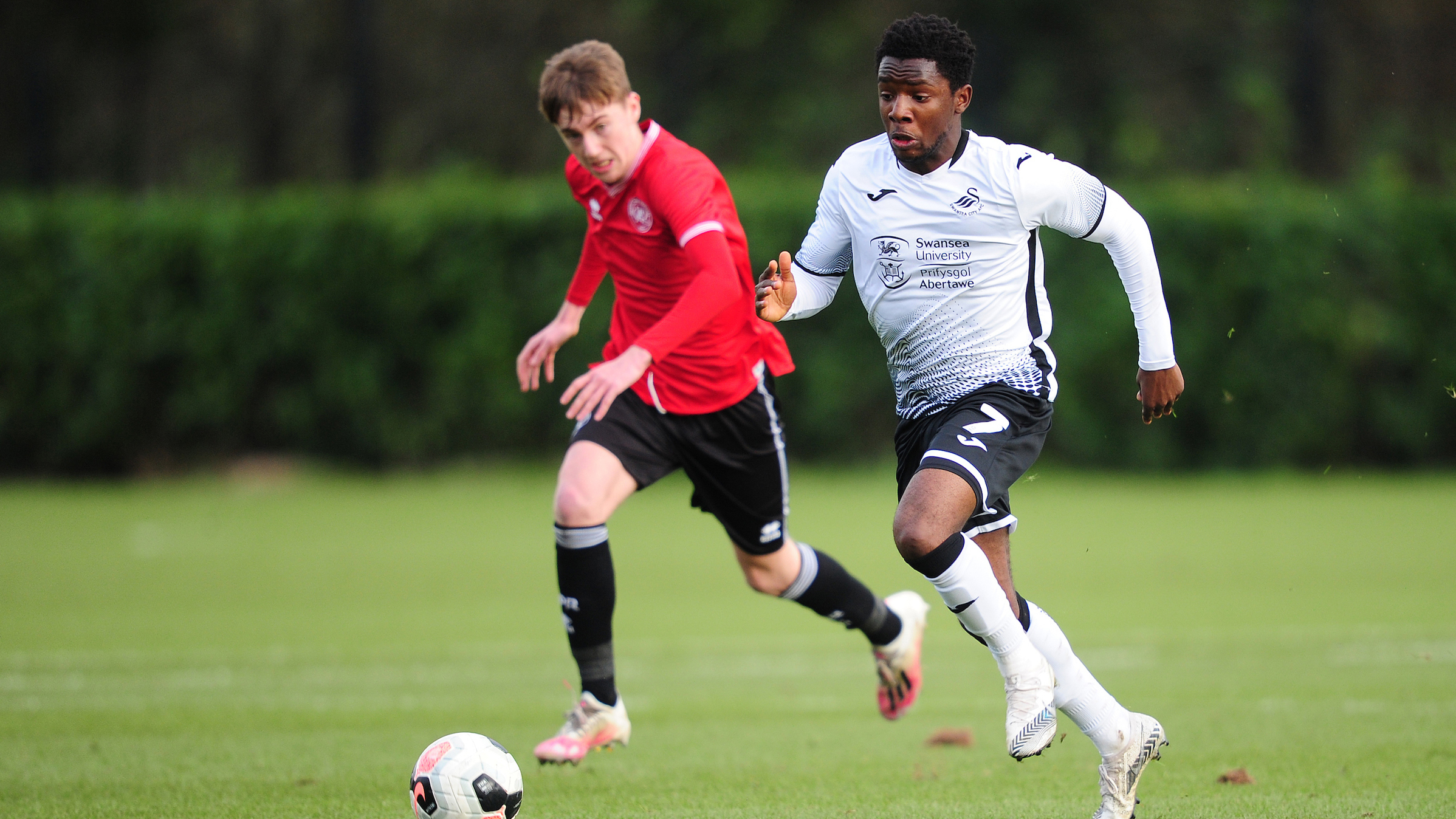 A stirring second-half comeback was not enough for 10-man Swansea City Under-18s as they came out on the wrong side of a seven-goal thriller at Bristol City.
The Swans went into the break three goals down before conceding a fourth just after half-time.
But a goal and assist from Adrian Akande as well as a goal from Filip Lissah inspired a fightback that fell just short of Swansea snatching a point.
Swansea found themselves behind after just five minutes, Jaden Brown's initial shot was saved by Ben Hughes, but the ball fell back to Brown who played across for Dylan Lewis to tap home from close range.
Lewis almost got a second just two minutes later, but a great block in the six-yard box from Richard Faakye kept the score at 1-0.
Swansea began to make chances of their own, with both Akande and Cameron Congreve putting balls across the Robins box that weren't converted.
Fifteen minutes before the break, Richard Faakye was forced off the field after suffering a head injury in a 50-50 challenge, seeing Ryan Bassett enter the field as a concussion substitute.
The Robins would make it two shortly after, Filbert Owusu-Antwi cutting in from the right and curling an effort into the bottom left corner.
Congreve almost pulled one back before the break, twisting and turning to find a yard of space on the edge of the box, but his low shot was held by the goalkeeper.
And Bristol City would make it 3-0 before the break, Brown's cross finding Owusu-Antwi in the box who volleyed home his second of the afternoon.
Just after the break, a miscommunication at the back allowed Lewis a simple finish at the near post to make it 4-0.
But the Swans hit back as Akande pulled one back 30 minutes from time, a great ball from Charlie Veevers sending the forward through to place the ball past the goalkeeper.
Akande then turned provider just three minutes later, a great low ball allowing Geoff Bony to finish from close range.
The winger continued to inspire the fightback for Swansea, sliding the ball across to Kyrell Wilson, but he couldn't get a strong enough connection to the ball.
But the Swans would pull back to within a goal, Josh Edwards coming short for a corner and whipping in an excellent ball for Lissah, who volleyed a shot downward that would bounce into the back of the net.
Swansea continued to search for an equaliser in the dying moments of the game, but David Roberts' mistimed challenge on a Bristol City break saw him given a red card. Isaac Richards stepped up and hit the post from the subsequent free-kick.
Despite the brave second-half effort from the Swans, they had left themselves with too much work to do.
Bristol City: James Walker, Zac Bell, Jed Meerholz, Omar Taylor Clarke, Jamie Knight-Lubth (captain) (Ephraim Yeboah 63'), William Sage, Oliver Thomas, Filbert Owusu-Antwi, Sebastain Palmer Holden, Dylan Lewis, Jaden Brown (Isaac Richard 75).
Unused subs: Josey Casa-Grande, Reuben McAllister, Joseph James.
Swansea City: Ben Hughes, Filip Lissah, David Roberts (Ryan Bassett 30'), Richard Faakye, Zane Myers (Kian Jenkins 60'), Charlie Veevers, Kieran Petrie, Cameron Congreve (captain) (Josh Edwards 60'), Adrian Akande, Geoff Bony (Kyrell Wilson 70'), Aaron Hillier.
Unused subs: Tyler Evans.