Report | Colchester United U18s 3-1 Swansea City U18s
23rd October 2021
Under-18s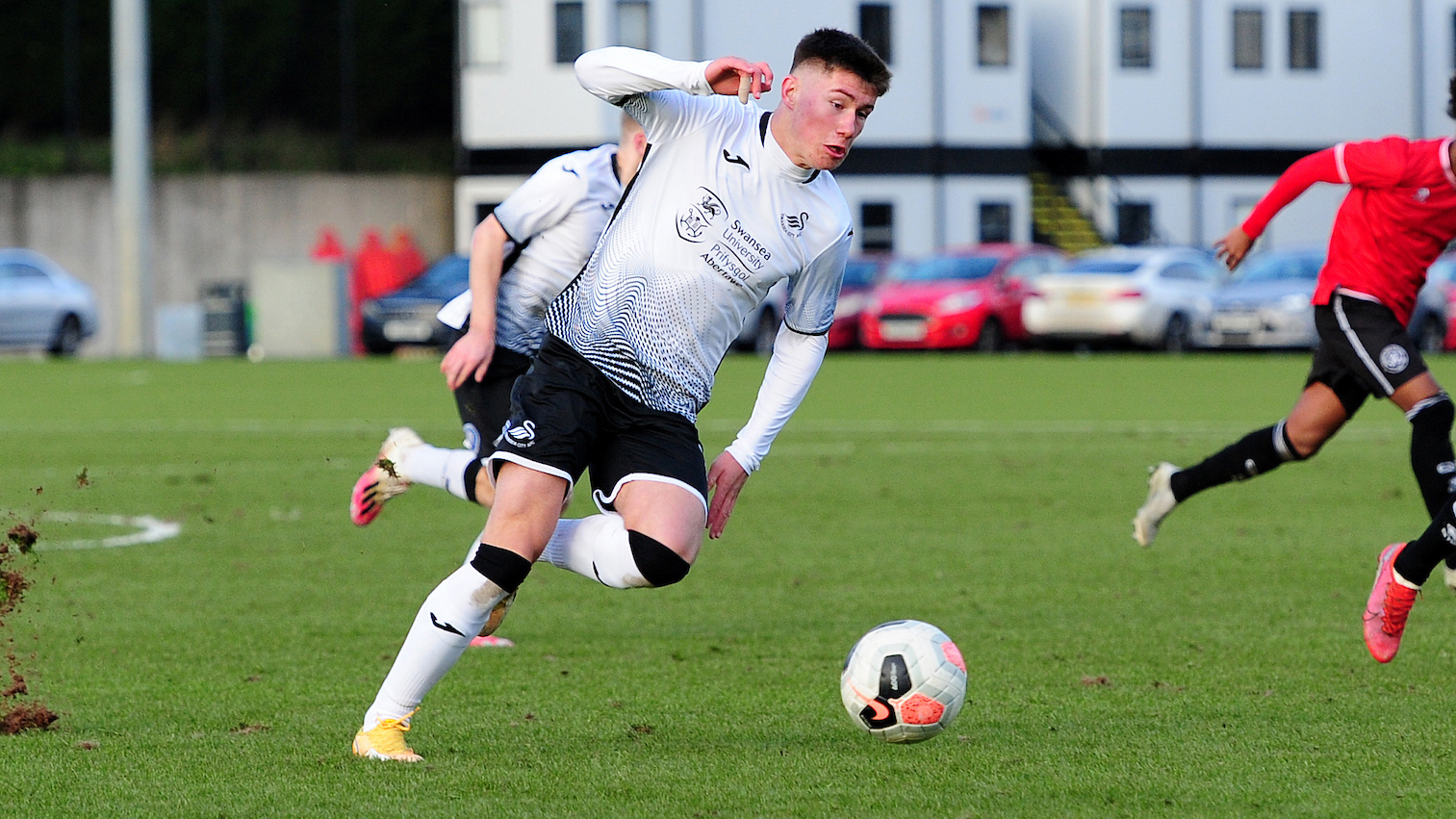 Swansea City Under-18s were defeated 3-1 away at Colchester United in the Professional Development League.
The Swans sat just one place below Colchester heading into the game, with both teams searching for their second league victory of the season.
Swansea dominated the early proceedings, but it was Colchester who took the lead against the run of play. Just six minutes in, a low cross found Kacy Parish who smashed it in from close range.
Cameron Congreve found an equaliser from an indirect free-kick just 10 minutes later. After goalkeeper Endurance Johnson dropped the ball then picked it up again, Joel Cotterill laid off Congreve who fired a shot into the bottom left.
Colchester remained dangerous on the break throughout the first half despite Swansea dominating possession. Kaan Bennett broke down the left, but he dragged his shot wide.
The U's restored their lead just before the break, a long throw in found Parish who nodded it down and Yiazo Marcel-Dilangr fired in from close range.
Colchester took this momentum into the second half and dominated the 45 minutes. Congreve tried his luck with a shot from distance but it was held by the Colchester goalkeeper.
The Swans pushed for an equaliser, having brought on fresh legs for the last 15 minutes of the game.
But Colchester would seal the three points with just five minutes to go, Ben Hughes made a good save from Kaan Bennett's shot before a second shot was blocked but Brad Ihionvien finally turned it in.
Geoff Bony almost pulled one back for the Swans, with the ball ricocheting in the box before falling to the forward, but his effort was saved.
Colchester U18s: Endurance Johnson, Elijah Oladunjoye, Freddie Price, Ryan Lowe (captain), Ellis Sullivan, Brad Chakawa (Andrew Palmer-Brown 45'), Kacy Parish, George Butler (Kai Redgrave 72'), Brad Ihionvien, Kaan Bennett, Yiazo Marcel-Dilangr (Jaiden Drakes-Thomas 52').
Unused subs: Bayan Aman, Jaime Tedaldi.
Swansea U18s: Ben Hughes, Harry Jones, Kian Jenkins (David Roberts 65'), Josh Edwards, Richard Faakye, Joel Cotterill (captain), Adrian Akande, Ben Lloyd, Kyrell Wilson, Cameron Congreve (Dylan Perkins 65'), Aaron Hillier (Geoff Bony 71').
Unused subs: Tyler Evans, Charlie Veevers.