Report | Watford U18s 4 Swansea City U18s 2
30th October 2021
Under-18s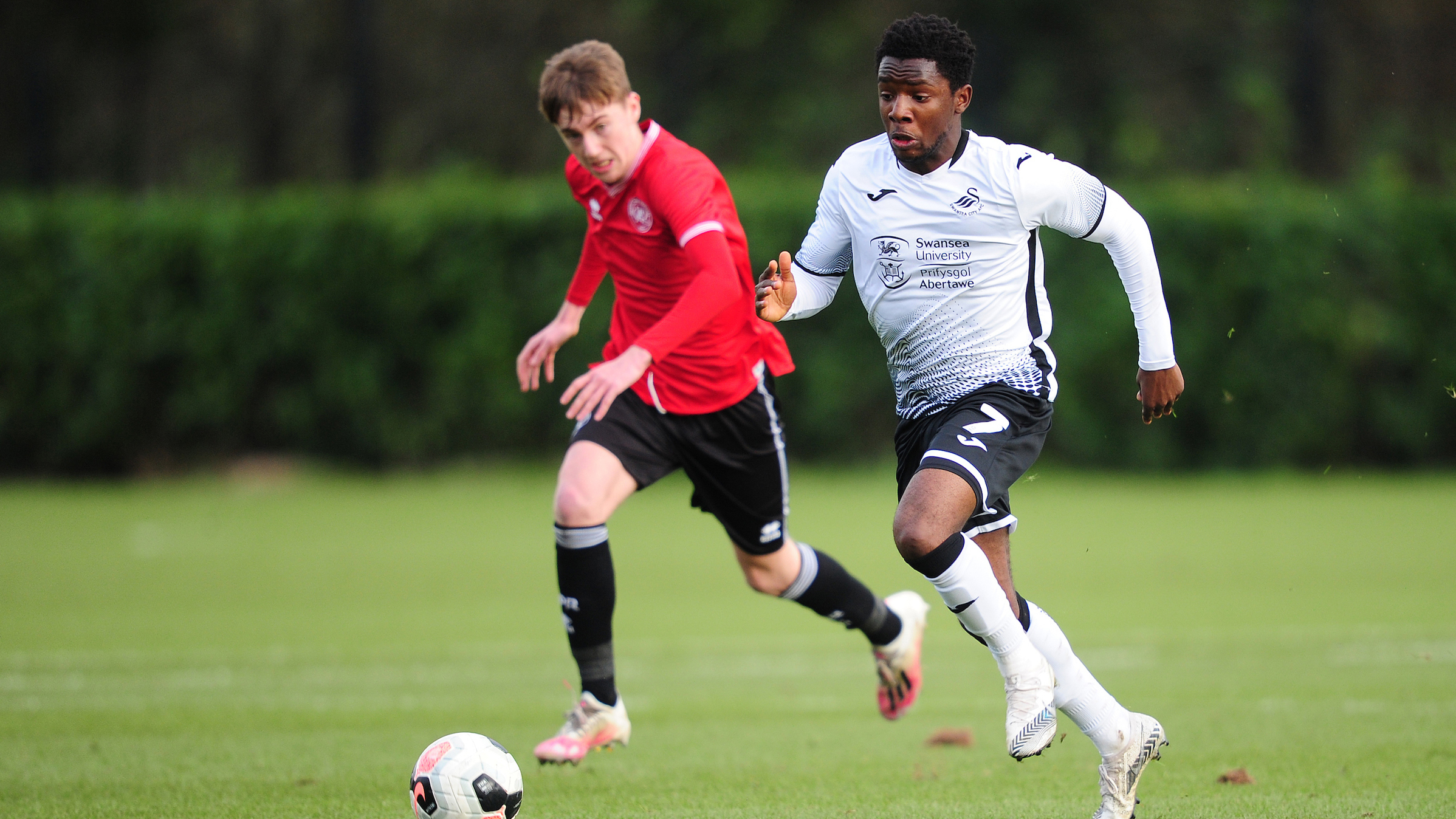 A nine-man Swansea City Under-18s were beaten 4-2 at Watford in the Professional Development League.
Red cards either side of half-time were enough to cost the under-18s, who had a number of the under-16s featured on their bench.
The visitors found themselves behind after just six minutes, Shaqai Forde getting through from an excellent ball before poking it past the goalkeeper.
But the Swans were level just four minutes later, with great pressing play seeing Cameron Congreve win the ball high up the pitch before cutting onto his left and burying it into the left corner.
Kieran Petrie almost gave Swansea the lead, unleashing a powerful volley from Zane Myers' cross, but it was parried by the goalkeeper.
But it would be Watford who regained the lead. Richard Faakye brought down Kyreece Lisbie in the box, Lisbie stepped up to the penalty spot and buried it in the bottom right to make it 2-1.
The Swans were then reduced to 10 men, Faakye's high boot caught Tobi Adeyemo in the face which left him needing medical attention.
Thankfully, after 10 minutes of treatment, Adeyemo was able to get back to his feet. Faakye received a red card and the game would continue.
The Hornets made the most of their numerical advantage, with Adrian Blake's causing a mix up in the makeshift defence, allowing Kyrell Lisbie to tap home from close range.
Ten minutes into the second half, Swansea were then reduced to nine men after Cian Jenkins received a second yellow card for a foul on the edge of the box.
Shaqai Forde scored his second of the afternoon from the subsequent free-kick, firing a low effort into the bottom right corner.
Despite their two-man disadvantage, Swansea continued to press. Filip Lissah came close after dribbling through the Watford defence.
With six minutes to go, Swansea did find a consolation, with Adrian Akande's excellent run finding him space on the edge before arrowing a shot into the bottom right.
They continued to push, with Joel Cotterill and Akande causing trouble down the flanks, but they couldn't reduce the two-goal deficit any further.
Watford Under-18s: Bogdan Marian, Josh Mullins, Alfie King, Adian Manning (Ethan Goulding 64'), Travis Akomeah, Ben Casey, Kyreece Lisbie, Shaqai Forde, Tobi Adeyemo (Jack Grieves 44'), Adrian Blake, Kyrell Lisbie (Enoch Muwonge 56')
Unused subs: Jonathan Macauley, Aaron Benn
Swansea City Under-18s: Ben Hughes, Filip Lissah, Kian Jenkins, Joel Cotterill, David Roberts, Richard Faakye, Adrian Akande, Cameron Congreve (Veevers 77'), Kyrell Wilson (Seb Dabrowski 81'), Kieran Petrie (Samuel Parker 58'), Zane Myers (Geoff Bony 66')
Unused subs: Sam Seagar