Report | Wigan Athletic U18s 0 Swansea City U18s 4
16th April 2022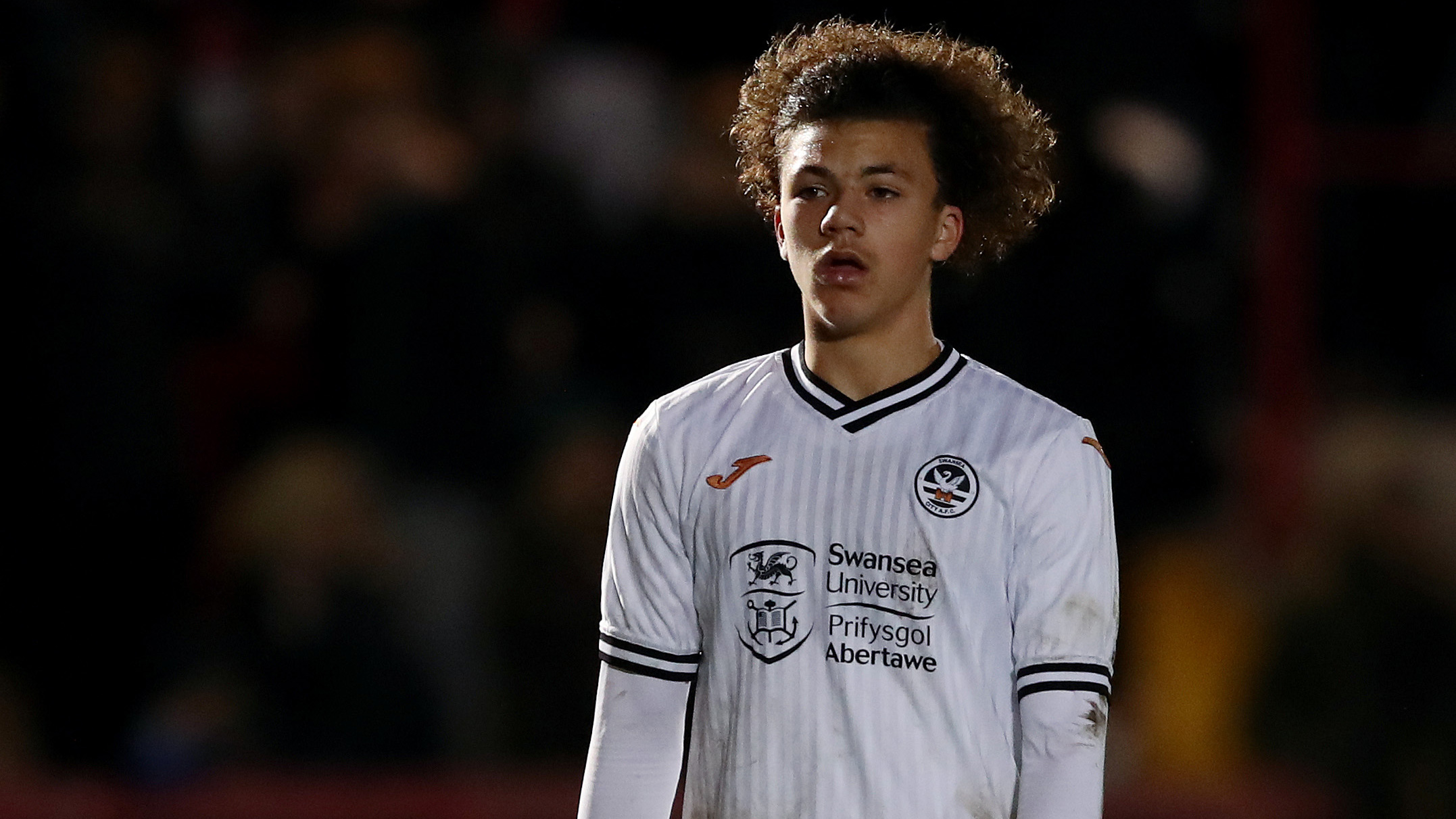 Swansea City Under-18s made it back-to-back wins in the Professional Development League with a handsome victory over Wigan Athletic Under-18s.
The Swans first-half performance blew the Latics out of the water, with three assists for Filip Lissah earning the Swans three points.
Zane Myers and Charlie Veevers both netted within the space of three minutes to give the Swans a two-goal lead before Iwan Morgan made it 3-0 at the interval.
The Latics grew into the game in the second half, but couldn't cause much trouble for the Swans defence, with a superb free-kick from Josh Edwards rounding off the scoring for the visitors.
The result sees the Swans keep a first clean sheet since January, just their second for the campaign.
Wigan came close to finding an opening after five minutes, a cleared corner finding Luca Latuna who volleyed an effort off the crossbar.
But the Swans would break the deadlock after just 19 minutes, Lissah's cross finding Myers at the back post, who volleyed home into the bottom right corner.
Just three minutes later, Lissah was the provider again as his low cross found Veevers in the box, allowing him to fire home and double the Swans lead.
The Latics came close to pulling one back, Sam Owens' cross finding Levi Welsh in the six-yard box, but a great save from Tyler Evans kept the Swans clean sheet intact.
It was soon three before the break as Lissah found his third assist of the afternoon, a ball over the Wigan defence sending Morgan through, with the forward powering a shot past the goalkeeper.
Wigan came out the gates stronger in the second half, but couldn't create much in the way of a clear cut chance.
A problem that saw Evans down in the first half persisted into the second half, with the goalkeeper having to be replaced by Ben Hughes just 10 minutes into the second half.
But the Swans would extend their lead 10 minutes from full time through Edwards.
Kyrell Wilson's excellent run saw the forward brought down on the edge of the box, allowing Edwards to step up and fire home the set-piece with a great strike.
The result sees the Swans claim back-to-back wins on the road against north group sides, with three games remaining this season.
Wigan Athletic: Tom Watson (captain), Callum Jones, Luca Latuna, Steven Sumner (Joe Adams 46), Dan Smith, Sam Owens, Ruben Galwai (Jarma Mohamed 71), Kai Payne, Levi Welsh, Kyle Worsley, Adam Brooks (Dan Welsby 64).
Unused subs: Mattt Corran, Nathan Sandison.
Swansea City: Tyler Evans (Ben Hughes 55), Filip Lissah, David Roberts, Jada Mawongo, Richard Faakye (Seb Dabrowksi 59), Zane Myers, Josh Edwards (captain), Josh Carey, Charlie Veevers, Iwan Morgan (Kyrell Wilson 75), Corey Hurford.
Unused subs: Geoff Bony, Dan Watts.