Ria Hughes | I'm proud to have returned to the pitch just 55 days after giving birth
1st December 2022
Ladies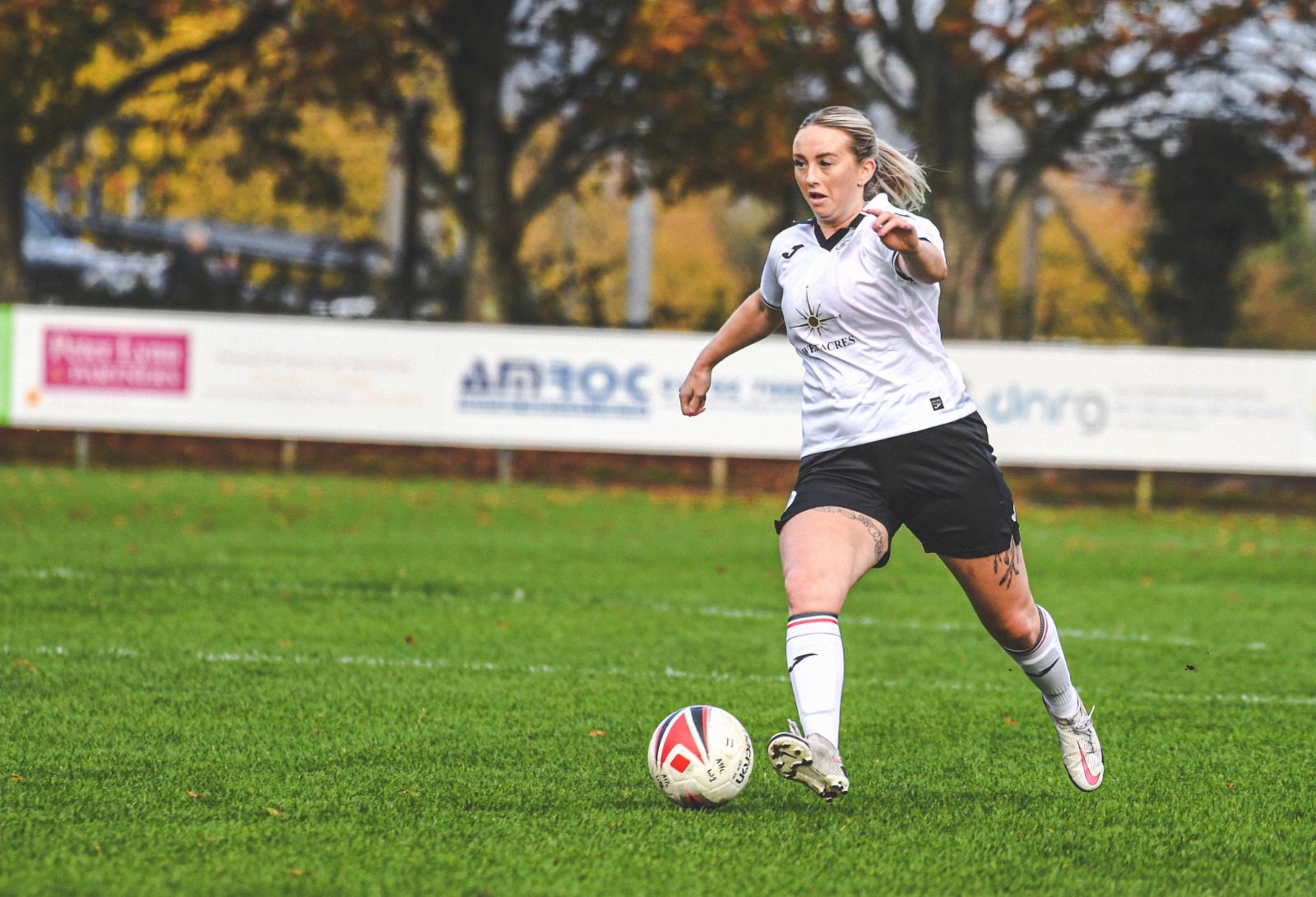 When Ria Hughes took to the field for Swansea City Ladies against Aberystwyth Town at the end of October, it capped a remarkable return to action less than two months after giving birth to her daughter.
Defender Hughes, who works as a supply teacher and balances those commitments with training and playing for the Swans, welcomed Florence Ribeiro to the world in August.
Just 55 days and four training sessions later, she was back on the pitch for the defending Welsh champions.
Hughes had always been determined to be back on the field as soon as possible, having played her last match 10 months prior, but was aware that she had to work hard and make sure her body was ready before rushing back.
"I always wanted to get back as soon as possible, but obviously had to wait until my body was ready," said Hughes.
"My aim was to get back into training and see how everything went and then the main objective was to get my position back, because the girls who had stepped up had been awesome, but obviously that had to be a target for me.
"In the build-up to training I was going to crossfit three weeks prior and that felt good, so that encouraged me to go back and see how I was.
"Kelly Adams takes the same crossfit session as me and she encouraged me to come back and see how I get on just to get back into the fitness side, because I had completely stopped everything.
"Fitness and speed and everything like that was lower at first and I knew that would happen after 10 months off, but I wasn't as bad as I thought I was going to be, so I think that really spurred me on.
"It was a struggle at first and I found myself very tired, week by week I do feel changes in my body but also in my fitness and speed, it's not completely back and it wouldn't be yet, however I feel like I'm making progress and I think that is showing each week in my performances.
"After four training sessions I had 20 minutes against Aberystwyth and then by the following week I was starting, so I feel like I'm on the right path, but I do need to take it easy and be careful still and go at my pace."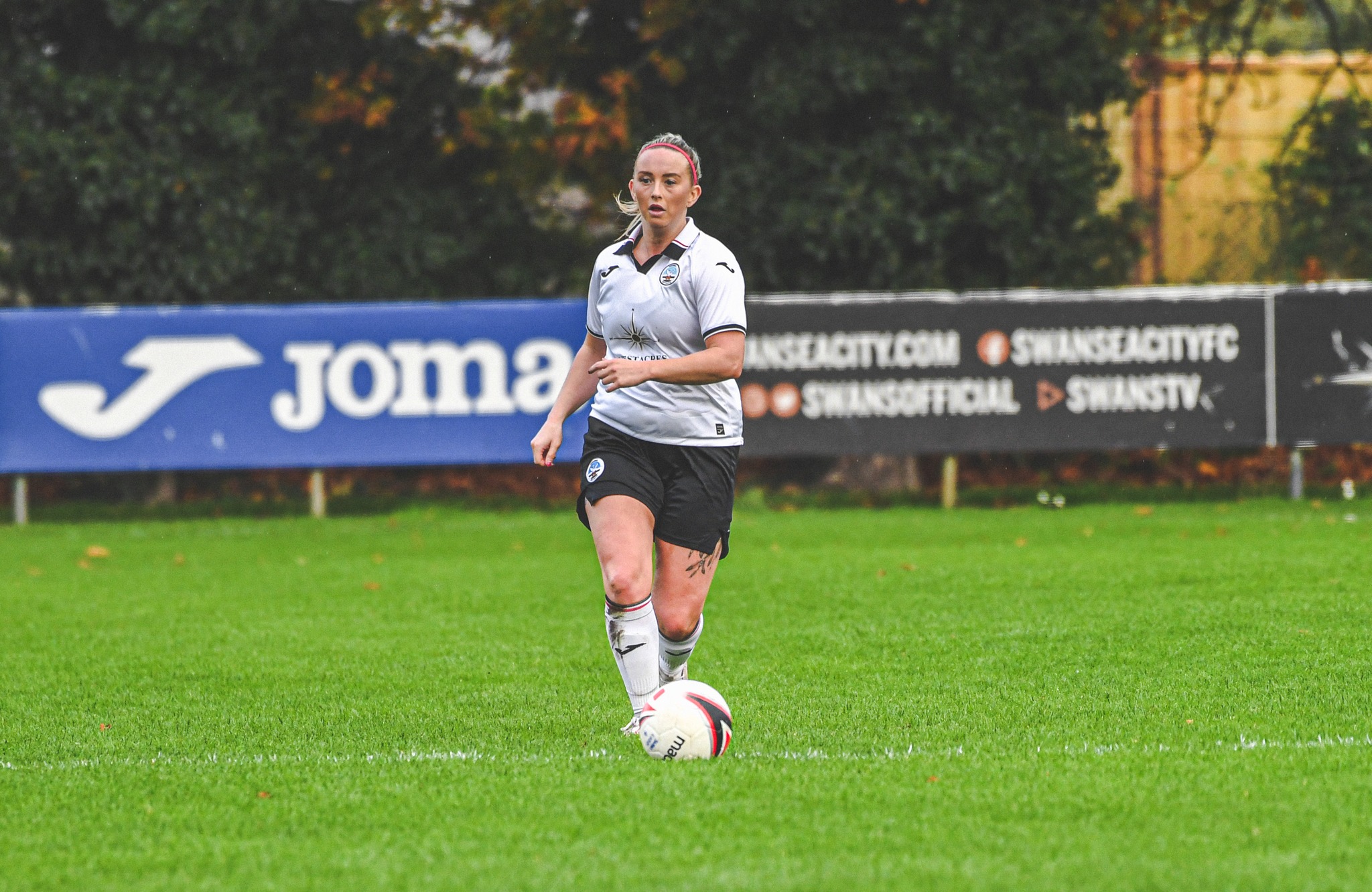 Since returning to the team, Hughes has since played four games for Swansea, playing over 80 minutes in her previous three games since that substitute appearance against Aberystwyth.
The defender is proud that she has been able to get herself back into the team so quickly and has been given a confidence boost as a result.
"I love being back and I love being back with the girls too," said Hughes.
"Coming back from having a baby and then almost immediately starting, I'm proud of myself to have been able to get to that level and be able to play a full game.
"The confidence that (head coach) Ceri (Phillips) has put in me has been great, I thought I'd be sitting on the bench for a while and building the minutes up.
"But being on straight away really makes me feel that he has faith in me and in my ability, and it's a really good confidence boost."
As Hughes prepared to return to football, she had great support from her family and her team-mates – but was also lucky enough to have a team-mate who had recently been through a similar experience.
Emma Beynon welcomed her first child to the world in May, returning in just 103 days to play for Swansea City Ladies in the Champions League.
Along with the great support she had around her, Hughes would lean on the shoulder of Beynon for support and reassurance following their similar journeys.
"My parents have been huge supporters of me, they've followed me everywhere, my fiancé Joe has been my biggest supporter, but also the girls, particularly Kelly, Katy Hosford, Emma Beynon," continued Hughes.
"The girls really gave me the confidence to come back because there were times where I debated whether I could, but they encouraged me to try it, see how I felt and to build from there, they've all really made me feel good.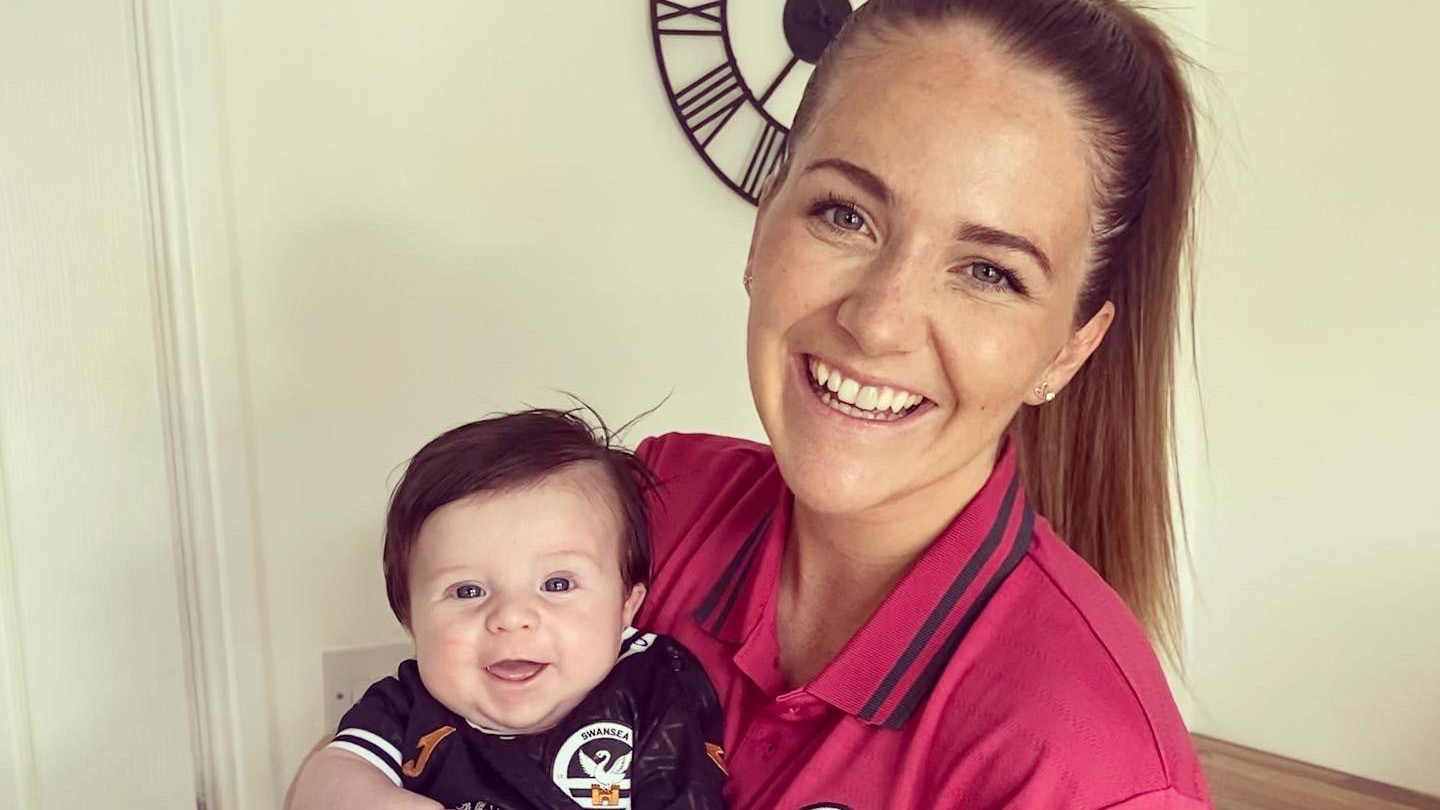 "Emma was really helpful, I kept nagging her with questions and she's probably sick of them now, but having someone who has gone through it gave me confidence.
"I kept asking her if she went through similar things that I was going through, and feeling if those things were the norm. Because she's gone through it, that gives me the peace of mind that I'm not alone in feeling what I feel.
"The balance has been okay, it's nice to be able to get out of the house and have my own time and my own space with the girls, but then also go home and being straight back to being mum and going again the next day.
"I'm currently still on maternity and I'm making the most of that time while I can, I'm a supply teacher and I love the job, having the freedom of being able to go into new schools and meet new people is really my thing."
Following on from her rapid return to the field, Hughes has now set her sights on the Swansea.com Stadium and featuring in the Swans Ladies second game at the ground this term.
The Swans welcome league leaders Cardiff City to the Swansea.com Stadium on Sunday, December 4.
Hughes has always dreamed of playing at the home of the Swans as a lifelong supporter of the club, and hopes she has the chance to get onto the field, with baby Florence watching on from the stands.
"I've always dreamed of having the chance to play at the stadium and hopefully I will get the chance to against Cardiff," she said.
"I know how big of a pitch it is and how well Cardiff are doing this season, but I'm excited to get out there and just play for the girls and represent the Swans.
"Florence will be coming along in her little Swans shirt, she'll be with my fiancé Joe and obviously my parents, I think a few of the family will be coming down to support us and I'm really excited to play down there."