In the Spotlight | Ben Cabango
11th December 2019
In The Spotlight
Ben Cabango is a pretty relaxed young man, but anyone encountering him nursing a coffee on a Tuesday morning in August might well have had cause to think otherwise.
The 19-year-old has taken much in his stride. After all, he has already played and scored in the Champions League, come through the ranks at the Swans and represented his country through the age-grade levels.
But as he pondered his upcoming Swansea City first-team debut against Northampton in the Carabao Cup, nerves and excitement got through the cool exterior.
"Normally I am pretty chilled out, I don't tend to stress about things too much but that day was definitely different," he said.
"The game was in the night, I knew I was playing, and it just felt like such a long day of waiting.
"I tried to have a lie-in, to rest a little but by 10am I was already running through the game in my head.
"I had to get out of the house, I was just tiring myself out through the excitement and a little bit of nerves.
"So, I just went out, I went and got a coffee at Starbucks and just passed some time. I don't know what supporters would have thought if they'd seen me just sat on my own in a bit of a daze!
"But it did the trick and come the game, once I got that first touch, made that first touch and first challenge it seemed to go well from there."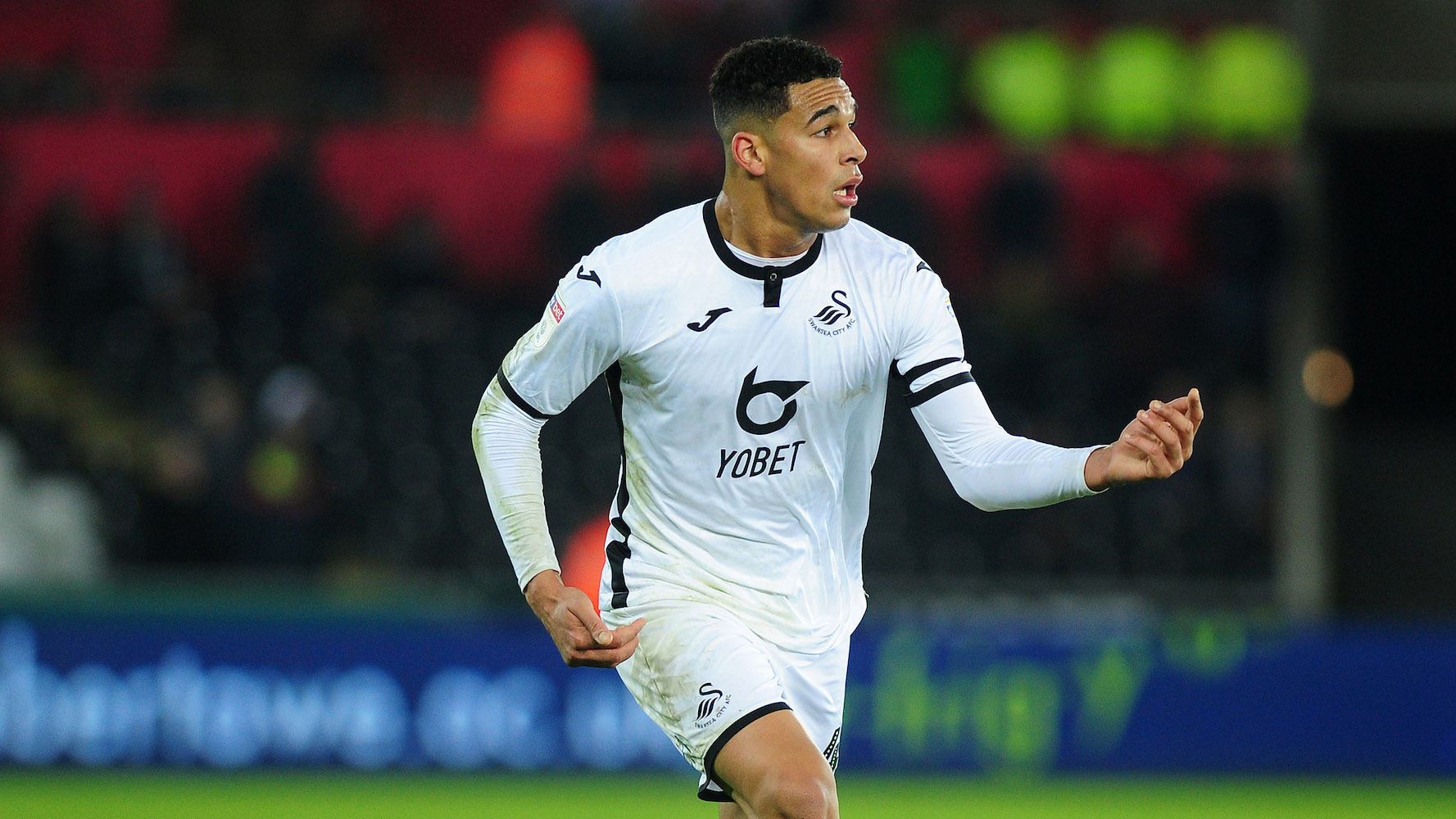 That's something of an understatement, and it was telling that Cabango has been among the young players regularly praised by head coach Steve Cooper for his displays when called upon.
Cabango went on to play in all three games in the League Cup, including another fine display against the likes of Andre Gray, Danny Welbeck and Gerard Deulofeu in the defeat at Premier League Watford.
Then, the chance he desperately wanted arrived at Huddersfield.
With Mike van der Hoorn forced off by injury, Cabango was summoned from the bench by Cooper and handed his league debut.
It was an outing that earned Cabango a small but permanent place in Swans history, becoming the first player born in the 21st century to play for the club in a league fixture.
Once more he performed admirably, and received the acclaim of his team-mates post-match.
"That was the moment I had been working for," the teenager says with a smile.
"I know I haven't made it yet, and there is a lot more I want to do in my career, but that was one of my main goals.
"It was different to the Northampton game in that I didn't have as much time to think about it.
"I saw Mike had a knock so I went to warm up, then at half-time the gaffer was quite matter of fact, he just told me I was going on.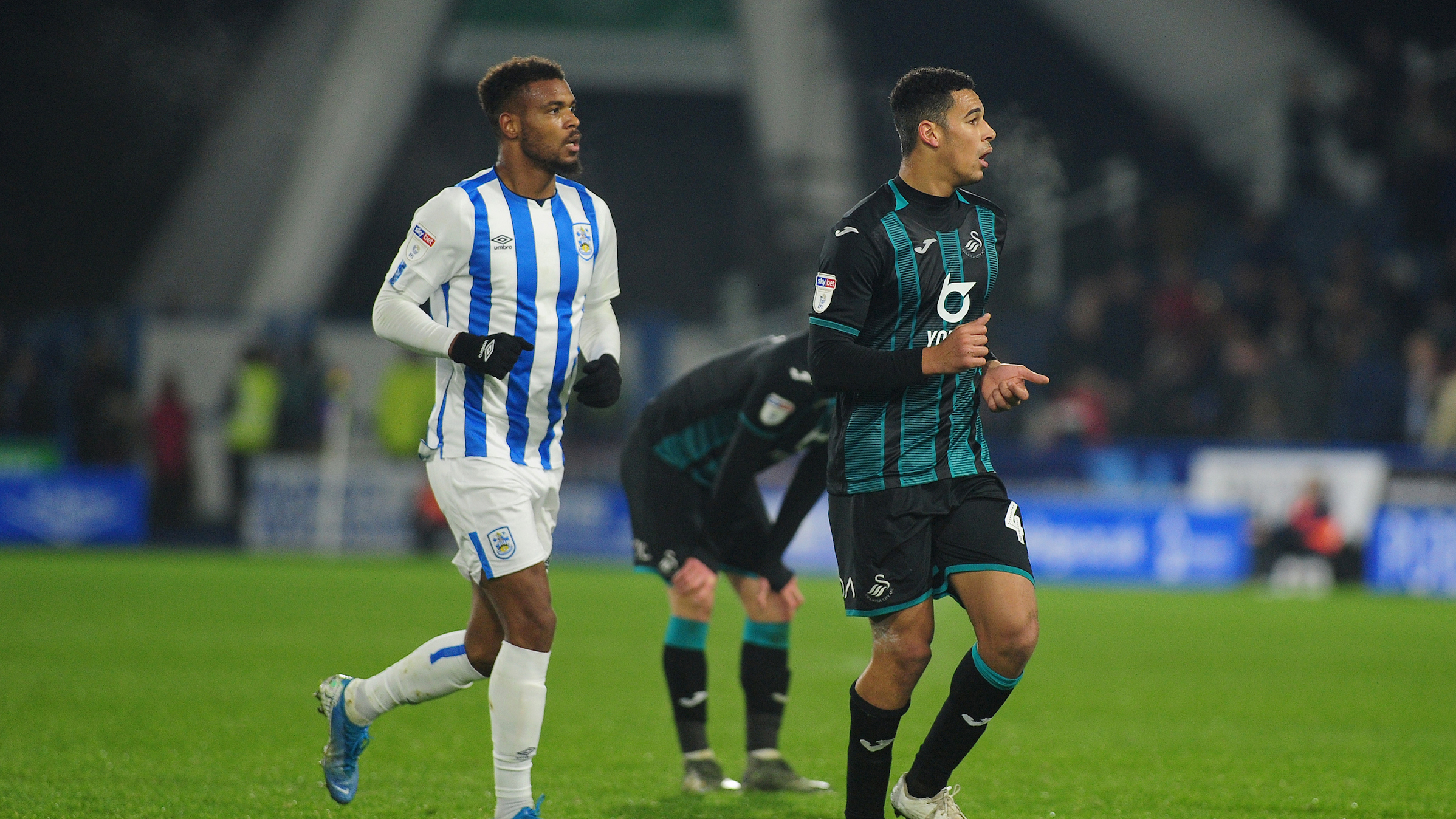 "He didn't make a fuss about it, and that made me feel like he felt I was ready and I loved it and felt it went well.
"It was lovely after the game as all the boys gave me a round of applause and a few pats on the back.
"But I don't want that to be a one-off, I want more of it and that's what I am striving towards."
A league debut was just the latest step in line for Cabango, who is just half of a pair of gifted sporting siblings.
Brother Theo has represented the Cardiff Blues 'A' team and is viewed as a promising full-back at the Arms Park.
Their father Paulo was born and raised in Angola, but made the move to the UK in 1997, meeting Alysa and settling in Cardiff.
A talented basketball player, dad's sporting talents have certainly carried through to his two sons.
"We are so grateful for everything our parents have done for us," said Cabango.
"It was a big commitment for my dad to make when he followed his sister over the UK, but he met our Mum and I know he loves Wales and life with us.
"They were always running us back and fore to training. When I started playing football with Maindy, the team needed someone to help coach after a few people left and my dad stepped up and did it.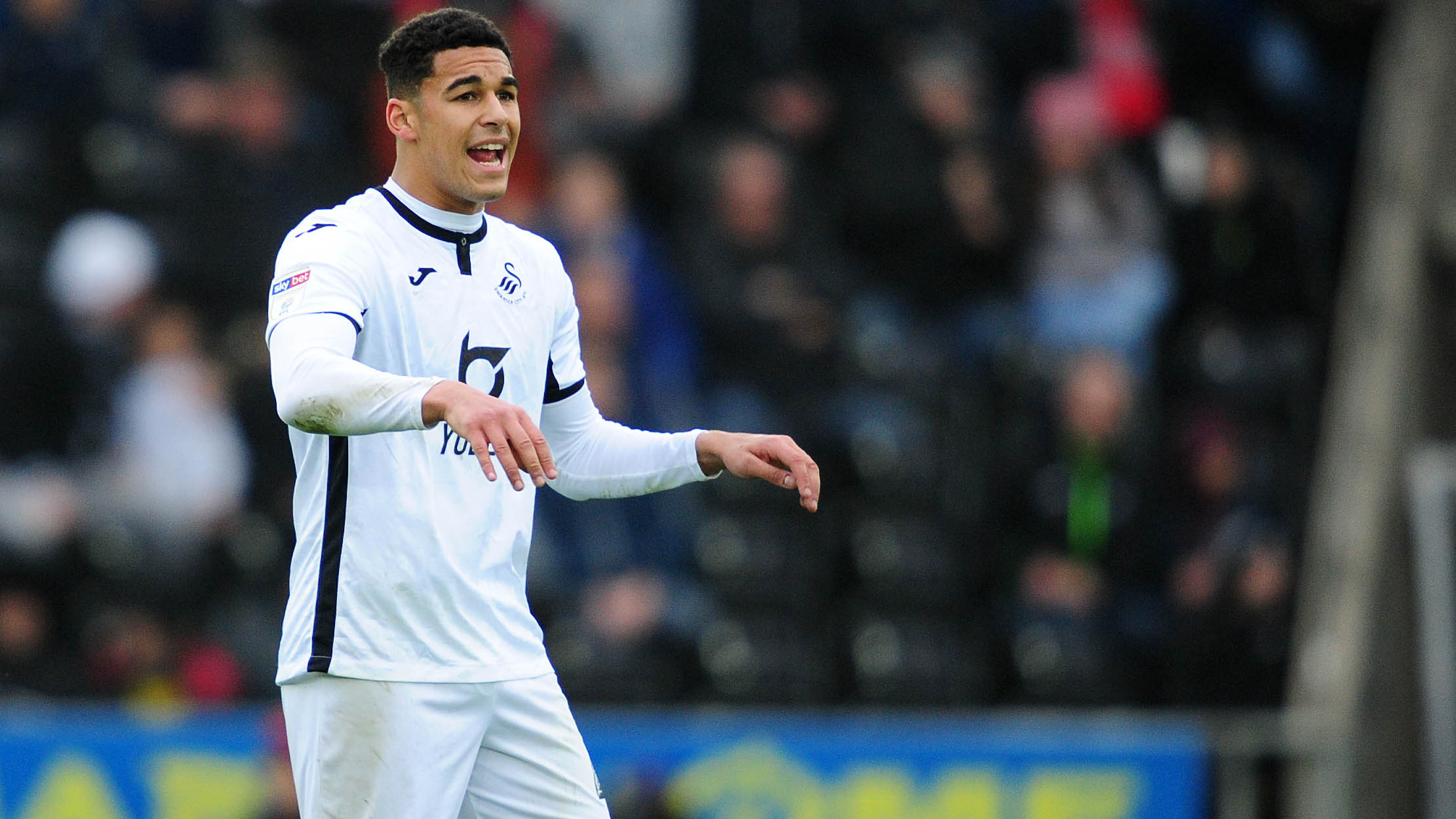 "When I joined Swansea as a scholar, he would regularly drive me all the way up from Gabalfa to train, patiently wait for me and then drive us back and that was happening three or four times a week.
"You can just imagine the demands of it because I also played rugby as a kid and my brother played football too.
"I was a full-back or a number eight at rugby and I played at county level but I think my brother and I are definitely in the right sport now.
"He was always the better rugby player, and I was a bit better when it came to football.
"The dream is for us both to be playing regularly at the top level, and hopefully representing Wales too. That would be amazing."
Having started at Maindy, as an attacking midfielder, Cabango was initially snapped up by the Newport County academy following a trial with the Rodney Parade club.
Having made good progress, Cabango found himself on the verge of a first-team opportunity with the Exiles.
However, a performance against Swansea City in the FAW Youth Cup put him on the Swans radar and a move was soon in place.
"I felt like things were going well at Newport but Swansea were a Premier League club and you only had to look at the facilities to know what an opportunity it was," he says.
"I had played for Newport against Swansea, and my father was approached after the game about me making the move.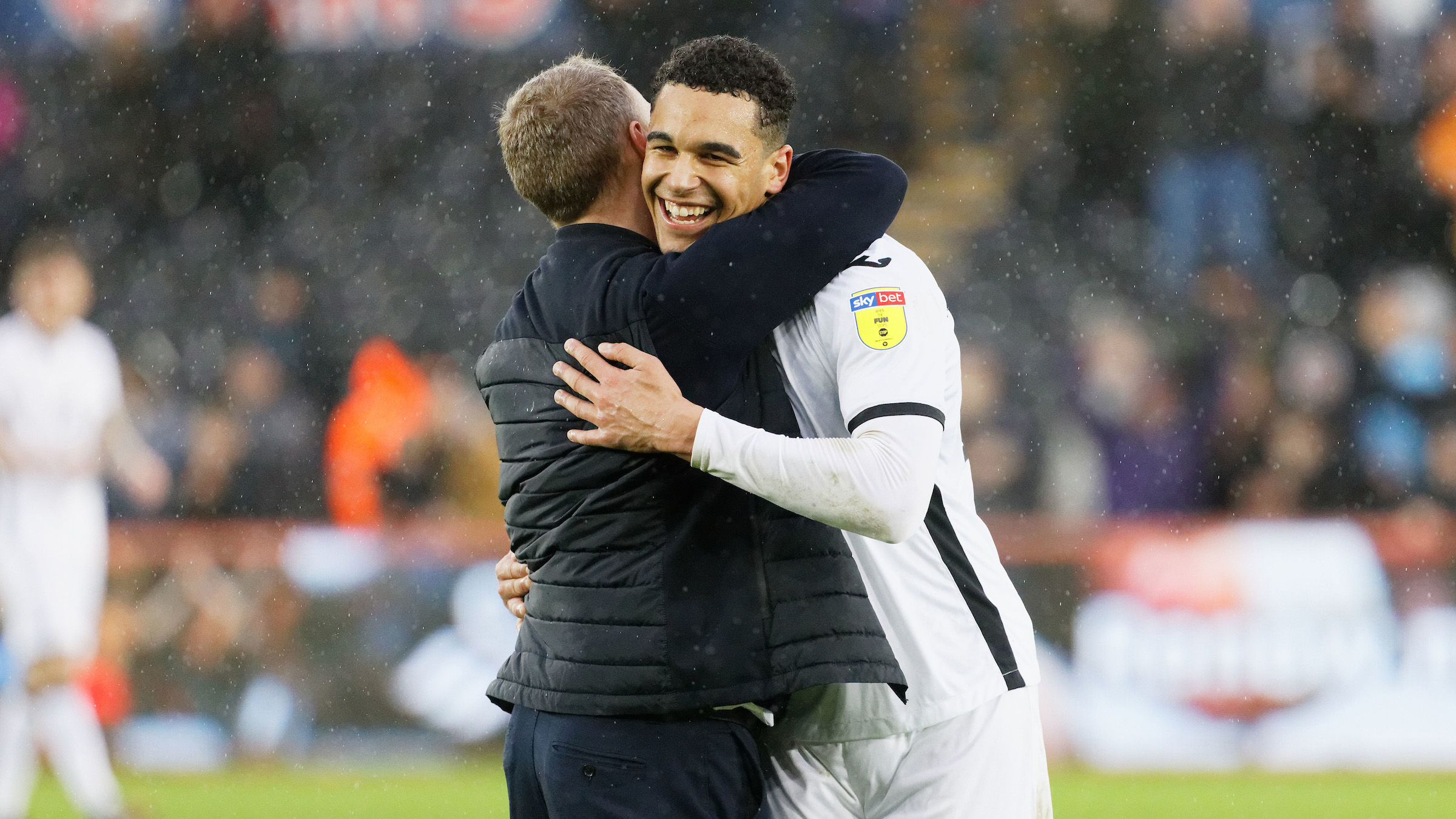 "It was not a difficult choice. I know a couple of other clubs offered me a trial in the days after I agreed to move to see if I would change my mind.
"But my mind was made up, and I felt I had to honour my word too as Swansea had shown faith in me."
Cabango has not looked back since, and showed a maturity beyond his years by electing to join The New Saints on loan at the start of last season.
It gave him regular exposure to senior football, and a by-product was the chance to experience the top tier of European club football.
Cabango became the first serving Swansea City player to net in the Champions League when the Oswestry club beat Macedonian side Shkendija Tetovo during a qualifier.
"I have to be honest and say I did not realise European football was going to be there for me to experience when I moved," he says.
"For me it was about being exposed to men's football every week. It's what I wanted.
"TNS are a good side, they are fully professional and they wanted to play good football so it felt like a good fit.
"But obviously when you walk out and you can hear that famous music playing, and you get to experience travelling for games like that it is fantastic.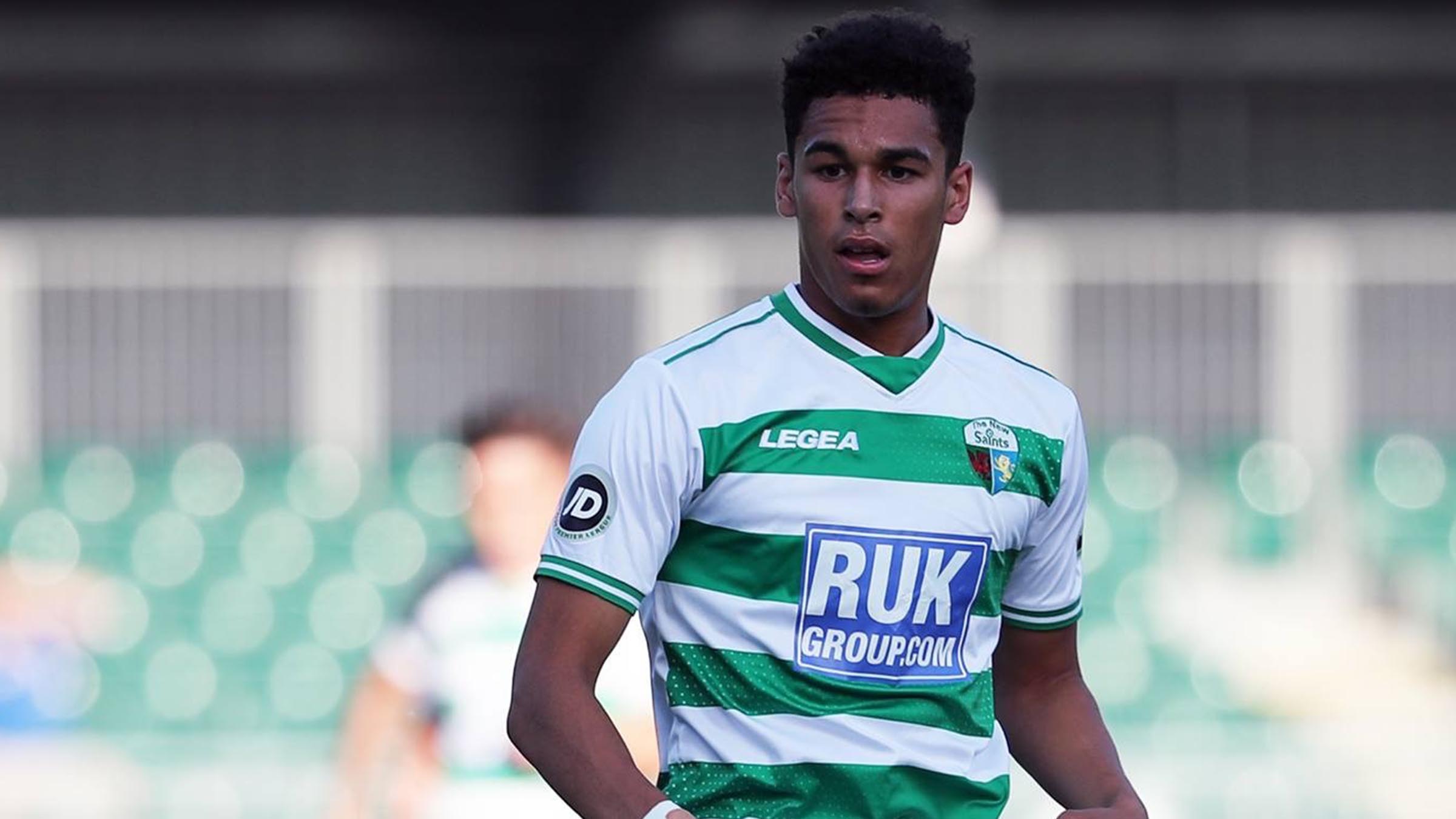 "A lot of players never get to taste Champions League or Europa League football, and I have been fortunate enough to do it.
"But there was more than just football to it. I was properly living away from home for the first time.
"I had been in digs before, but I could always just quickly head home from there.
"This was for me to sort things myself and I think it has made a big difference to me as a person.
"I'm probably a bit more assertive, confident and mature and that development as a person also helps on the field."
So, what's next for the defender?
"I just have to push on," he says.
"I got given a chance by the gaffer in pre-season when I went to Spain.
"I put a bit of pressure on myself going out there because I knew I had a window to make a good impression.
"I think that pressure I put on myself was a good thing and I am really pleased that chances to play have followed.
"But, it's like anything, once you have a taste of something you want, you only want more."
If his fledgling career is anything to go by, Cabango is a young man Swans fans will be seeing plenty more of in the famous old white shirt.