In the Spotlight | Freddie Woodman
14th September 2019
In The Spotlight
Swansea City have good reason to be thankful goalkeeper Freddie Woodman chose to ignore one of the earliest pieces of advice father Andy gave him at the outset of his football career.
Woodman senior had played between the sticks himself, enjoying a 17-year career playing for a number of clubs including Exeter, Northampton – more on them later – Colchester and Oxford.
He has coached at West Ham, Newcastle and Crystal Palace since the conclusion of his playing career.
But he initially urged son Freddie -who as a schoolboy had his sights on working for his grandfather's roofing business - to do anything other than don the gloves.
"One of the first things I remember my old man telling me was to play anywhere but in goal because that's not where the money is," laughs Woodman.
"He was telling me to be up the other end scoring goals, where the pay is better!"
Instead, Woodman junior ended up working his way back through the outfield positions before eventually arriving in goal, and Swans fans will have already seen the merits of looking past his father's attempted sage words.
Six games into his Swansea career – having arrived on loan from Newcastle – and Woodman already has three clean sheets to his name, has yet to taste defeat and made a superb penalty save at Derby to ensure the Swans remain unbeaten at this juncture of the campaign.
Yet Woodman has made a habit of making a big impression in a short space of time in new surroundings.
Indeed, his big break in football came via the rather rapid identification of his obvious talent ensuring - at the age of just 14 - Woodman had signed for his boyhood club, Crystal Palace.
He had previously been a ball boy and mascot at Eagles games, which is where he first came across a man who is now one of his team-mates at the Liberty.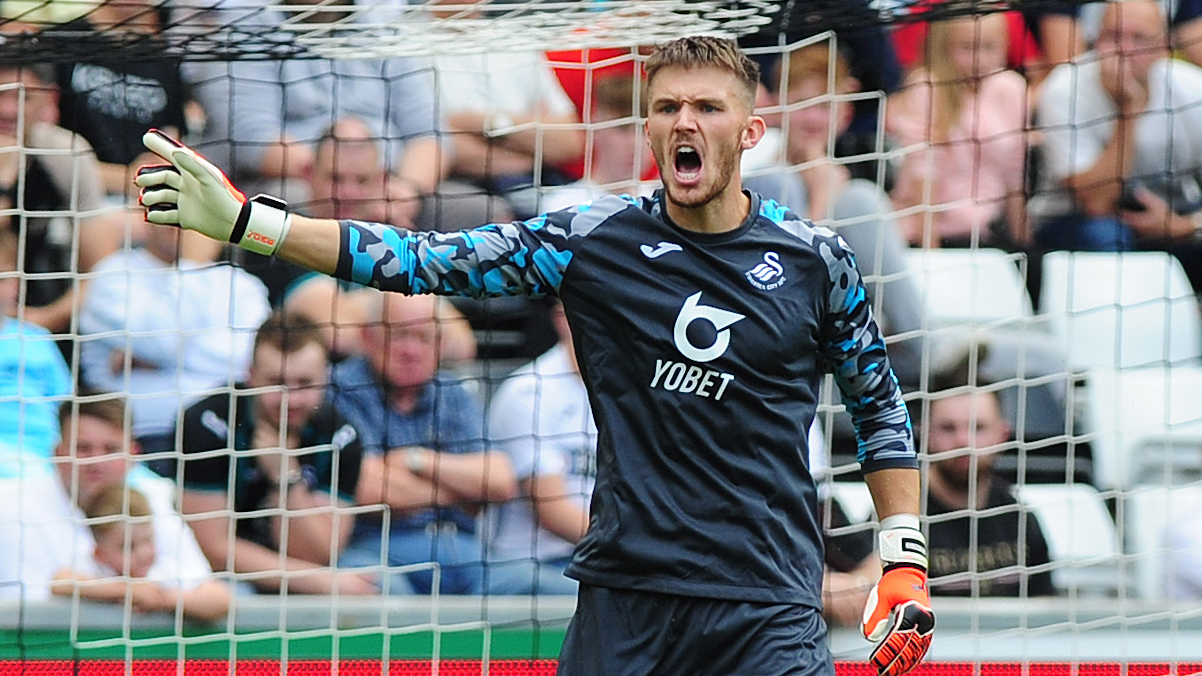 "I started as an outfield player but I soon find myself in goal, and my chance came around quite quickly," he recalls.
"I was lucky, my schoolteacher spotted me and he got me my trial at Crystal Palace. Funny enough I went back to the school during the international break to see them there.
"His name was Mr. Bruce and he was my PE teacher at Warlingham School. He was there when I went back and he still remembers the day when he said to me about going to Palace for my trial.
"That was the start for me. I was 14, I was in Year Eight, it was our first training session and he came to watch behind my goal and that was when he asked me. The trial went well and I signed for them.
"I hadn't even been thinking of football as a career, I knew how hard it was because I had seen how hard my father worked over his career.
"So I was delighted, I am a Palace fan. I was a ball boy at Selhurst Park, I was a mascot there. Wayne Routledge was in that squad.
"The first thing I told him when I got here was that he was a Palace legend, because I can clearly remember him scoring on his debut. It's been surreal to train with him after watching him as a kid and cheering him on."
Woodman made the move to Newcastle in 2013 and has made four first-team appearances, all coming under Rafael Benitez.
The young keeper found the former Real Madrid, Liverpool, Chelsea and Inter Milan boss to be engaging company, and wondered at the level of detail in his preparations.
But Benitez was not the only individual on Tyneside to make a big impression on Woodman, and he talks with genuine admiration and warmth when he recalls his time working there with current Norwich keeper Tim Krul.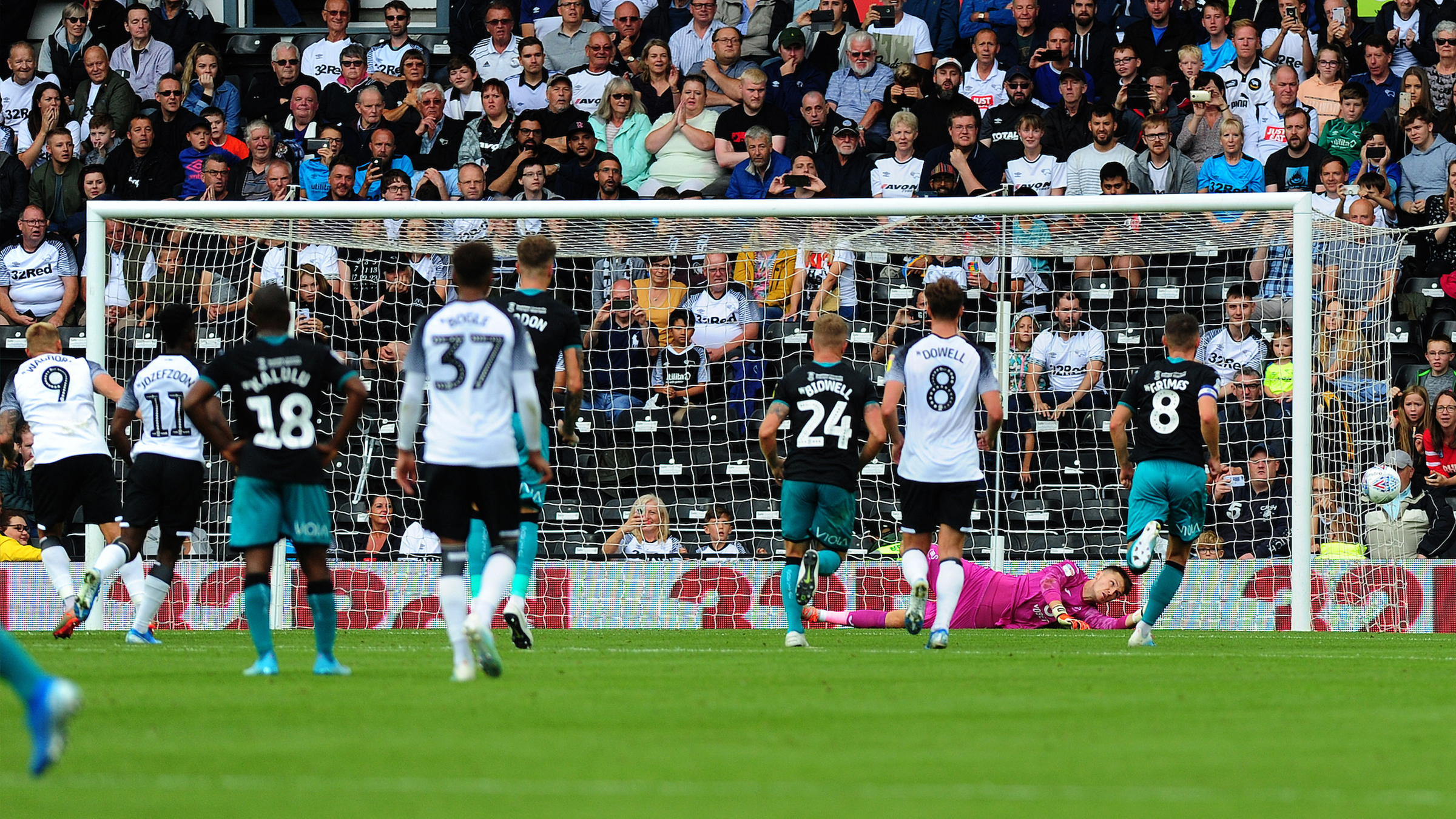 And Woodman reveals the incredibly generous gift the Dutchman gave him as congratulations for winning the European Under-17 Championship with England in the summer of 2014, when Krul was away at the World Cup with Holland.
"I will be honest and say I did not initially want to go to Newcastle as I was settled with my friends and everything else," he said.
"I was in a comfort zone, but I think it was the best decision I ever made, they are such a great club with such a great set of fans and I have worked with some incredible coaches and players.
"Tim Krul was massive for me, he was basically my coach there and he gave me so much advice. We set goals together and he was a major influence.
"When England won the Euros at under-17 level, he called me up to congratulate me and he told me 'I have got you tickets for Holland v Brazil at the World Cup in Brazil'. So before I knew it I was going out to the World Cup.
"That was unbelievable, and I still speak to him and I am so glad to see him back in the Premier League.
"Rafa was also brilliant for me, he gave me my debut which is something I will always be grateful for.
"I think I improved so much under him, his attention to detail was just incredible. Picking his brain was a real education, I loved talking to him about football, his career and his knowledge.
"I learned so much from him, and he was so open and happy to share and I really enjoyed my time with him."
Woodman has had spells on loan with Hartlepool, Crawley, Kilmarnock and Aberdeen in recent years, before sealing his move to Swansea for the 2019-20 season.
He has settled quickly, admitting that the adaptation to life in SA1 has been the easiest he has experienced while on loan at a club.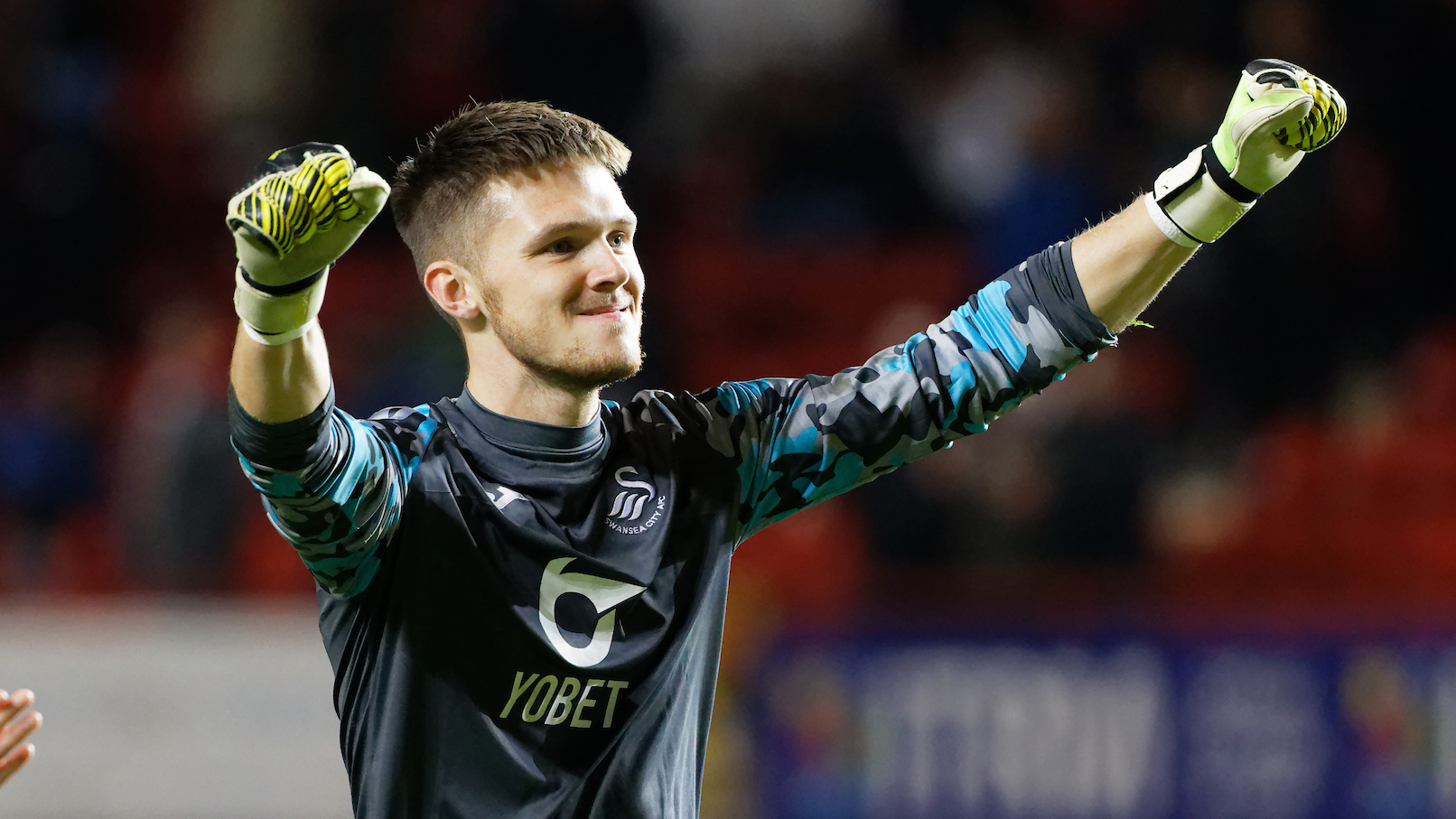 He also knows some strong performances will repay a little of a debt the Woodman family owe to Swansea City.
After all, dad Andy was the man in goal for Northampton when they beat Swansea in the 1997 Third Division play-off final.
Woodman senior made a couple of crucial saves as a John Frain free-kick broke Swans' hearts in the dying moments, leaving Jan Molby's team laid out inconsolably on the Wembley turf after the final whistle.
"Everyone has spoken to me about that game since I arrived," says Freddie, who was born that year, with a chuckle.
"Believe me I've sat through that game a few times, my father has kept the tape of it so I know it well. I've definitely sat through the full 90 minutes a few times.
"When my dad and I were driving down to sign we were saying how crazy it was that he had made an unbelievable save to deny Swansea and now I am playing for them.
"Actually, at my first game a guy stopped my dad to tell him he had ruined his summer in 1997, so there's been some great banter.
"So, after that, I probably need to make sure I have a good year to pay the club back for that day in 1997."
While Woodman is quick to praise the work of the players ahead of him for their role in Swansea's impressive defensive start to the new campaign, his individual performances have attracted attention, particularly his penalty save from Martyn Waghorn in that goalless draw at Derby.
Woodman has form when it comes to spot-kick heroics, having saved penalties in that Euro triumph with England Under-17s, and the under-20s' subsequent triumph at the World Cup in 2017.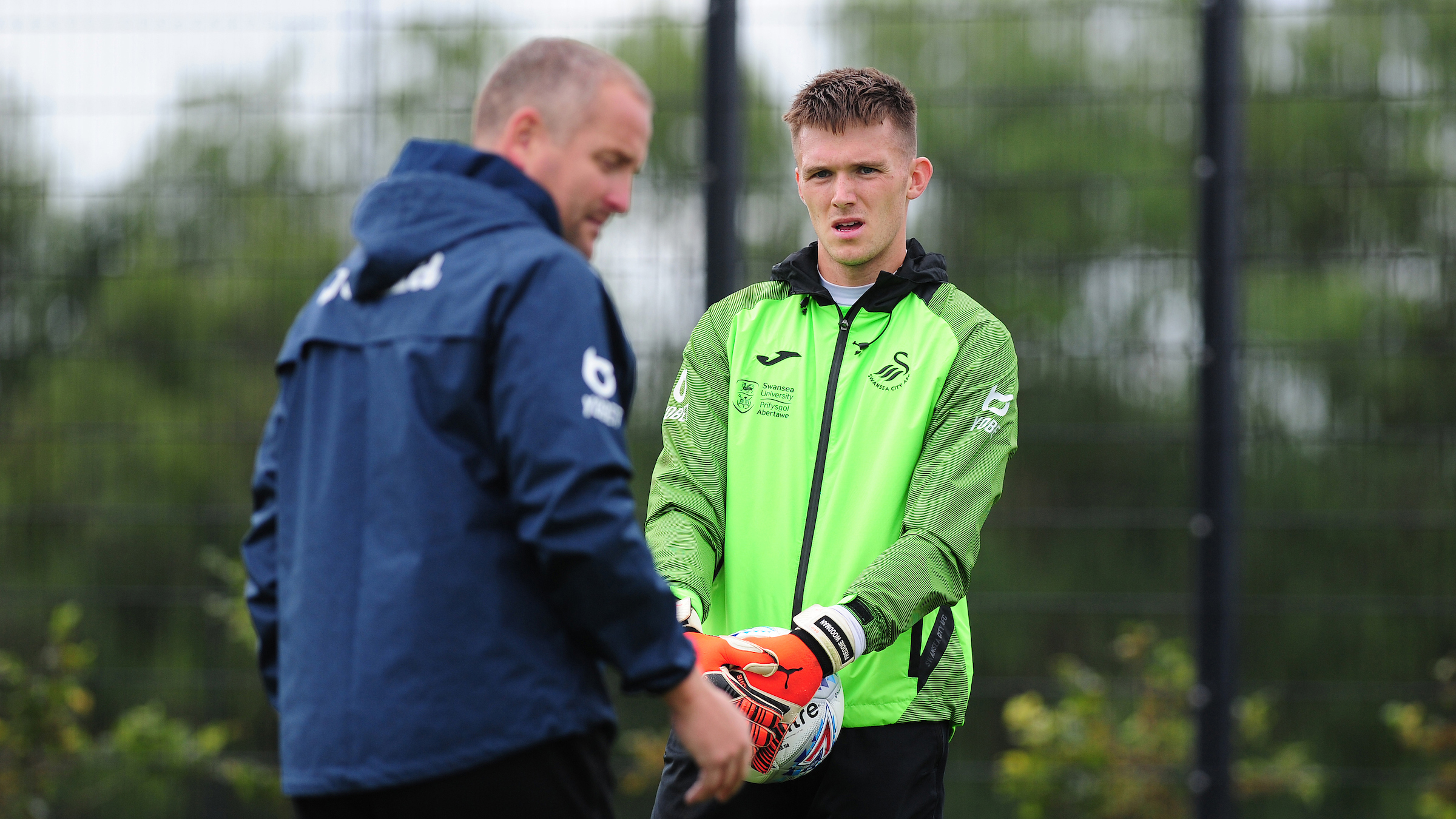 He also saved three penalties in a shoot-out to help Aberdeen reach the Scottish Cup semi-finals.
So, what is it that makes Woodman so good at denying opponents from the spot? For the Swans keeper it is about keeping things simple.
"For me, a lot of the work is done in advance. I like studying the game and doing my homework," he said.
"But when it comes down to it you have to pick a side, trust your instinct and go with it.
"There's a bit of luck obviously, that's what I said after the Derby game.
"It's like the lottery, but if you do your homework and your preparation you improve your chances of being successful and it's about those percentages.
"Penalties seem to follow me around, I am sure that will stop at some point.
"From the off my dad always said to be aggressive, pick your side and go with it, and that's been a consistent message from most of my coaches."
That is one piece of advice from dad that Woodman has followed, and his family have attended every game he has featured in this season, and they are set to be in the stands once again this afternoon as Nottingham Forest visit SA1.
Woodman will be hoping they witness a similar result to what has come before during a fine opening few weeks of the campaign under Steve Cooper.
"I am a family man, they are massive to me. I know what they have sacrificed for me and they mean so much to me," he said.
"I see the position I am in as a chance to pay them back for everything they did.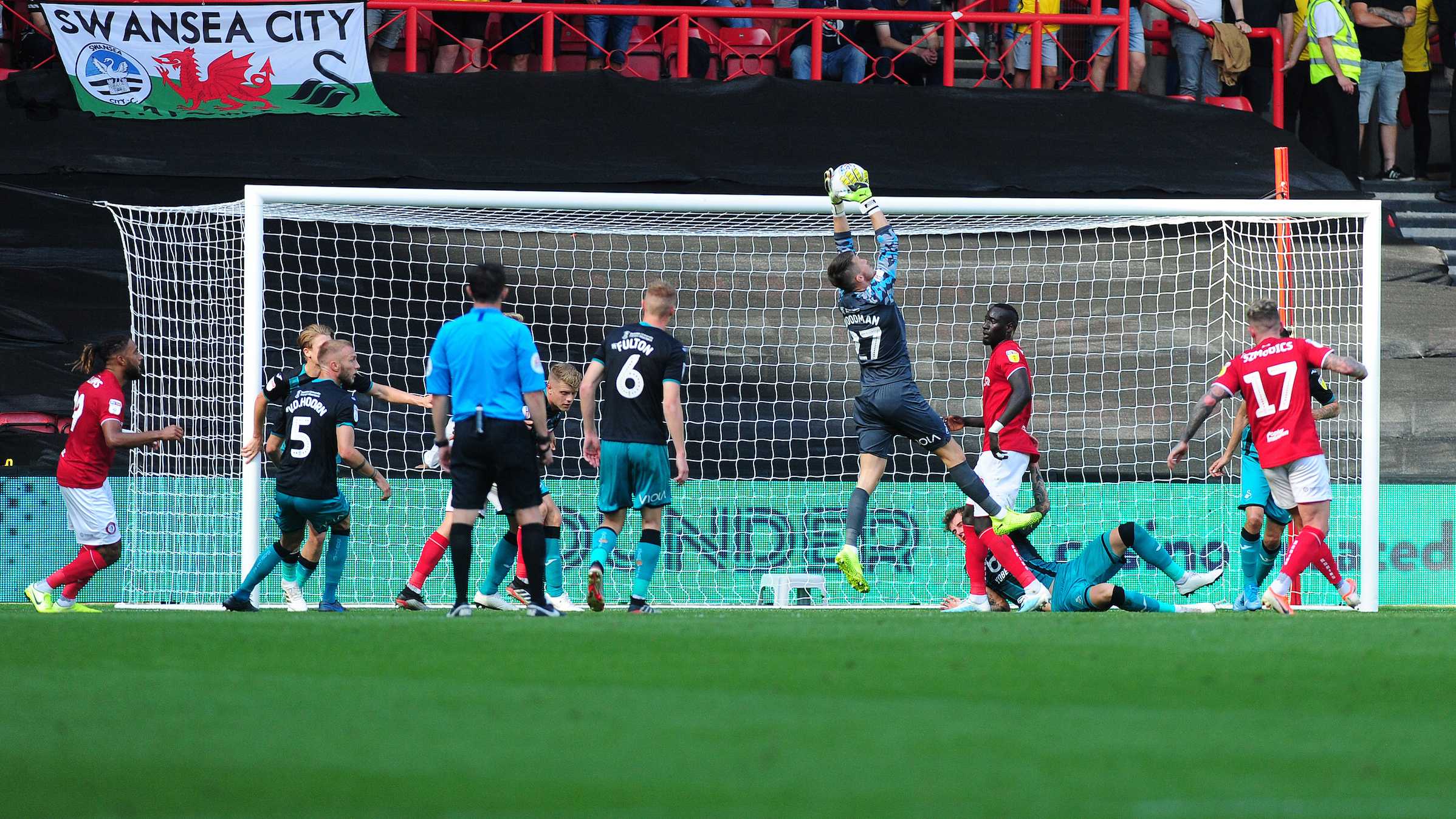 "They have come to every game so far, travelling from London, my mother loves it down here I think she's got an eye on a holiday home the way it is going!
"They are important and I want to do them proud and keep doing well.
"We know it's been a good start, but it has to continue that way and we know that if we start patting ourselves on the back things can soon change.
"We have to keep that focus and we have to keep enjoying the hard work and enjoying our football.
"I have been made to feel so welcome, I have settled straight away and I love playing here and I want to continue getting games and helping the club because I have felt right at home here."
And right at home between the sticks, thank goodness he didn't follow his old man's plan.