Swansea City AFC Foundation celebrate impact of girls only sessions
5th June 2022
Foundation
Swansea City AFC Foundation celebrated the progress of FAW Girls only session participant Leila Einon by inviting Swansea City Ladies forward Stacey John-Davis to surprise the aspiring footballer at training.
Leila began attending the girls only sessions in Pembroke four months ago and has seen her confidence and her skills grow massively ever since.
Kaya Blackmore, Foundation girls coach, said: "Leila has been coming to our FAW-funded girls only sessions since February.
"When she first came, she was very shy but as soon as she started kicking the ball with the girls she felt comfortable and we really started to see her confidence growing.
"She has come on leaps and bounds since attending the sessions, she went from not playing football and to going on to play for Camrose Football Club and that's such a great achievement for her.
"Just to see her grow and develop gives us a great feeling of achievement for helping these girls become what they want to become."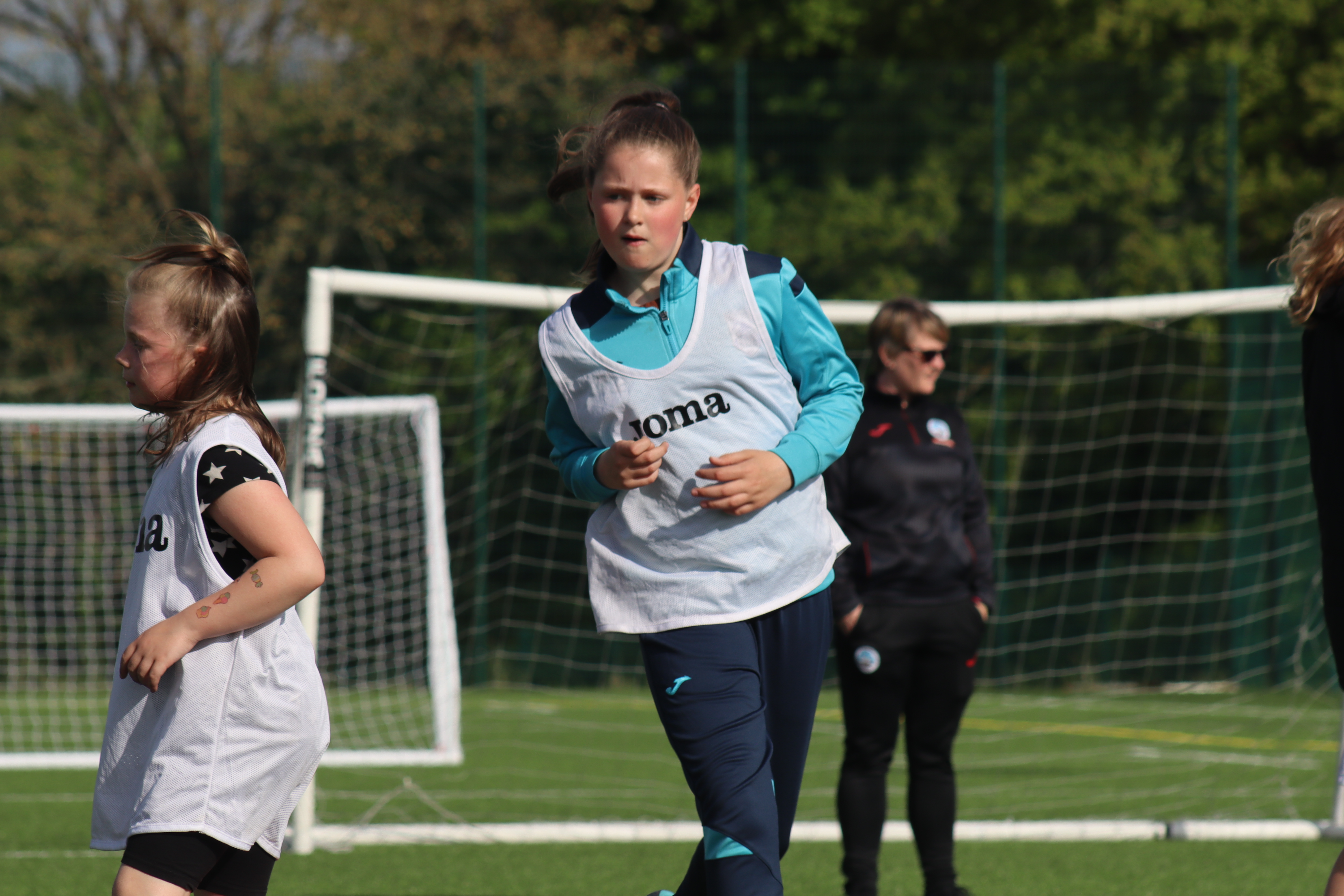 Cath Einon, Leila's Mum, added: "She took an interest in football from watching the boys play in school but I think she was a bit nervous about getting involved.
"One of the things that attracted us to this initially was that it was free to come and just have a go and that it was girls only.
"Because of her shyness, Leila was a bit reluctant at first - we told her to just try and that she didn't have to go back if she didn't enjoy it, but she absolutely loved it.
"She got more and more into it and then we found out that there were county trials. She was lucky enough to be picked to play for the county as well which was an amazing shock because she hadn't even played for a team before [joining the Foundation's girls only sessions]."
John-Davis grew up near where the sessions that Leila attends are held but didn't have the same opportunities to take part in girls only sessions when she was growing up.
The forward was pleased to see so many young girls involved in the game and feels that the environment of the sessions would have been great for her development own development.
"These sessions are massive, it's great to see that there are so many young girls involved in the game in general and even from such a young age," said John-Davis.
"Just to be around the environment of the girls and getting that togetherness and team bonding, I think that would have been great for me."
To watch the video, click on the gold play button at the top of the screen.