Swansea City | Forever and Always
2nd December 2019
Ticketing News
Swansea City has enlisted the help of three young Jacks to pack the Liberty Stadium with our fans of the future next season.
Danni, Jack and Joshua won our competition for the best Swans-dressed bedrooms and today launch our Forever and Always season-ticket campaign.
Season-ticket holders can renew their seat for the 2020-21 season from today with up to £70 slashed from the children's early bird price, with adult early bird prices also frozen for the eighth-consecutive season.
Our Forever and Always season-ticket campaign follows the three young Swans season-ticket holders who are at the heart of the club.
"I have been supporting the Swans for four years and will support them for as long as I possibly can," said Danni, who is 10 years old and has been coming to the games with her family.
As an aspiring footballer herself, coming to watch the Swans inspires her to play like the first team do, picking up tips here and there.
Jack, seven, became a season-ticket holder by following in the footsteps of his grandfather and father.
"I love it so much. It's exciting because it reminds me that I am part of the Jack Army," said Jack.
Joshua, 13, attends home and away fixtures and is a season-ticket holder, along with his mother, father and uncle. Football has become an obsession for him.
"We all enjoy coming to the game, and it's definitely made a difference to Josh over the last few years from the social aspect as he has Autism," explained Joshua's father Paul.
HOW TO RENEW
The quickest and easiest way for supporters to renew their season ticket is to do so online HERE. Each supporter will have a personalised page in their Swans Club Account profile with all of their renewal details. Supporters are also welcome to visit the ticket office or phone 01792 616400 to renew their season ticket. 
You have until midnight Tuesday, March 31st to secure your 2020-21 season ticket with early bird prices ending on Friday, January 31 2020.
To renew online, you must ensure you have:
A Swans Club Account.

Are able to log in via login.swanseacity.com

Are linked to their own correct season ticket account number under the "Link My Account" page of their profile. This number needs to match the number on the bottom left corner of your card.

If the wrong account is linked, please email

ticketoffice@liberty-stadium.com
Please ensure that you have a valid email address at the time of renewal, as your application cannot be completed without one. 
All existing season-ticket holders who renew will NOT receive new cards in the post, so please make sure you keep your current season card. Your season ticket will also be available on the official Swans App to use for matchday entry.
PRICES
While early bird adult prices have been frozen for the eighth consecutive campaign, the club has reduced the price of season tickets for fans under the age of 18 by up to £70 across the North, West and East Stands at the stadium.
There is also be a further reduction of up to £20 for the South 'Family' Stand.
The club has introduced a new term-time season ticket for students which will start from October and be based on attendance of 16 league games to fit around their academic timetable.
For the season-ticket prices announcement, read HERE.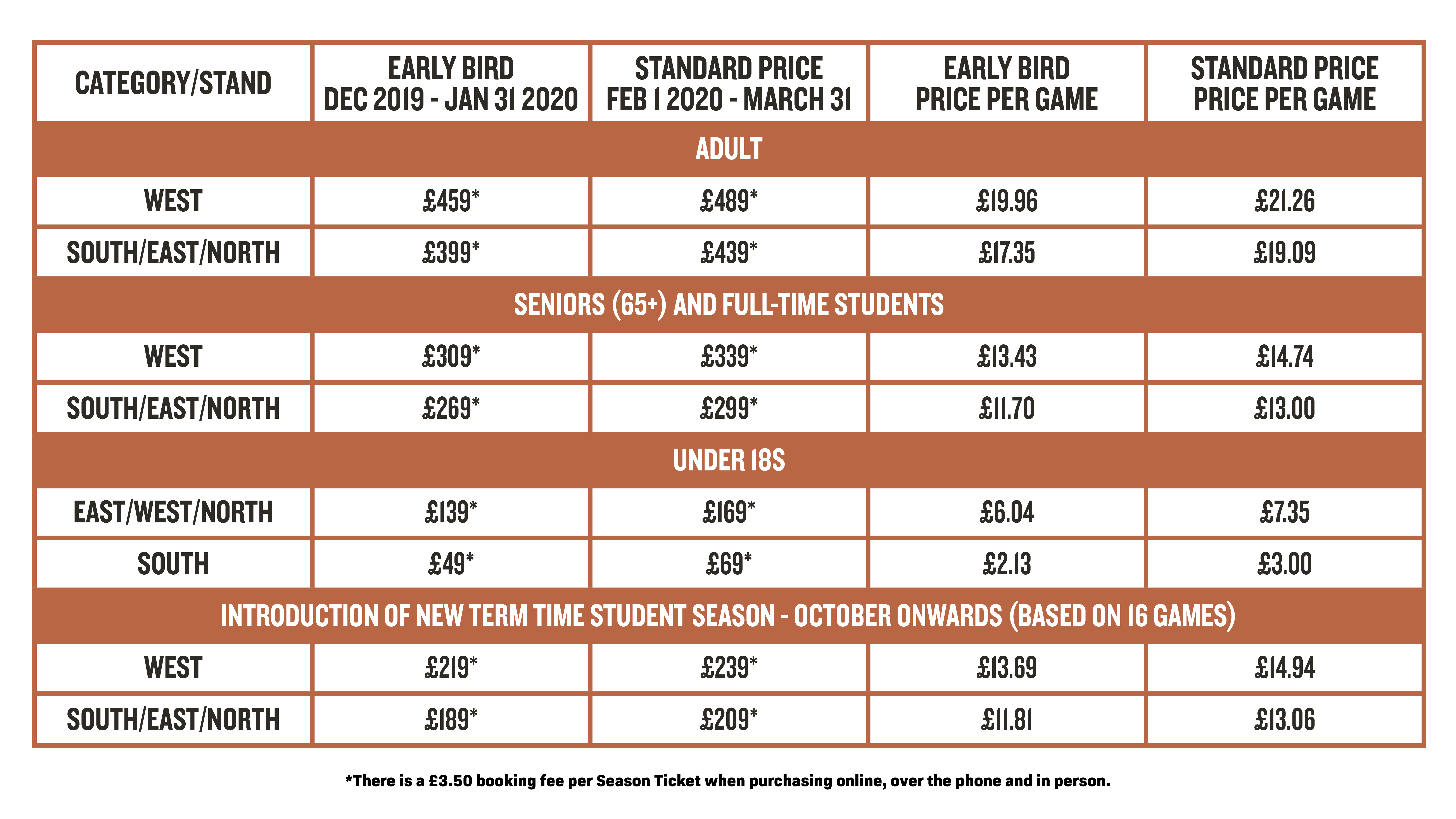 *There is a £3.50 booking fee per Season Ticket when purchasing online, over the phone and in person.
** SENIORS: Supporters are advised that the club made a significant change to the 'seniors' age category for the 2019-20 season; increasing the senior age from 60 to 65 to fall in line with the vast majority of clubs across the country.
The club honoured those season tickets holders who were 59 years old and due to qualify for the 'seniors' rate for the first time in season 2019-20.
For clarity, if you are currently a 'seniors' season ticket holder aged under 65, then you will remain on the seniors rate as long as you renew annually.
*** Supporters purchasing student season tickets will be required to provide proof of their enrolment in full-time education by October 31, 2020. Valid proof of eligibility is a dated and stamped letter from your school or university stating that you will be undertaking a full-time course during the 2020-21 season, or a valid date-specific student ID card. 
INSTALMENT PLANS
For supporters who want to renew their season ticket using alternative payment plans, two instalment options are available with our five  and 10 month plans.
All you need to do is choose the Instalment Plan when making your purchase. Upon selecting this option, supporters will receive their contract via email, which will need to be completed and returned to V12 Retail Finance. The Season Tickets will only be secured once this contract is completed and returned to V12 Retail Finance.
An administration fee of either £26 (5 month plan) or £38 (10 month plan) will be payable in full with the first monthly instalment.
MOVES & ADDITIONAL SEATS
Those supporters who renew will also have the opportunity at the renewal stage to purchase additional season tickets for family and friends at the early bird price.
The club will then endeavour to sit any additional season ticket holders next to an existing seat (in a non-season ticket seat) or relocate the whole group to their preferred area before tickets go on general sale.