Swansea City Foundation continue their commitment to charities
23rd January 2022
Foundation
Swansea City and Swansea City Foundation are acutely aware of the challenges faced by communities in and around Swansea, particularly over the last 18 months.  Our community is at the heart of everything we do and as such we try to support as many charities and projects as possible. The community of Swansea is special, and we applaud the amazing work being undertaken within it and thank those who allow us to be part of their journey.
The Swans Foundation is the charitable arm of the Club and through football inspired projects we aim to help local people with their health, learning and wellbeing.   To deliver the best results for the children, young people and adults we work with, the Foundation are proud to partner with a number of national and local charities including Streetgames who specialise in running sports activities with disadvantaged young people, Platform, a mental health charity and Football Vs Homophobia who recently ran a workshop for us highlighting the challenges faced by LGBTQ+ people within football and how we can support them effectively.  Working alongside these organisations enhances the positive impact we have in Swansea and the surrounding area.
Many of our key partners, as you would expect are drawn from the world of football. These include Premier League Charitable Fund, the EFL Trust and the FAW Trust. These three organisations enable us to carry out innovative, football-based projects in schools and in the local community.  Recently the Foundation has developed a strong relationship with the Dyfed Powys Police and Crime Commissioner's office to help provide more opportunities for young people from disadvantaged communities to take part in sport, improving their confidence and reducing anti-social behaviour. 
In addition to our football-based projects, the Foundation provides donations to other smaller charities and good causes through our grant giving scheme, SwansAid. Since its inception in 2013 the scheme has awarded nearly £200,000 to various organisations and causes including, Surfability who provide suitable equipment so young people with disabilities can surf, as well as local community groups such as Baglan Boys and Girls Club, West Wales Pan Disability Football League and Mumbles Lifeguard Club.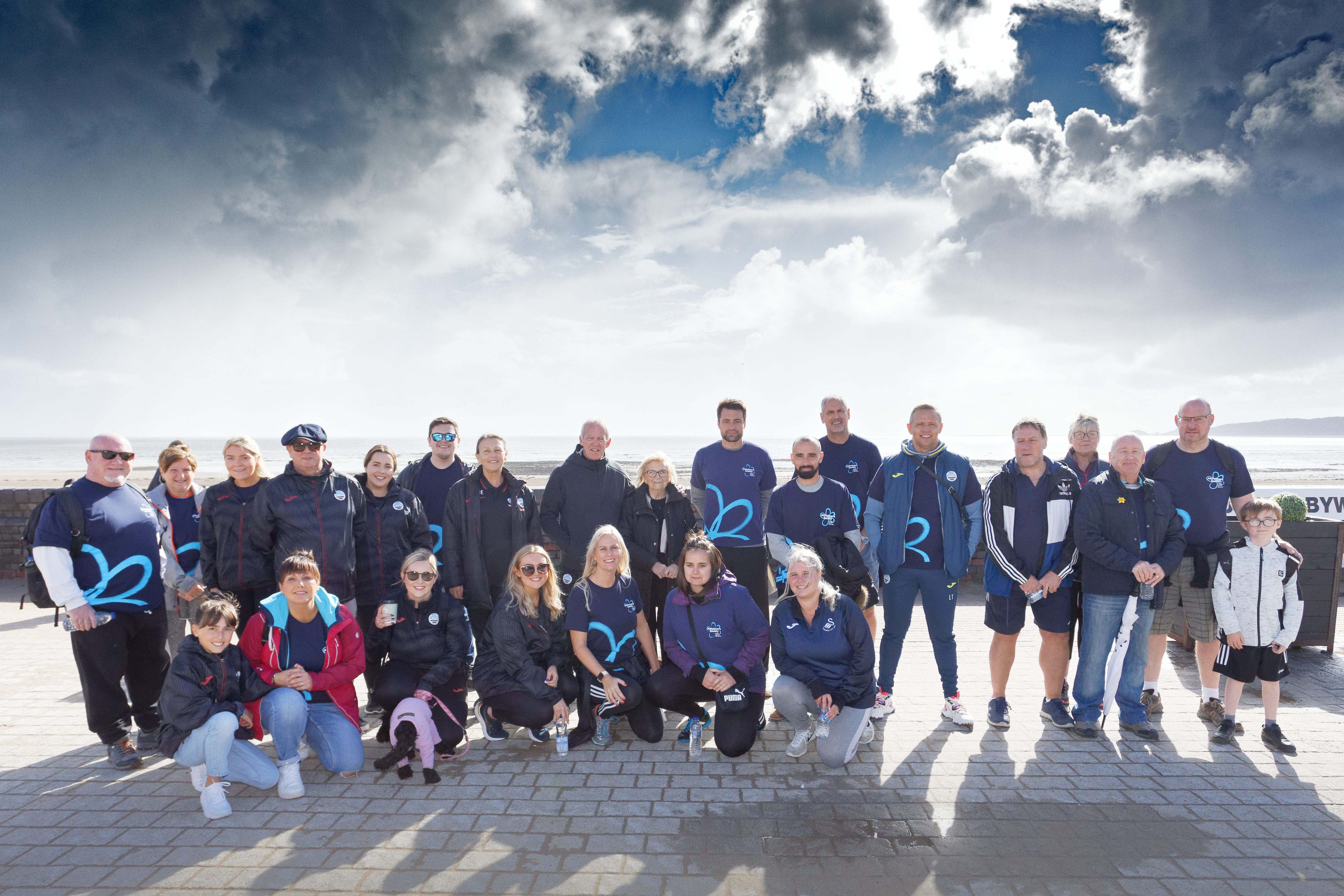 The scheme has provided invaluable support and much needed funds for organisations across Southwest Wales with over 40 different organisations benefiting so far.  The application process is straightforward, and we welcome additional applications in the near future, as we remain dedicated to being a part of our local community and providing help and support wherever possible.  For more information on how you can apply click HERE
This season, we also launched our 'Former Players Association' – a scheme set up to unite those who have worn the club shirt and who wish to continue or renew their links with Swansea City Football Club.  The aim of the association is to promote friendship, support and charitable work, including fundraising, by bringing together players from different generations and different eras.  The Former Player Association is also there to provide help, financially or otherwise to past servants of the club. As once a Jack, always a Jack.
In October the group completed a memory walk to help raise funds for Alzheimer's Society Cymru, which is the clubs chosen charity of the 2021/22 season. This season the club asked its supporters to nominate which charity they felt should be the Clubs Charity of the season. Overwhelmingly the jack Army told us that that recipient should be Alzheimer's Society Cymru. Through this nomination process the club discovered other charities which are close to the hearts of the local community and as such it has looked to provide support to others, even though they did not achieve the full 'charity of the season' status.
One such nomination was the Jac Lewis Foundation, which was particularly close to the hearts of many supporters. The Club has since partnered with the Jac Lewis Foundation and wellbeing health experts, SOFit to provide regular mental health drop in centres.
Julian Winter, Chief Executive, states "It was clear to us that mental health issues are on the rise, particularly coupled with the pandemic. The Jac Lewis Foundation was doing such amazing work within the local community of Ammanford and we wanted to help build this and make it accessible for the people of Swansea. By providing the Swansea.com Stadium as the drop in centre, we hope this has enabled those within the City a safe haven to attend and to seek help and support."
Every matchday local charities are identified and can apply for assistance with their fundraising efforts through bucket collections.  These collections provide a key source of income that enables them to continue their good work in the community.  So far, we have worked alongside many charities such as McMillan, Diabetes Cymru, Swansea Women's Aid, Show Racism the Red Card, Golau Cancer Foundation, Children in Need and many others who have all raised considerable funds to support their charitable endeavours.  Charites are continually amazed and thankful for the generosity of the Jack Army on matchdays.
We are always on hand to support with donations of kit and memorabilia that can be utilised to raise funds for those in need.  We have a long-standing relationship with Matthews House, who work with the most vulnerable people in the city.  The charity is a key member of the food poverty network and was at the heart of the pandemic response locally. 
Head of the Swans Foundation, Helen Elton commented:
"Through its Foundation, the Club is able to support the community it has grown out of, the very community which has, over the last 110 years, given so much support to the Club. Unfortunately, we know there are more and more people within our community who need an extra helping hand. We see it as an important part of work to provide help wherever we can."
The Club and Swans Foundation are proud to play a prominent role in supporting the 'everyone deserves a Christmas' campaign, spearheaded by Foundation Trustee Carolyn Harris MP.  The annual campaign aims to provide festive cheer to those who require an extra helping hand.  The campaign provides families in need with a Christmas hamper consisting of festive food, drink and treats.  This year, over 1000 hampers were delivered to families across Swansea.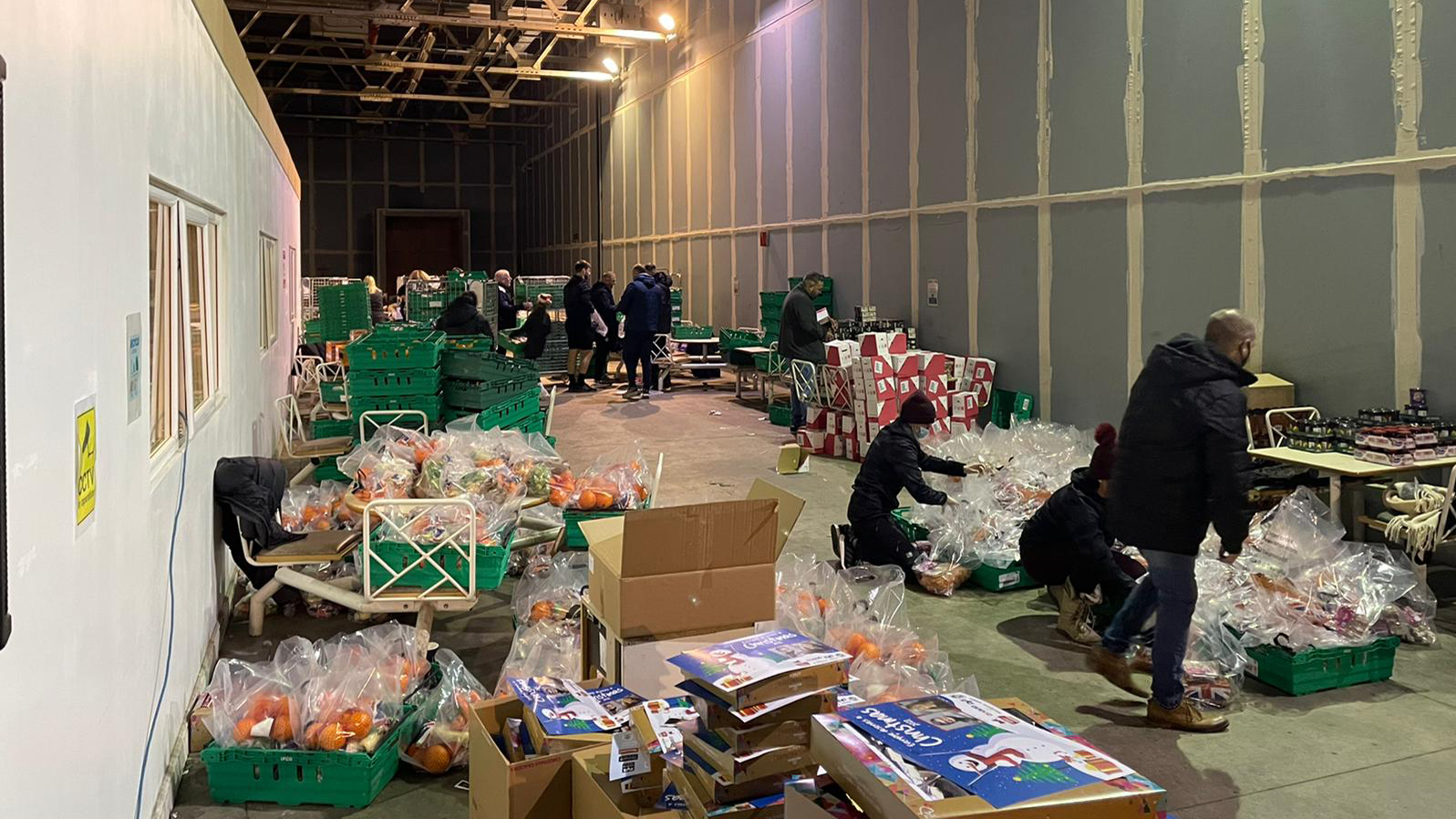 At Christmas time we announced our initiative of 'whose coat is that jacket?', whereby Swansea City, the Ospreys, and Ministry of Furniture worked together for those in need this Christmas through the scheme, which aims to provide the homeless and those in need with warm layers of clothing to help them fight the chill at this time of year. The Jack Army once again showed the power of community through supporting the donation scheme and in the end over 500 coats and jackets were distributed to locations including the City Church in Dyfatty, Matthew's House and Zac's Place.
We are passionate about making our sessions accessible for everyone. We know football can be an expensive sport to take part in, so as part of our efforts to support families who are struggling financially, we work alongside the Bootroom who provide much needed boots and AstroTurf trainers to children and young people that take part in our sessions, who's families may be finding it difficult to afford the kit for their growing children.
We have developed a fantastic relationship with the amazing Margam Stags inclusion Football, where we have attended their training sessions, festivals and provided goodie bags for all the children. We recently learnt they had developed a pen pal scheme with Bootle Football Club in Liverpool and so delivered some Swans stationery to help with this.
We also work very closely with several charities to support their campaigns to raise awareness at certain points during the year.  For example, in November we worked with Stonewall to deliver workshops in local schools around LGTBQ+ awareness as part of their Rainbow Laces campaign. We also worked alongside Show Racism the Red Card delivering anti-racism activities centred around Black History Month, with the support of Swans legend Nathan Dyer. These events are crucial in helping to raise awareness of important issues.  By working alongside well-known charities, coupled with the power of the Swansea City brand, these messages can really hit home and make a big difference in the lives of the children and young people we work with. 
In a similar vein, we know the stigma associated with mental health issues and we work very closely with Mind, and Time to change Wales to promote the message of positive mental health and wellbeing.  We will be delivering a raft of activities and events to co-inside with their month of action this February, so look out for those on our social media channels.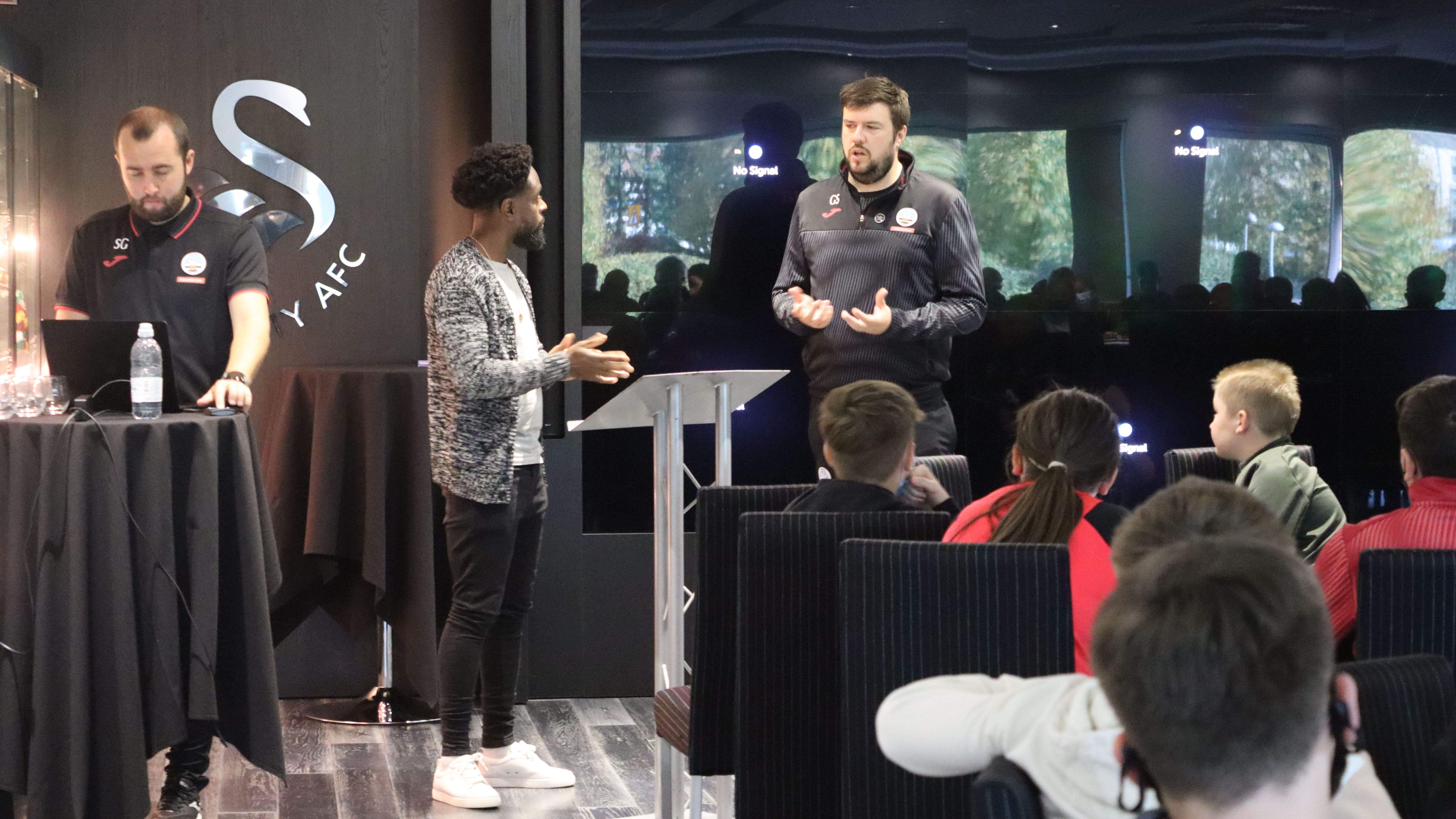 There are countless other charities and good causes we have worked alongside and continue to work with – too many to mention.  The Club and its Foundation exist to support those in need across our communities.  We are thankful for the support we receive from other charities and organisations we and we hope, together, we can continue our good work for many years to come. 
If you are a charity who'd like to be part of our matchday bucket collection, or would like donations to raise funds for a good cause please contact us via our email; charity@swansfoudnation.org.uk
Also, if you would like to make a donation to the charity to support our work, please follow our just giving page HERE