Vetch Field | The Final Season | Part One
11th May 2020
Features
Today, May 11, marks 15 years since Swansea City played their final game at their old Vetch Field home. To mark the anniversary we are running a series of features about that final 2004-05 campaign under the guidance of Kenny Jackett.
We start with part one, which looks at the events of the summer of 2004, including a host of new arrivals and a pre-season tour of Holland.
Unlike most captains, Roberto Martinez did not like to sit down and be interviewed for his notes in each and every matchday programme.
The Spaniard - as befitting his thoughtful, cerebral approach to life and football - preferred to sit down and record his musings on to his own tape recorder.
And so, in August of 2004, he sat down to record his first captain's notes of the season.
The tape recorder would eventually come to end up discarded in the back of a cupboard at the club's new Fairwood training base until being rediscovered during an inventory in January of this year.
Despite the 15 years that had passed, the audio remained in good nick and the tone was clear as Martinez's familiar voice crackled into life.
A ball had yet to be kicked in anger, but the importance of the campaign ahead was not in doubt.
After all, this was the outset of the club's final season at the Vetch Field, the ground the Swans had called home since their formation in 1912.
After 93 years, the end of the 2004-05 campaign would see the old place consigned to the history books with the new Liberty Stadium under construction a few miles away.
On the field – as well as off it - the Swans were on the up.
Following that heart-stopping survival epic against Hull in 2003, they had looked set for promotion the following season, only to tail off.
Brian Flynn – the man who oversaw that great escape – had departed and been replaced by former Wales international and Graham Taylor-disciple Kenny Jackett.
There was a sense of expectation in the air.
"Exciting is the best word to describe the feeling around Swansea City Football Club at the moment," Martinez said as he spoke into his tape recorder ahead of the season opener against Northampton back in 2004.
"On Saturday we are opening one of the most special seasons at The Vetch, and it must be a first that we are able to say that before the season has started.
"We have had a pre-season, a good pre-season, where everyone involved in the club has been working really hard to be ready for the massive challenge, which is to be a League One team when May arrives.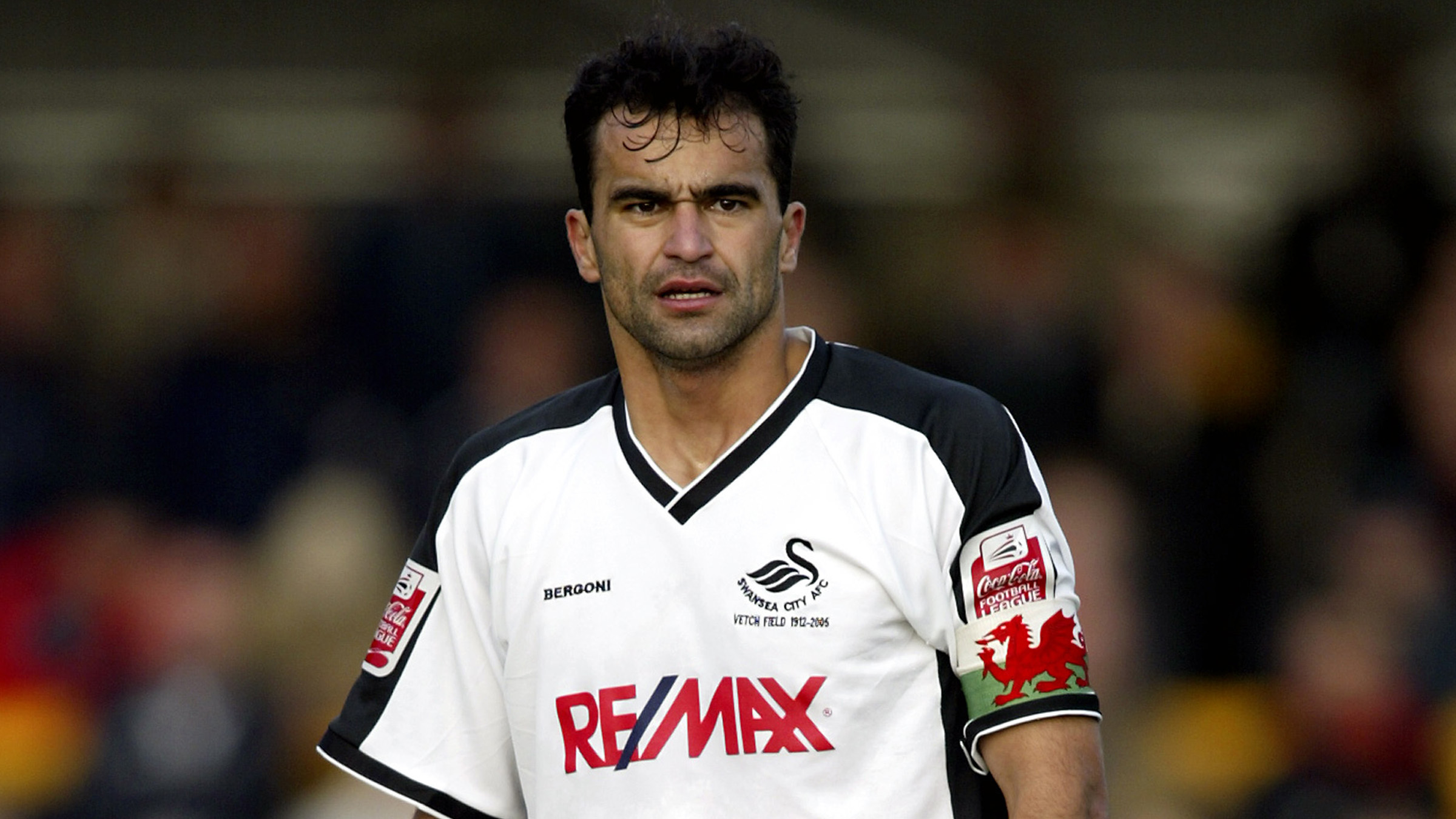 "During pre-season, every day I think we have all had a little smile on our faces with some of the things that have been happening at the football club.
"The sponsorship deal, the season ticket sales, the progress of what is going to be our fantastic new home. All these little things create a positive atmosphere and a buzz you can feel in the squad and in the city.
"I truly believe that buzz – in the dressing room, at the club and around the city - we need to get it together and we need to bring it onto the pitch. That is going to be one of the keys if we want to achieve a successful season."
That buzz was added to by a busy summer in terms of incomings as Jackett looked to put together a squad to challenge for promotion. The manager knew better than many that starting life in a 20,000-capacity stadium in League Two would not be a good look.
Several of the arrivals would make a major impact that season and beyond.
There were a number of defensive reinforcements as Garry Monk, Kevin Austin and Sam Ricketts all arrived on free transfers, with Andy Gurney soon to follow suit.
Willy Gueret became the new number one as he arrived from Millwall, while Paul Connor and Adrian Forbes provided new attacking options.
"The new players that came in were a credit to Kenny and his backroom staff really because a number of those players actually went on to play for the club in the Championship and Premier League," says Andy Robinson.
"He managed to bring in a lot of characters at that time, Monks was a character and Sam Ricketts was a character too, he was quiet but he had his own individual way about him which was amusing to a lot of the players at times.
"They were all good players and went on to do great things at the club."
Forbes would go on to prove a key figure in the final days of the season, but he was far from certain Swansea was going to be his destination that summer.
"I'd had a great spell under Mike Newell at Luton, in the second year of my three-year contract there I had damaged my cruciate ligament, missed most of the season and I was like a new signing for Mike when I came back the next year," he recalls.
"To my surprise he stuck me up front, I'd always seen myself as a winger who made goals so it was a surprise. Then, all of a sudden, I had 18 or 19 goals and Kenny Jackett was showing interest in me.
"That interest cooled and I remember my agent and I had a day where we went to Swindon, Bristol Rovers, Bristol City, Exeter, Yeovil and Swansea.
"Swansea was the last stop and, by the time I got to the Vetch I was knackered, I would have signed anywhere!
"But there was something about meeting Kenny, meeting Huw Jenkins and seeing the Vetch.
"It was this old, odd-shaped stadium, with one massive stand, one that looked like it would fall down, an area for standing along the side and – behind the goal – another standing area which I don't really know what it was.
"I just felt 'this is a bit of me'. I knew straight away it was where I wanted to be.
"I knew nothing about James Thomas' hat-trick against Hull and the club just staying up and avoiding financial oblivion a couple of years before. It was only after I signed that I looked at all that and wondered what I'd done!
"But it was one of the best decisions I made in my football career. I loved every minute."
For Monk it would be the start of a near 12-year stint in Swansea colours that would see him play for the club in all four divisions – Leon Britton and Alan Tate were the only other members of the squad to do the same – before becoming manager and leading the club to a best Premier League finish of eighth.
He had nearly joined the club on loan before – only to join Sheffield Wednesday instead - and was desperate for game-time having been on the periphery at top-flight Southampton.
And a previous knowledge of Jackett was also an attraction.
"There were seven or eight new signings and I arrived at the Vetch the same day as Sam Ricketts and Adrian Forbes," says Monk.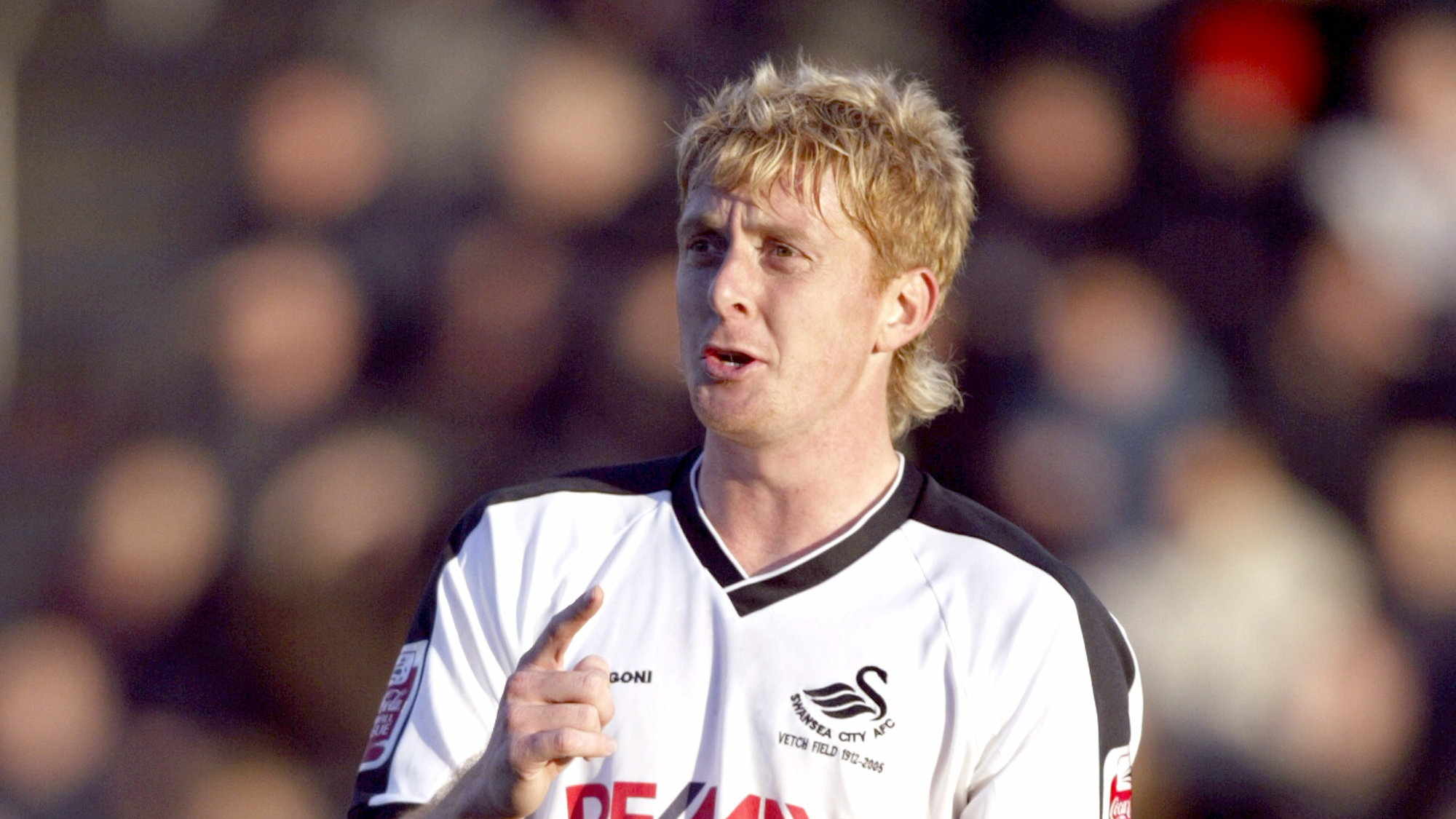 "The club had invited us down to show us around the club, speak to Huw Jenkins, and see the new stadium which was a shell at the time. That was the selling point.
"So we all got shown around the club and Wind Street! We all spoke about the club and the feeling we had.
"I came away thinking good things. The club wanted to go places, wanted to invest and I wanted to be a part of it. They didn't want to go into the new stadium in League Two.
"It was a big drop for me, but I just wanted to play football. I had been at Southampton and played a handful of Premier League games and spent time on loan in the Championship and proved I could play at that level.
"I knew Kenny as I used to go up to Watford as a young kid and he was a coach there. I actually stayed at his house.
"The fact he rang me to get me to sign for Swansea made a difference too. It showed he wanted me."
That summer also saw an established Swans star linked with an exit.
Lee Trundle had netted 22 goals in all competitions the previous season, quickly marking himself out as a firm fans' favourite for his seemingly endless array of tricks and skill.
His performances had attracted interest further afield than south west Wales, with Sky Sports' Soccer AM programme screening clips showcasing his ability.
Interest from Northampton and top-flight Portsmouth was rumoured, but the striker was sure he would remain in SA1.
"I never thought I would leave," says Trundle.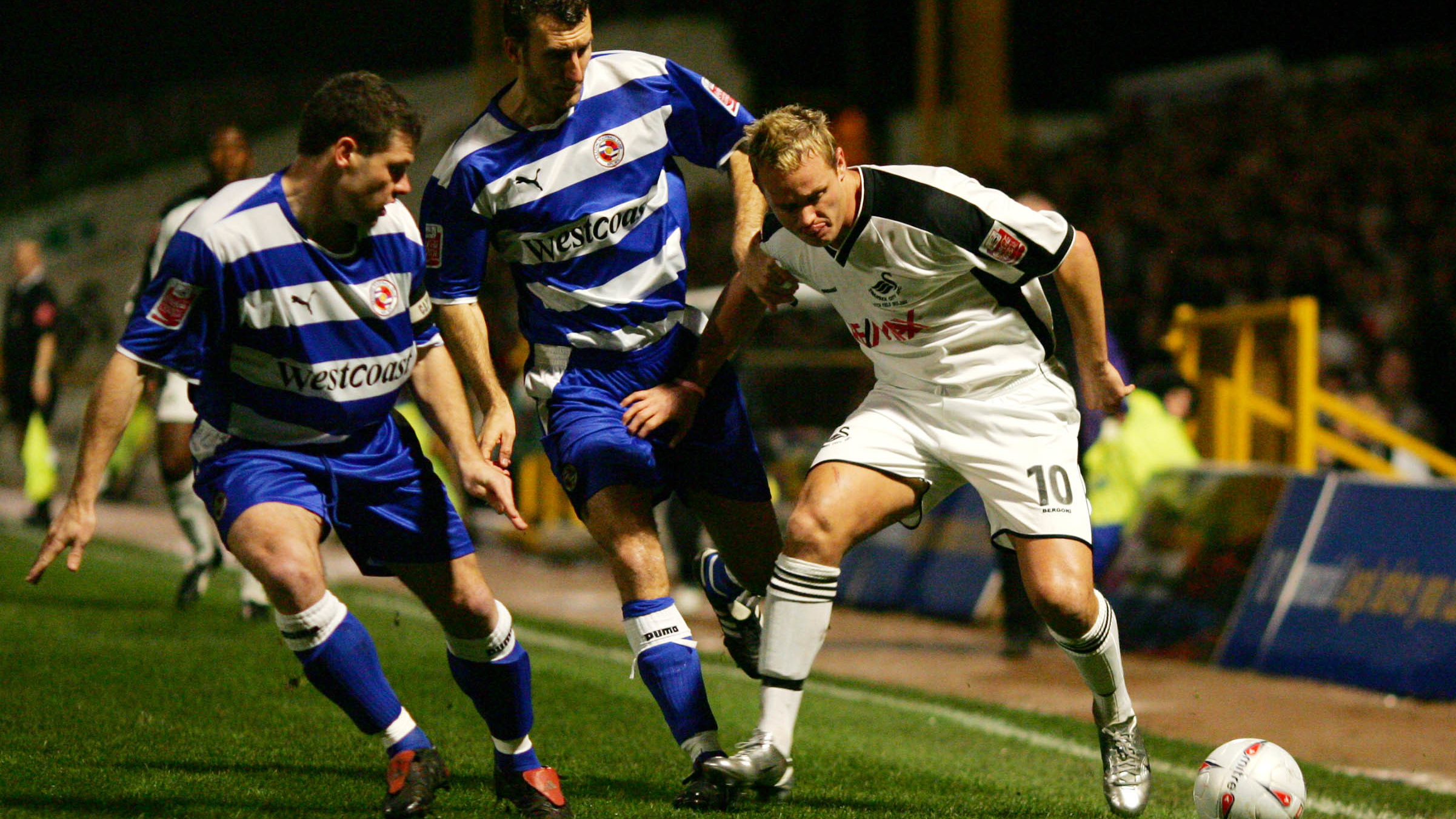 "With the Northampton one there was rumours that Kenny had been touting my name around to get rid of me. I went in to see him and asked him straight, and he denied it and it turned out it had come from their manager Colin Calderwood.
"I was happy, I was scoring goals, I had just had my best season.
"Portsmouth were in the Premier League and of course you would look at that, but I was never looking to move and was enjoying life.
"Obviously Flynny had brought me in, but by the time he left I had already come to feel at home at Swansea. I had that bond with the fans, so whoever the manager was did not matter to me. It was not going to change how I felt about the club and the fans."
Pre-season had consisted of friendlies against Worcester, Barry and Hereford before Jackett and his men headed to Holland for a further four games against ADO Den Haag, Telstar, Noordwijk and Haarlem.
There would be just one defeat, against Haarlem, while a certain Ferrie Bodde would face his future club in the draw with Den Haag.
Plenty of hard work was put in during a punishingly hot stint on Dutch soil, although Trundle and Kristian O'Leary would pick up injuries.
The new signings were quickly assimilated into the squad and the mood was buoyant.
"We were definitely thinking we could get ourselves in the mix," says Alan Tate.
"We had been up there the year before but had tailed off a little bit at the end of Brian Flynn's reign.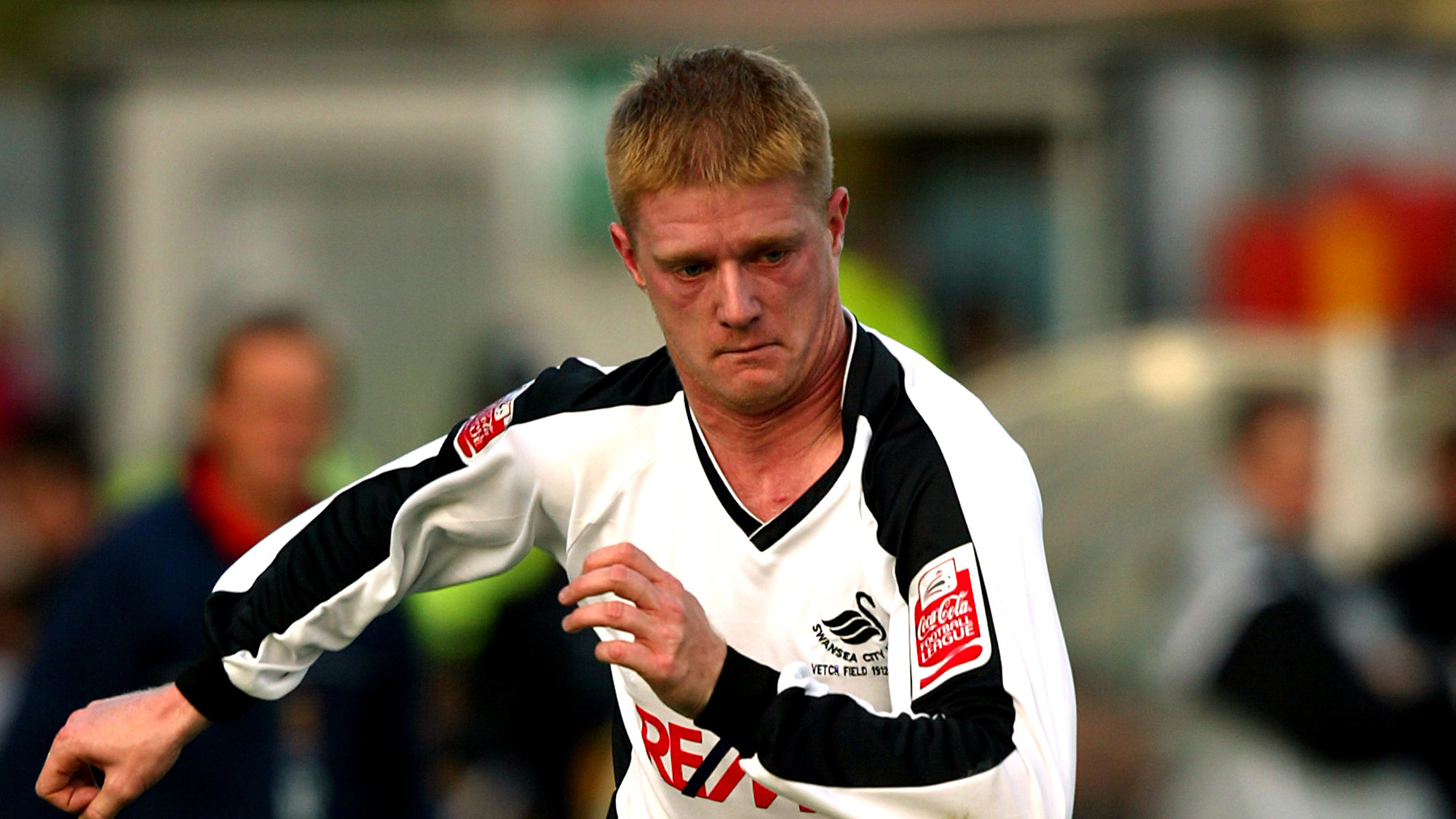 "But going into that season, all the talk was about getting in the top seven with the top three being automatic and the four play-off places following.
"Once you get there, you take it step by step."
In time-honoured fashion there was also chance for a bit of socialising before returning home at the end of the tour, with some of the squad laying on some impromptu entertainment for their colleagues.
"We had a bit of a night out on the last day and I remember we broke into a sort of auditorium they had in the hotel and Trunds got up and did some stand-up comedy. Robbo was up there singing, it was a funny night with just the six or seven of us left," recalls Tate.
"I think Leon Britton, Brad Maylett and a few others were there. I think Robbo thought he was Paolo Nutini!
"I think they had had a show on at the hotel, but the microphone was still on, so we had a private show. It didn't last long as the security guard came and kicked us out pretty soon after that!"
Trundle added: "I used to do this character called Wayne and I would just mess around and I'd usually do it on the coach and stuff like that or I'd mess around in training doing it with the lads.
"Where we went in Holland there was like a theatre in there. It was locked but one of the players managed to get into it and I think Roberto was on the spotlight from the top, I was on the stage and the rest of the lads were watching and I did a half-hour stand-up show for them. It went down well!"
There had also been an attempt to go ten-pin bowling earlier that evening, which quickly descended into farce.
"It was a funny place. We were in a hotel in the middle of nowhere in Holland – it was like an old people's home in the sticks," says O'Leary.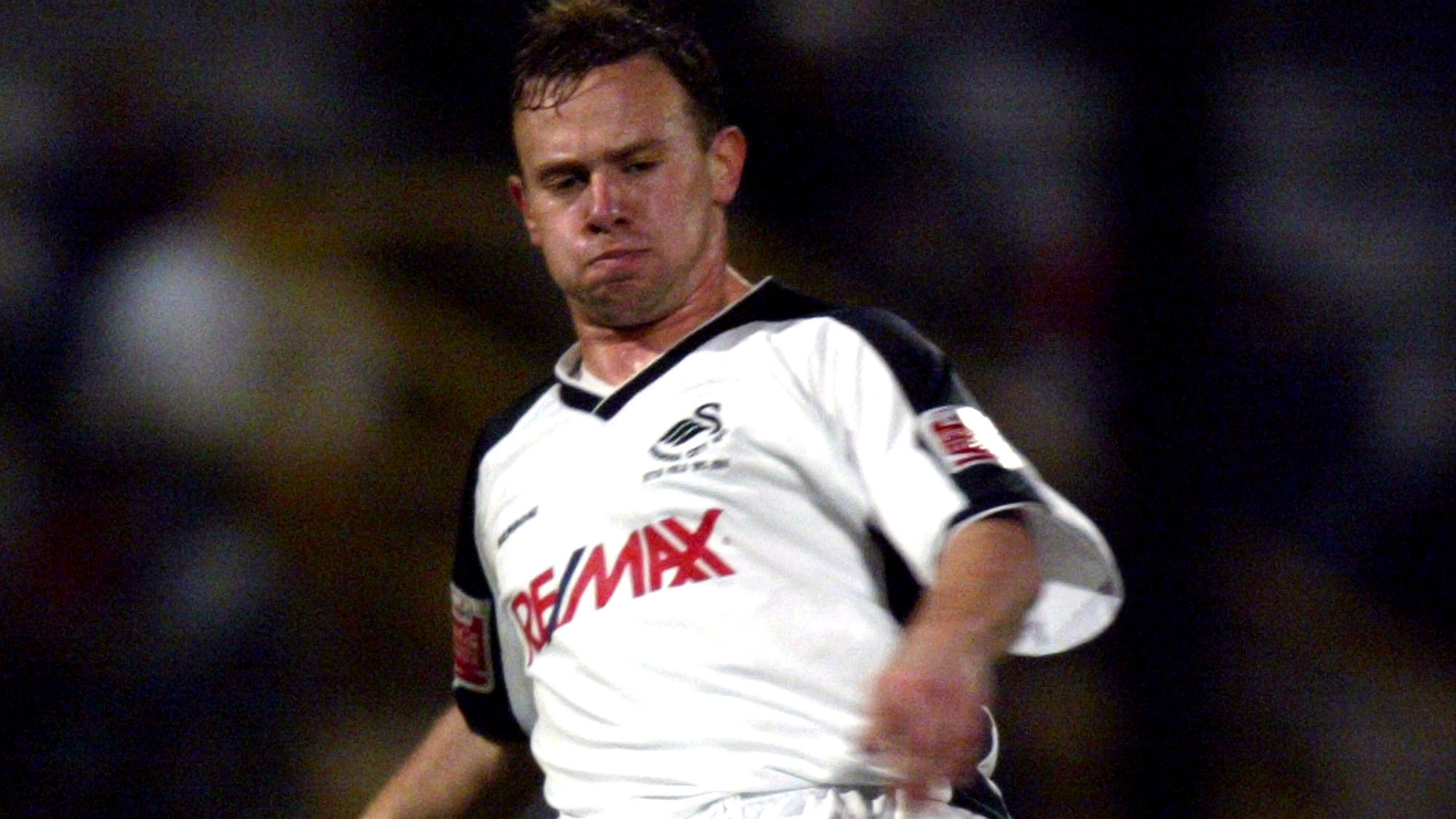 "There was a ten-pin bowling alley and bar downstairs, so we locked ourselves in there and put a tab on. It was excessive by the end of the night, while after a few hours the lads were using themselves as bowling balls sliding down the lanes."
Monk also remembers that night well, adding: "We weren't wild, but we had a bit of personality about us.
"It was all in good humour and good faith. It went over the line sometimes in an overzealous way, and usually it was Robbo who took it over the line in those circumstances.
"I remember the lads were bowling each other down the lanes instead of the balls. Human bowling! A few lads got carried away and broke a few things and then went back to their rooms to hide!
"It would be a dream to manage a set of lads like that. Yes, you'd have to pull the reins in a few times, but I bet Kenny loved it."
There had also been a night of domestic high jinks earlier that summer, immortalised in Trundle's autobiography, where Robinson ended up in disagreement with a bartender over a bill for the amount of peach schnapps that had been drunk one night.
Monk had missed out on that particular gathering, and had an eye opener when he reported for duty again on the Monday morning.
"I asked to go home for the weekend to go back to get my personal belongings and clothes. I didn't expect to come back to a massive team meeting with Kenny and the players," he says with a chuckle.
"Everyone had gone out that weekend and had got into a disagreement with a bar owner. Robbo and Trunds are telling Kenny that the owner ripped them off by charging them per shot of schnapps rather than the bottle – which he had done the previous week – so they were asked to pay £80 instead of £40.
"Kenny is telling them 'that's not the point, you shouldn't have been out'. Robbo and Trunds just weren't seeing his point and continued to put theirs across.
"I'm sat there thinking 'what the heck is going on here?'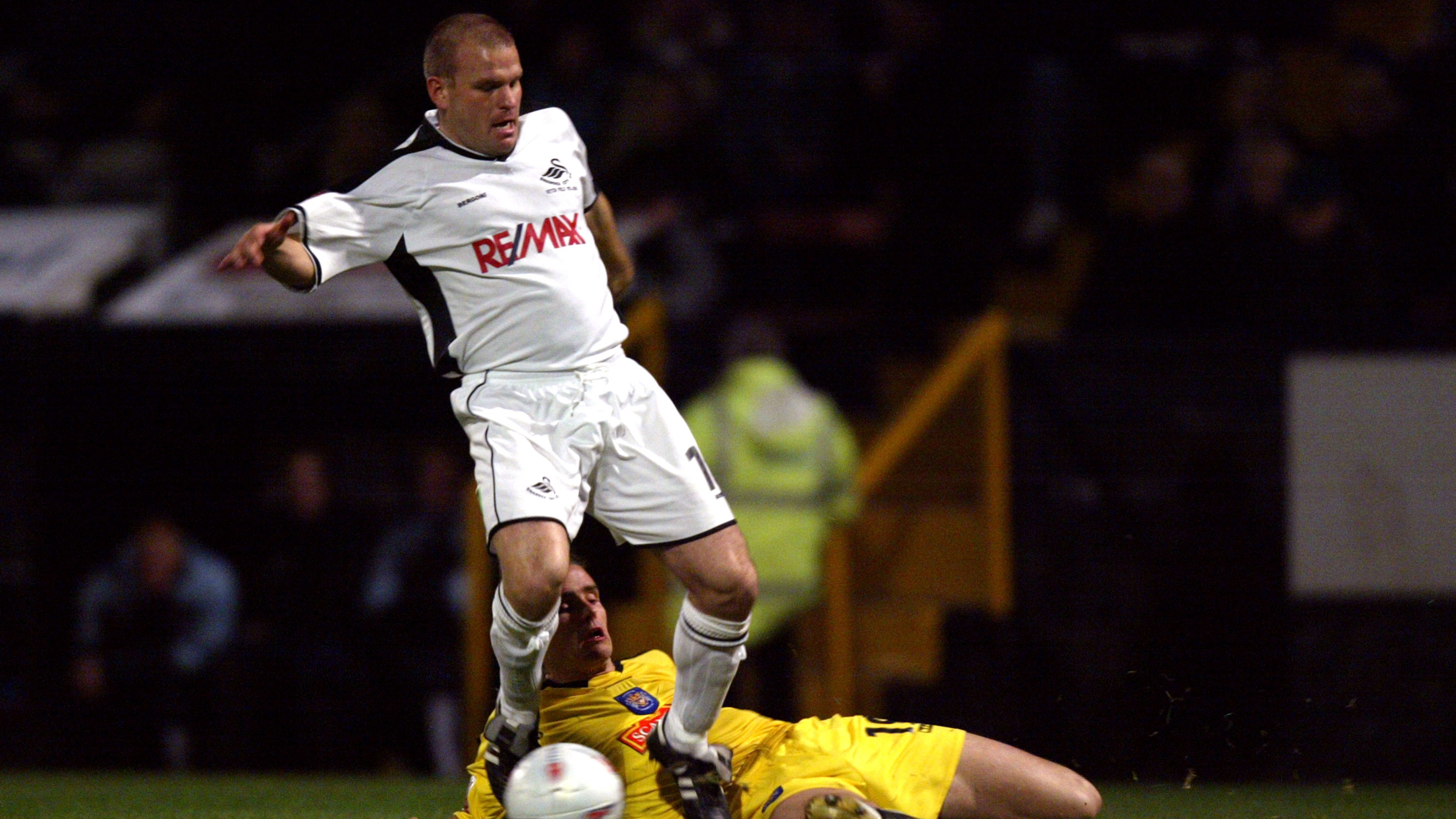 "I was also chuckling because I'm looking at Robbo and Trunds thinking 'you really aren't getting the point here are you?' In saying they had been charged £40 the previous week, they were also admitting they had been out that week too!
"But Robbo had us all in stitches when he told Kenny that he hadn't been shouting and swearing at the owner. Instead he said 'gaffer, all I said was that's not fair.'"
Several players were convinced Jackett had a list of informants to tip him off when his players were spotted out and about in town.
"Any time we would step foot in Swansea someone would be on the 'Batphone' to Kenny. He must have got sick of the amount of calls he would have had," says O'Leary.
"Kenny was having a go at us being out, while the boys were saying they were outraged that the pub had been ripping them off.
"It was so funny because you could see the steam coming out of Kenny's ears."
But, whatever the ins and outs of the incident, all are in agreement: "I can definitely tell you we were overcharged," smiled Forbes.
"Robbo was overcharged. We were talking about it the other day, I remember Roberto was just having a coffee watching it unfold.
"But those things brought us together, we came to enjoy each other's company. We were more than just team-mates, we knew each other beyond just football."
With pre-season in the books the scene was set. The final chapter in the Vetch's history was about to be written, but it was not to get off to the most promising of starts