Vetch Field | The Final Season | Part Six
16th May 2020
Features
May 11 marked 15 years since Swansea City played their final game at their old Vetch Field home. To mark the anniversary we are running a series of features about that final 2004-05 campaign under the guidance of Kenny Jackett.
Today, in the sixth and final part, we look over the promotion showdown at Bury, those celebrations, and how beating Wrexham rescued one man's Swansea City career.
After all the emotion of that victory over Shrewsbury, the Swans quickly had to regain their focus.
They would head to face a Bury side sitting in the lower reaches of the table, although with their safety long secured.
With the Greater Manchester club – who are currently expelled from the EFL – not expecting a big crowd the Jack Army were more than happy to make sure they filled out as much of Gigg Lane as they could.
It's estimated that around 6,000 members of the Jack Army made the trip to Bury on Saturday, May 7 2005.
Having managed to do part one of the job required against Shrewsbury, Kenny Jackett and his men were mindful of the need to make sure this was not a case of after the Lord Mayor's show.
"We went into that game knowing if we beat Southend's score then we would be up. It was quite a simple equation. We knew where we were," says Adrian Forbes.
"You don't need a team talk, you know what you want to do. I think it was probably one of the worst training weeks because everyone wanted to be fit, no-one wanted to get injured.
"I wanted to play desperately, and I can remember being sat in the dressing room at Bury with fingers crossed hoping I would be picked because, although I scored, I did not feel I had played well against Shrewsbury.
"I got the nod, I was in. We came out for the warm-up and there were around 6,000 Swans fans there and kick-off was delayed. It was such a noise, same thing as with the Shrewsbury game."
Garry Monk was among those to be stunned by the side of the traveling support that day, and remembers his parents ringing him before the team had even left the hotel to tell him just how many Swans fans had made the long journey to the north-west of England.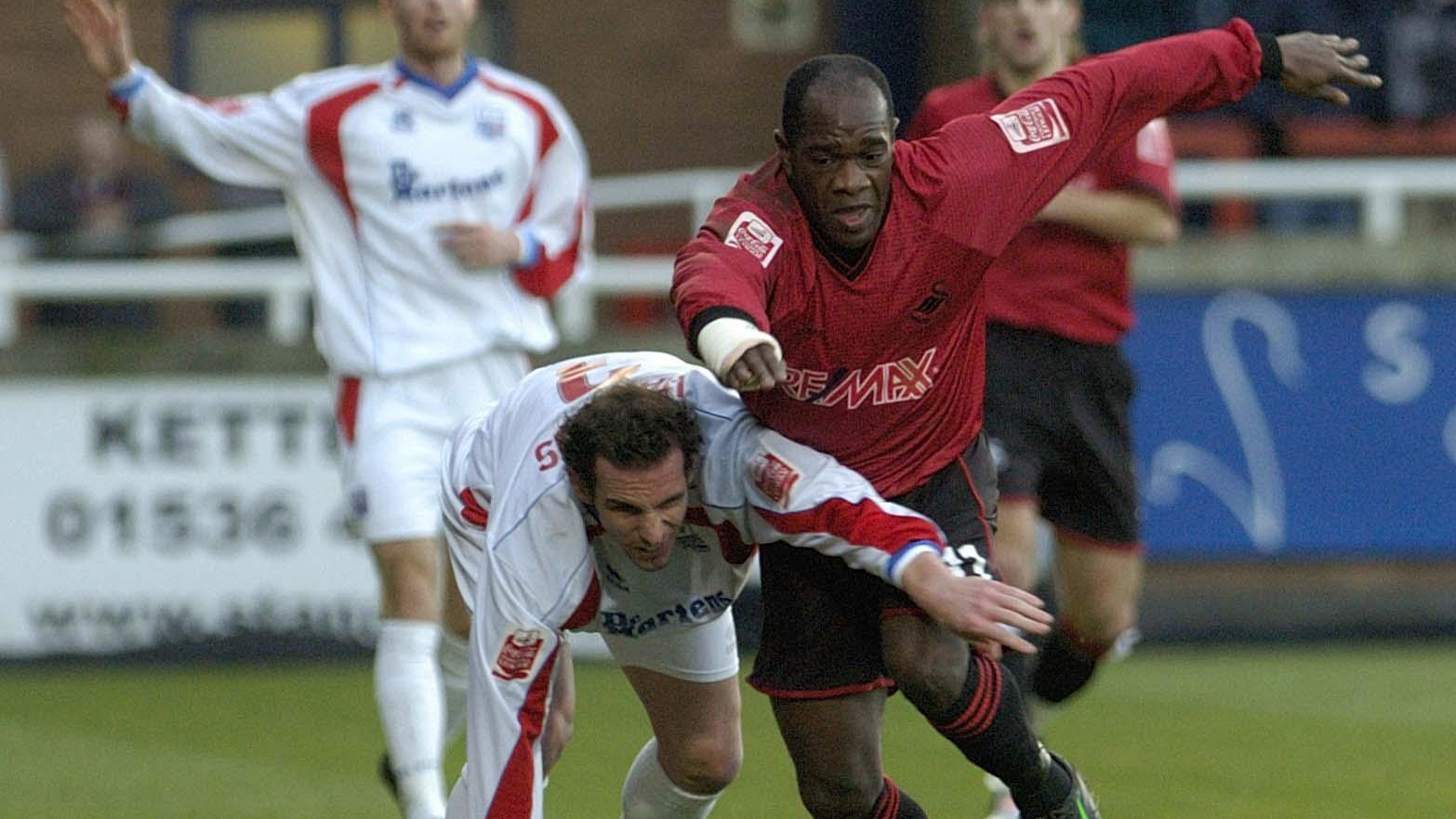 "My mum and dad went to the game, and I rang them on our way from the hotel," he says,
"My mum said 'You're not going to believe this. You're going to play a home game – there are only Swansea fans here!'
"I think we had 5,000 or 6,000 fans there. We arrived and it was a carnival atmosphere – like the Shrewsbury game, but on a smaller scale.
"In the warm-up you could see we had taken over the end behind our goal and to the right.
"There was the pressure of not letting the fans down, winning the last game and, of course, having to rely on another result.
"But we had to do our job first and foremost."
As with the Shrewsbury game, the Swans would get an ideal start and it was that man Forbes once again as he netted inside half-a-minute, keeping his cool to control Kris O'Leary's pass and rifle the ball past Glyn Garner in the Bury net.
"It's Trunds to Paul Connor, I think, back to Kris O'Leary and off I go, header, volley, top corner. Less than a minute on the clock and we're ahead and there's a pitch invasion," says Forbes with a broad smile.
"But for the 89 minutes after that, we were abysmal and we really had to dig in and show that character we have talked about."
O'Leary adds: "This was one of the magical games in my career. This game and the FA Cup win at Sheffield United were very similar in terms of driving into the stadium and there were Jacks everywhere. It was such a special feeling.
"Kenny said we had 90 minutes to win the game - within a minute we were 1-0 up. I pinged a half-volley over to Forbesy, and he stuck it in. Cue pitch invasion number one."
As with the Shrewsbury game, the Swans were unable to kick on after the early goal with a number of players feeling the temptation to hang on to what they had played a part subconsciously.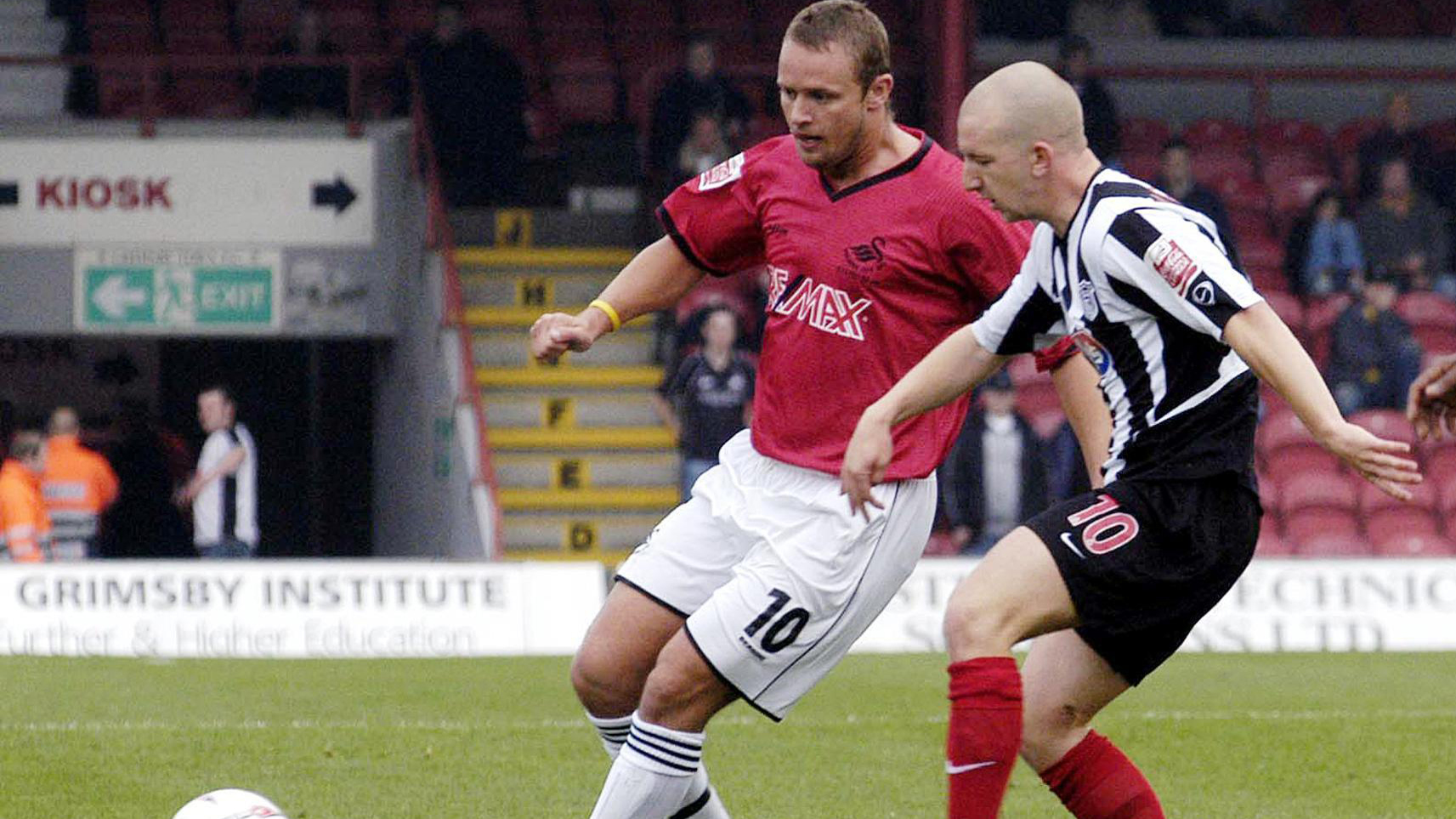 Trundle and Monk would miss chances to extend the lead but, at half-time, they were on track as Southend were drawing against Grimsby.
Things only got better for the Swans when Michael Reddy fired Grimsby ahead in the other game.
Freddy Eastwood would equaliser for Southend, but it would not be enough if the scores remained the same.
But the Swans were far from assured of a place in League One.
Reddy's goal had sparked another pitch invasion at Gigg Lane, and with Bury looking for referee Coin Webster to take the players off, it took some remonstrating from Trundle – by now substituted – to keep the excitable Swans fans off the pitch.
"Our fans were coming on to the pitch and even their players were telling the referee to abandon the game because they didn't want us to get promoted on their patch," says the striker.
"To grind it out and defend the way we did was brilliant. Garry Monk was a massive part of that but as a team to do that, and then to hear the results and what happened at Southend, was amazing for us when we went off the pitch.
"Kenny took me off towards the end of the game and he told me to go down to the away end and tell the Swans fans to stay off the pitch because we were scared in case the game got abandoned.
"There was only about five minutes left so I went down and had to try and be like a steward to keep them off the pitch and was saying 'Boys just stay off!'"
"They did stay off but then when the final whistle went it was just a race for me to get back to the halfway line because I didn't fancy getting caught in thousands of fans, I would have never got out. I think that was the fastest I had run all season!"
While all this was going on, there were two men glued to their radios waiting for news.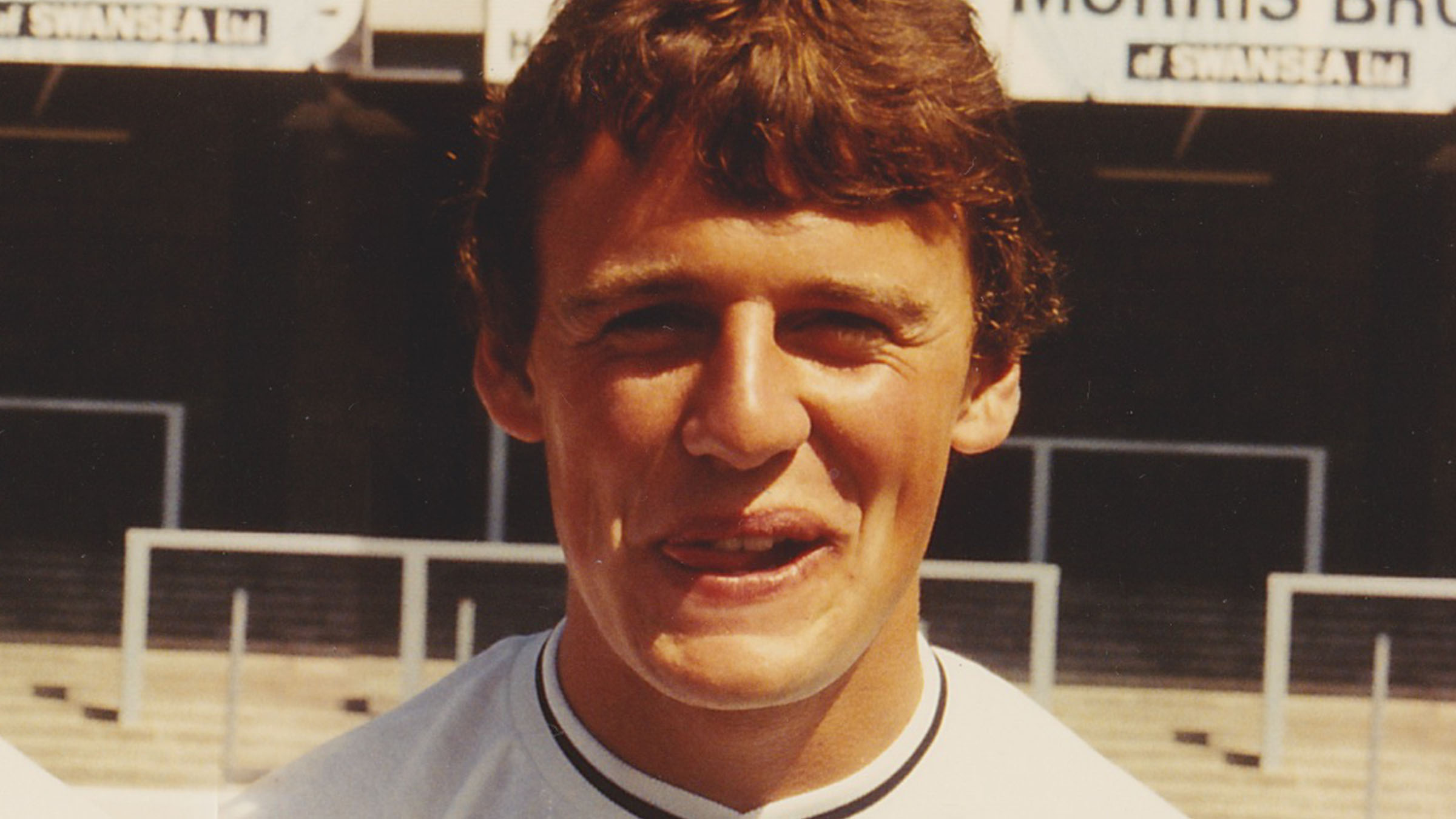 One of them was player liaison officer Huw Lake. While Jackett had insisted he would not tell the players what was going on elsewhere, he had asked Lake – who played for the club in the early 1980s – to stay behind in the team hotel and listen for radio updates, phoning through any goals.
"That day I was in a hotel room near Bury as Kenny Jackett had asked me to stay there to watch the League Two scores coming in and ring Kevin Nugent, the assistant manager at the time, with the scores," he recalls.
"I spoke to Kevin a few times throughout the game and towards the end of the Swans game the other final results were coming in.
"I remember calling him in the 90th minute and screaming down the phone "We're up! All the other results have gone our way." But he said there was three or four minutes of extra-time to be played in the match at Gigg Lane.
"Thankfully, he rang me a few minutes later and said "Yes Lakey! We're up, we're up!" and told me that all the Swans fans were running onto the pitch, brilliant support as ever.
"I travelled back to Swansea that evening and then met up with Kevin Nugent for a few beers, what a night that was.
"The next morning I went into the Vetch to meet Kenny and Kevin and it was just the best feeling in the world."
Alan Curtis, meanwhile, was taking a training session back in Swansea while the game was going on.
"I had a training group to look after so I kept my ear out on Swansea Sound for the score updates," he says.
"It was nail-biting, but whenever we have needed a result we have got it more often than not."
The Swans would get the job done, seeing out those final few minutes after Southend's draw with Grimsby had been confirmed. They would sign off at the Vetch and start life off at the Liberty Stadium as a League One club.
But even now Monk is unimpressed by what he witnessed from their hosts during the closing stages.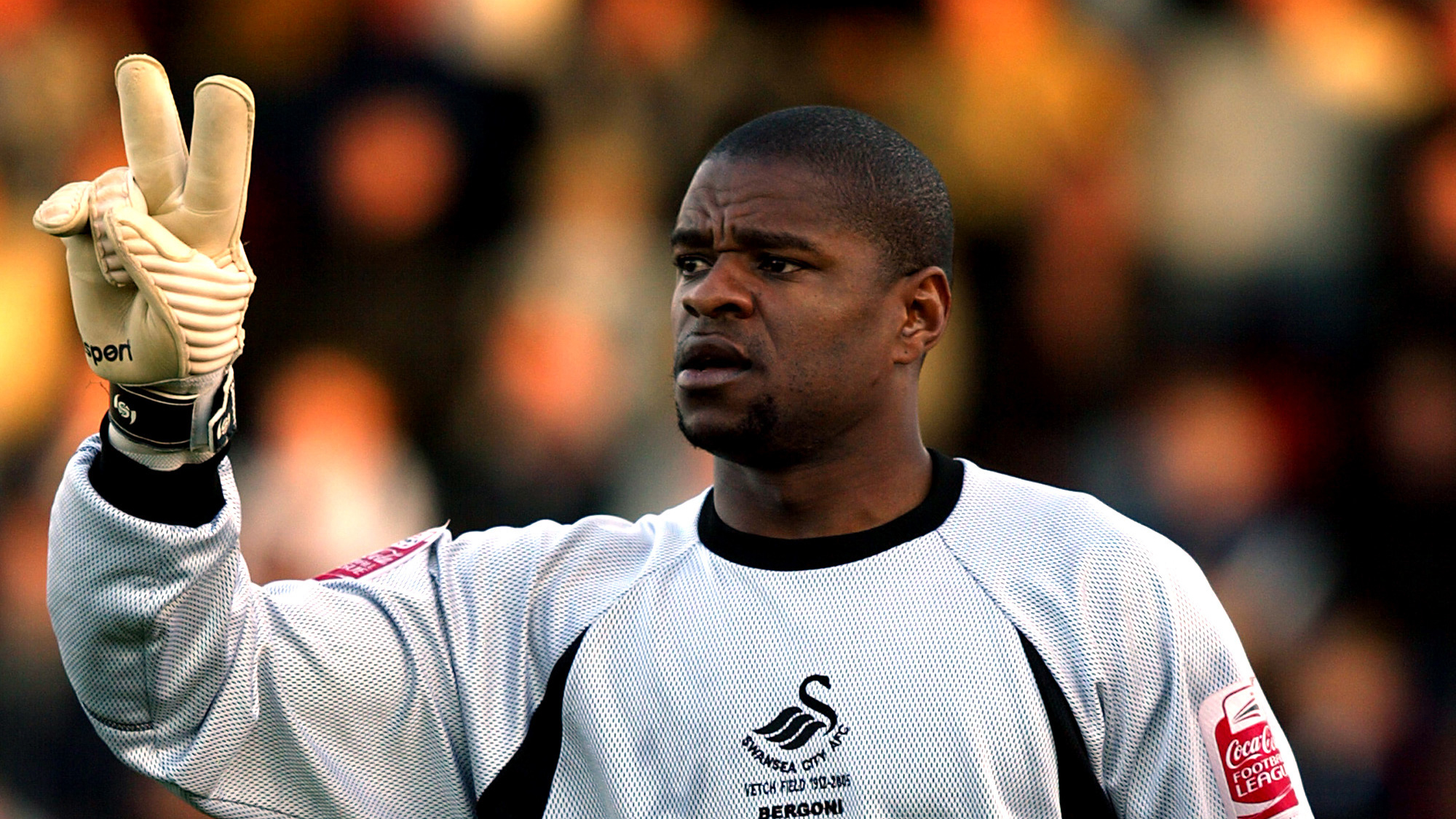 "At the end of the game we could sense the Southend result had gone our way, but because our fans had gone on the pitch we were a few minutes behind," says the former defender.
"Then Bury started throwing their defenders up front. They were really going for it, and we were all saying 'what are you doing? You are mid-table and throwing centre-halves up front?'
"We got pretty mad about it, to be honest. It made us more determined because we took it personally.
"I understand they don't want to lose and they wanted to be professional, but they went above and beyond – throwing everyone up and taking massive risks - to stop us winning promotion.
"We showed them what we thought about that when we got back to the changing rooms. We were banging on their door telling them what we thought about it.
"Anyway, more importantly, after the final whistle we all ran to the tunnel but a young lad got hold of my shirt, and I just gave it to him quickly and headed down the tunnel because it had gone crazy on the pitch.
"I was a little gutted afterwards because I only keep shirts that mean something to me, so I would have loved to have kept that one."
Forbes had joined Trundle in trying to keep the fans off the pitch, and remembers being given an early warning that the end was coming from referee Webster.
"The ref tells us he is going to blow the whistle in 30 seconds and we should start making our way over towards the tunnel," he says.
"If you look back at the footage, you can see everyone edging towards the tunnel because you know another pitch invasion is coming.
"The whistle goes and we get down the tunnel, and I had tears in my eyes because I knew that day back in the summer when I had gone round all those clubs, I had made the right choice and signed at the right place."
The celebrations would go on for a long time, but it is an event in the early moments of those festivities that has gone down in Swansea City folklore.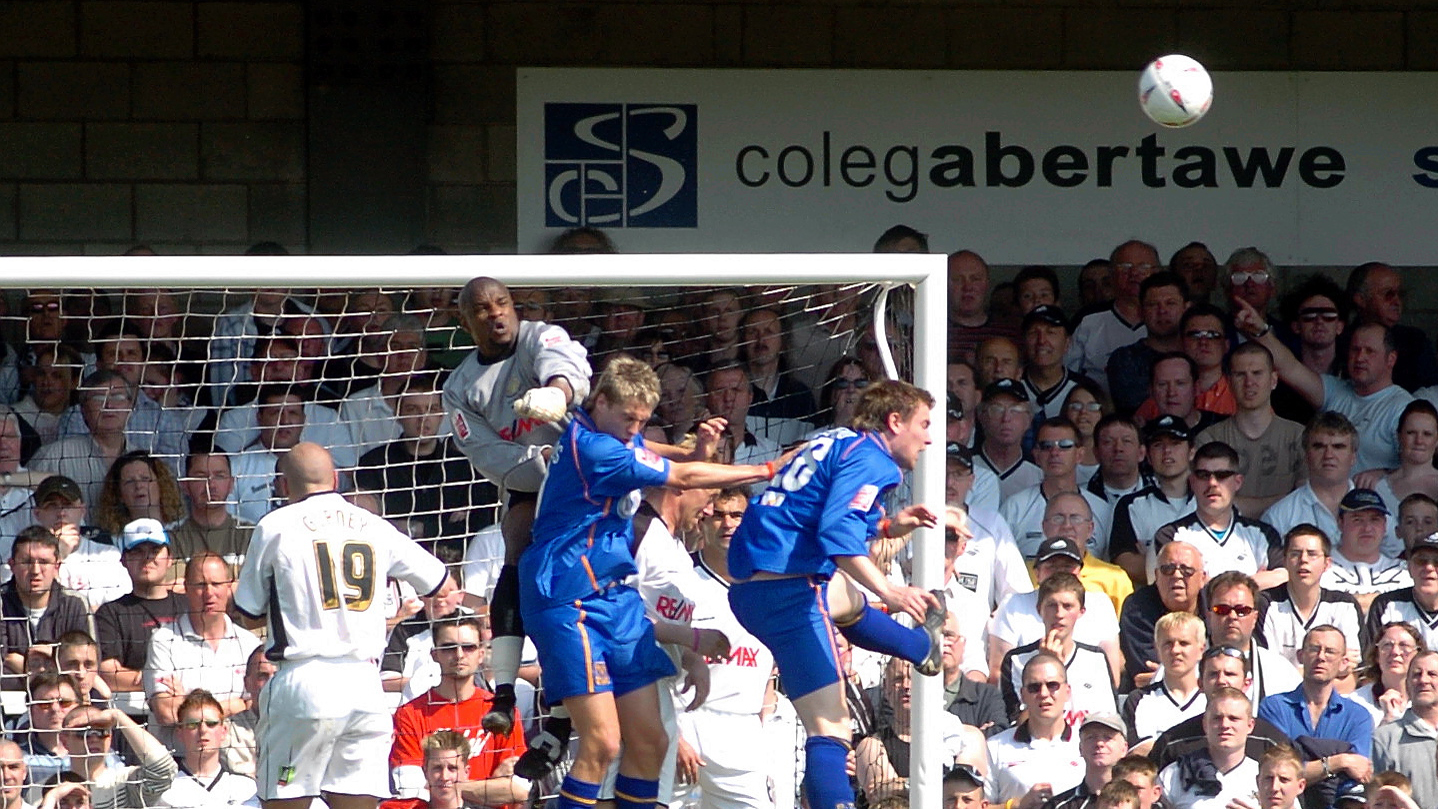 Perhaps only Swansea City could secure a dramatic promotion, and spend much of the evening having to wait to bail their goalkeeper out of the nick.
"Robbo and I were in the stands. I got left out and Robbo was suspended. We had a few pints. I don't remember Trunds going over the fans, maybe that was down to the few pints," says Alan Tate with a chuckle.
"But celebrating was special. I did not play, but you achieve over a season and all together. It was a great day and Willy got arrested!
"I have no idea what happened, only that it took three policemen to get the cuffs on him.
"We went down the dressing room, had a couple of drinks and we got on the bus."
Forbes takes up the story, with Robinson having encouraged the players to head back out from the dressing room to greet the travelling fans on the pitch; something which was a no-go considering the playing surface was swamped in red replica Swansea away shirts.
"Robbo was walking around with a bottle of bubbly and saying we had to go and see the fans, the stewards would not let us on the pitch but told us we could go up top in the stand to be in front of the fans," he says.
"We're up there and then you've got the police trying to get us down. We're getting pushed around and I think Willy nearly fell over the side.
"He said something to a police officer, who warned him not to say anything like that again. What do you know? He says it again and suddenly our goalkeeper is being arrested.
"You couldn't write it!
"But it made the day more fun, pulling up outside Greater Manchester Police in the team bus singing 'Free Willy'."
Trundle was also near the Frenchman as events unfolded.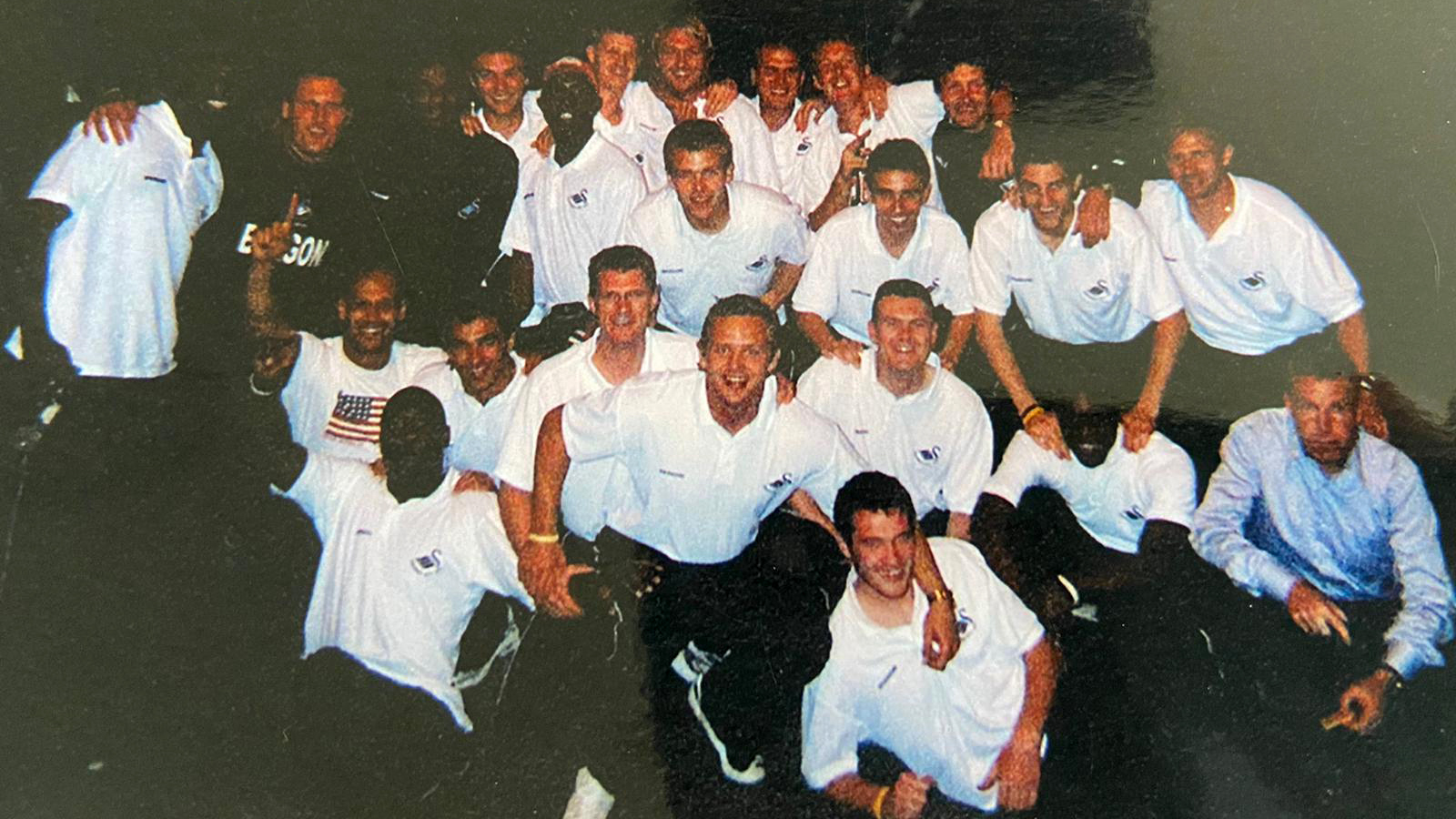 "I was standing just a couple of feet down from him. At first, I got on the roof as well and all our fans were on the pitch but the police told me to get off," he says.
"The policeman was then trying to tell Willy to do something and he wasn't doing it, so in the end the policeman arrested him and took him off.
"Willy got carted off in handcuffs, and with no top on, to the police station, he'd gone but we were still celebrating in the dressing room."
When the time came for the players to leave Gigg Lane, following a few beers in the dressing room as they showered and changed, manager Jackett got on the bus and gave them a choice…they could take the team bus to the police station and wait for Gueret, or they could leave him and he would follow them home once the incident had been dealt with.
Tellingly, there are a few different versions of what happened next!
"Kenny came on and there was a vote as to whether we waited for him or got on our way back to Swansea. I have to tell you it was pretty much a 50-50 vote, there wasn't much in it," says Alan Tate.
"In the end, the deciding factor was that there was a Tesco over the road from the prison. If it wasn't for that, Willy might have been left in Bury.
"So we all went in to stock up for the journey home, which was great. Every promotion we had was away from home, and that bus journey back is fantastic as you are with the players and staff you have worked so hard with all year.
"I can't remember a thing about the night out in Swansea when we got back!"
But Monk remembers events differently.
"We got on the bus and Kenny explained we could go to police station and wait, or put him in a taxi and head home," he said.
"Instantly, because of the group we had, we said let's go to the police station. Some were drinking on the bus, some were on the wall, then we started chanting 'Free Willy', and out he comes.
"He was in a proper mood with a face on, but we stopped at the supermarket and everyone knew he loved Jack Daniels, so one of the lads bought him a bottle and all of a sudden he lit up.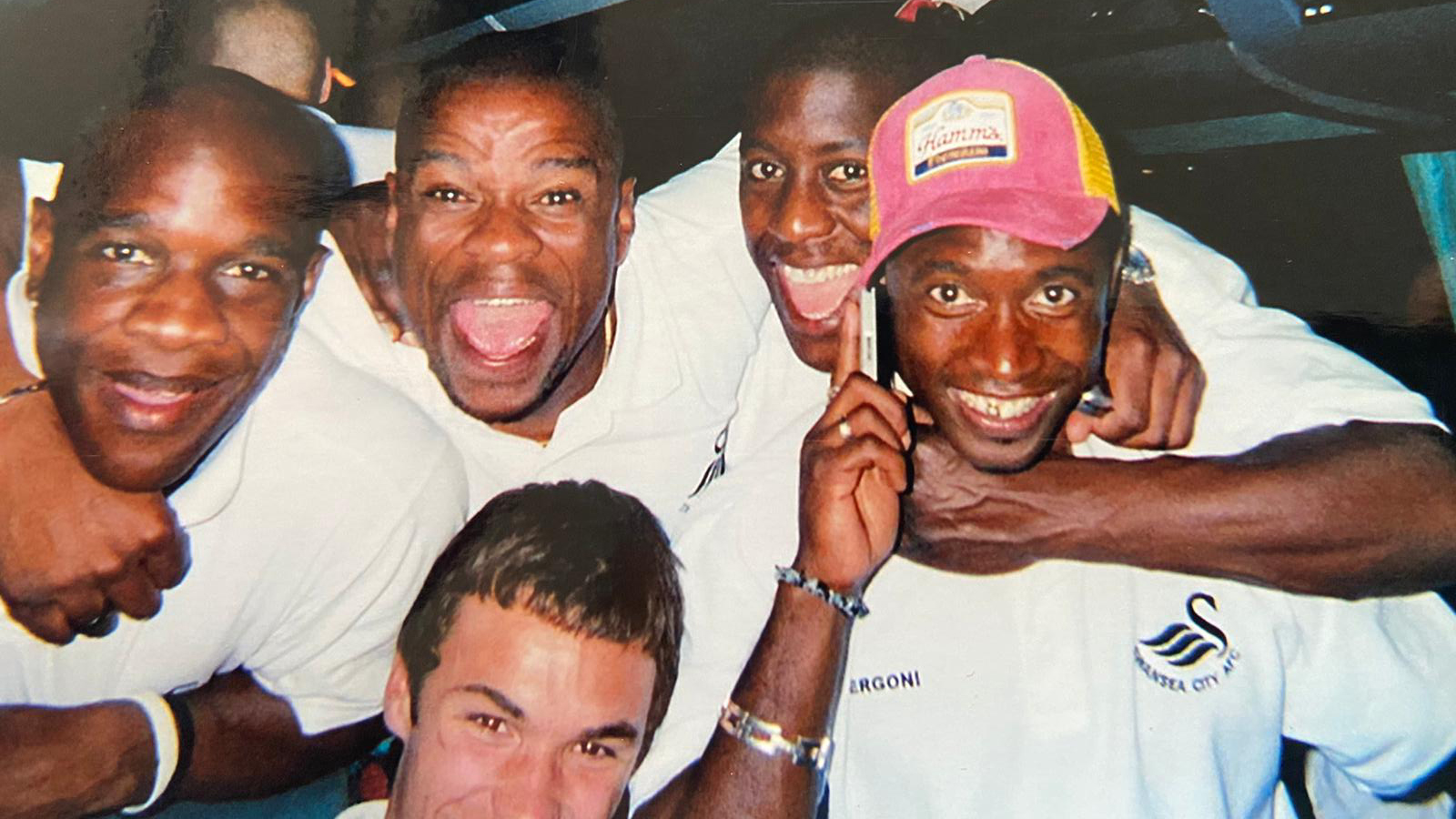 "Then it was party time back in Swansea."
While Monk's version of events might be the better one for team camaraderie, but he is outnumbered by those who recall the vote as to whether to leave the Swans keeper in Greater Manchester was a close-run thing.
"Kenny says we have got two options – drive home now, or wait for Willy," said O'Leary.
"It was pretty split, to be honest!
"But Willy finally gets on the bus, still in his kit, and has a Jack Daniels waiting for him."
And, after the bus journey back to Swansea, the celebrations would start in earnest.
"There was a bar called Cro Bar and it was a really good bar, they used to play funky house music," says Trundle.
"I phoned ahead and asked if we were able to get in wearing our tracksuits as we wouldn't get back until around 11.30pm.
"They said it wasn't a problem so there was about 20-odd of us all in our tracksuits partying in Cro Bar and I think the partying went on for a couple of days.
"Kevin McLeod had a party in his house and we had some great times. After a season in which you've worked so hard and you have achieved that at the end, it was great to enjoy it and celebrate."
The partying would indeed go on over the rest of the weekend, but the season was not over.
The Swans could still win the FAW Premier Cup for the first time and were due to host Wrexham at the Vetch on the Wednesday after the game against Bury.
For one member of the squad however, his next game at the Vetch would come a lot sooner than he would have liked.
"I played in a reserve game at the Vetch on the Monday," says Tate with a wry grin.
"The final was on Wednesday and I played in the reserve game against Swindon.
"That was tough after two days having a good drink!
"It was celebration time for everyone, but the Wednesday game was far enough away that you could recover.
"But I was not expecting a phone call from Kenny on Monday morning asking me to go to the Vetch for an afternoon kick off, that was not good news! But you just get on with it, and I think we won 2-1."
That was not the only unwanted message that Tate was to receive from the Swansea manager ahead of the Wrexham game, and it would leave him wondering about his future at the club he had joined from Manchester United.
"Kenny did challenge me, and he gave me a choice just around the time we played Wrexham in the FAW Premier Cup in the last game at the Vetch," adds Tate.
"He came and told me there was interest in me from Oxford United, and he was prepared to let me go if I wanted it.
"I had a year left on my contract, he said he saw me as a right-back and I would be second choice. I could leave or I could fight for my place.
"He probably thought I would take the easy option, but I wanted to stay and fight.
"I think that changed his view of me, he saw my personality and the following season I played all the way through over a number of positions.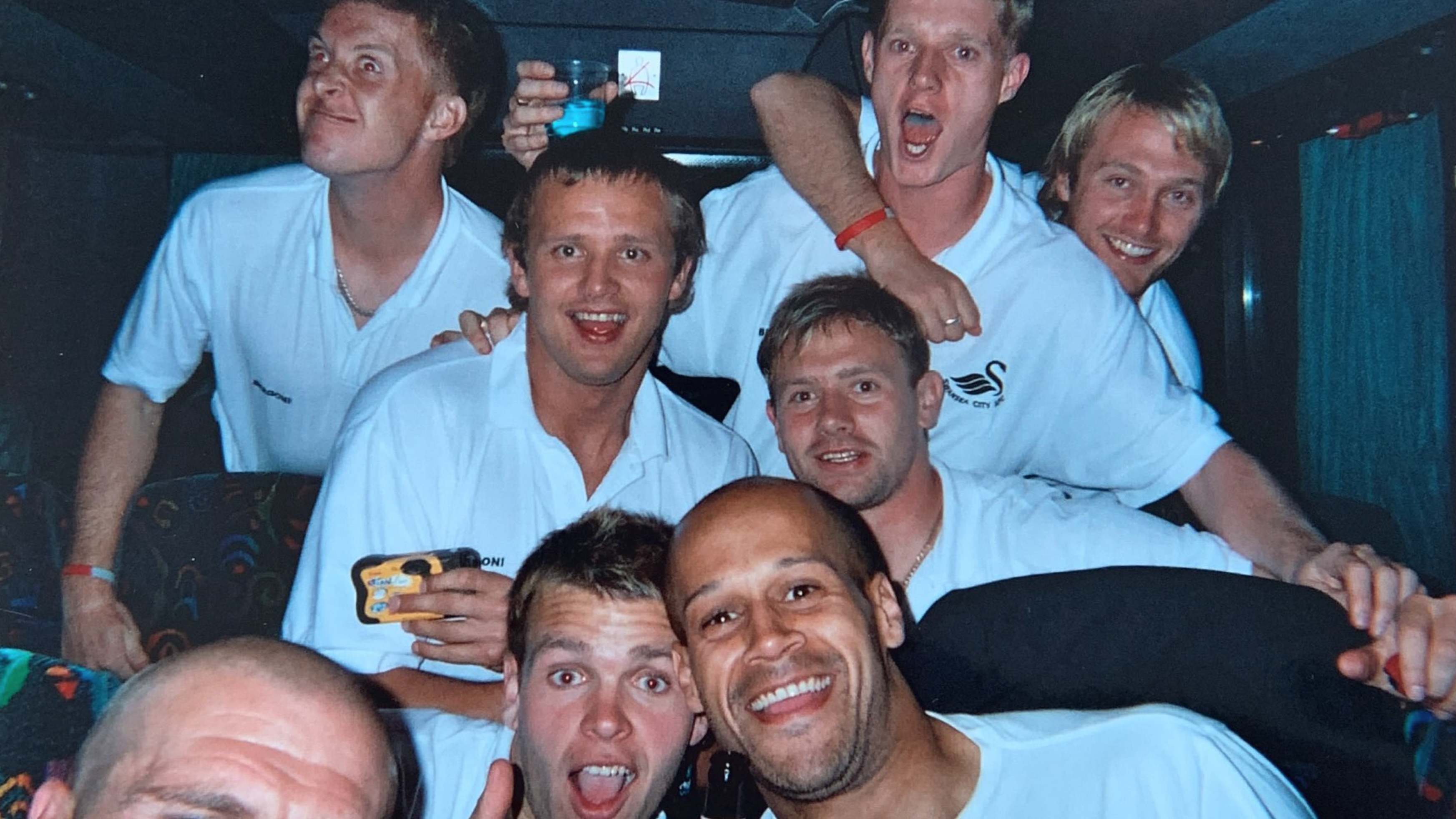 "With the Wrexham game, I played right-back and played well. I think if I hadn't played well that would have been it for me.
"He would have told me there was no place for me and made sure I went to Oxford.
"That game was how I became the number two right back, because I played well and we won.
"Looking back, I knew I had to play well no matter where I played.
"It was great to be involved, to win with it being the last game at The Vetch.
"It was the first time we had won the competition and, while it's maybe not viewed as a big trophy, you always want to win it.
"But really it was massive in my career and my life. If I don't play well I am not around for everything that followed.
"Things like my kids being born here and settling as a family, and the rollercoaster ride we went on as a club after that."
While the game would prove a key moment in Tate's career and life, a few of his team-mates concerns were of a far less serious nature.
"We didn't prepare very well for it really because we were out the two days before it after our celebrations," says Trundle.
"Kenny sort of knew that is what we wanted to do and I felt that match against Wrexham was a formality. I always felt that we were going to go and win that game anyway.
"The last game at the Vetch, a cup final, I always knew that we'd win it.
"A group of us were going to Magaluf the next day as well, I think about 10 of us went in the end.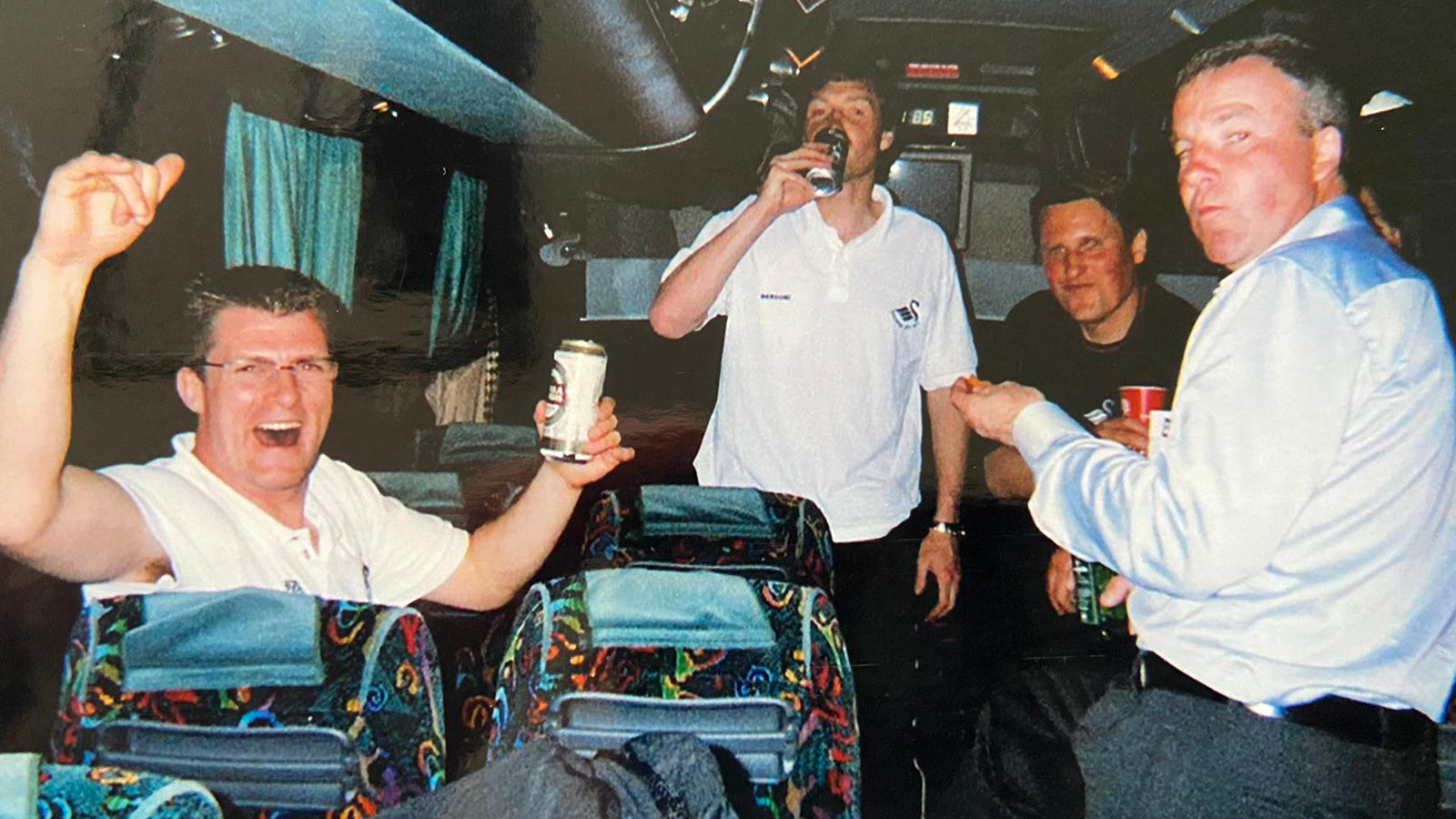 "On the morning of the final, me and Kris O'Leary were in Newport getting our passports done in a day and we had a McDonalds breakfast in preparation for the Welsh Cup Final."
O'Leary adds: "Our aim that season was to win promotion, which we had done at this point.
"Winning the FAW Premier Cup was not really on our radar, but it just happens the final is being played at the Vetch.
"We hadn't won it before, so it was a final farewell to the Vetch.
"Me and Trunds had booked to go to Magaluf a day or two after the game, but our passports were expiring so we had to drive up to Newport on the morning of the game.
"We got morning appointments, so we were sat in McDonalds in Newport having a coffee waiting for our passports to be sorted hours before our final game at the Vetch."
The majority of players admit they were not really in the right shape to play that Wednesday night clash, given their extensive celebrations of promotion.
Monk was among those to miss the game as Jackett made changes, but Forbes – the matchwinner against Shrewsbury and Bury – was among those sent out again.
At one stage it did not look like being a happy ending.
Unsurprisingly, the Swans were sluggish and fell behind on the hour mark when Juan Ugarte capitalised on defensive hesitation to open the scoring from Dennis Lawrence's cross.
But the hosts rallied, with Trundle the key figure in the turnaround.
Firstly, the striker tricked his way into the box and delivered a cross that Shaun Pejic headed into his own net.
Then, with 14 minutes to go, he got on to Gueret's kick downfield, and found Robinson – able to play as his league ban did not apply to the Welsh cup competition – who volleyed home left-footed.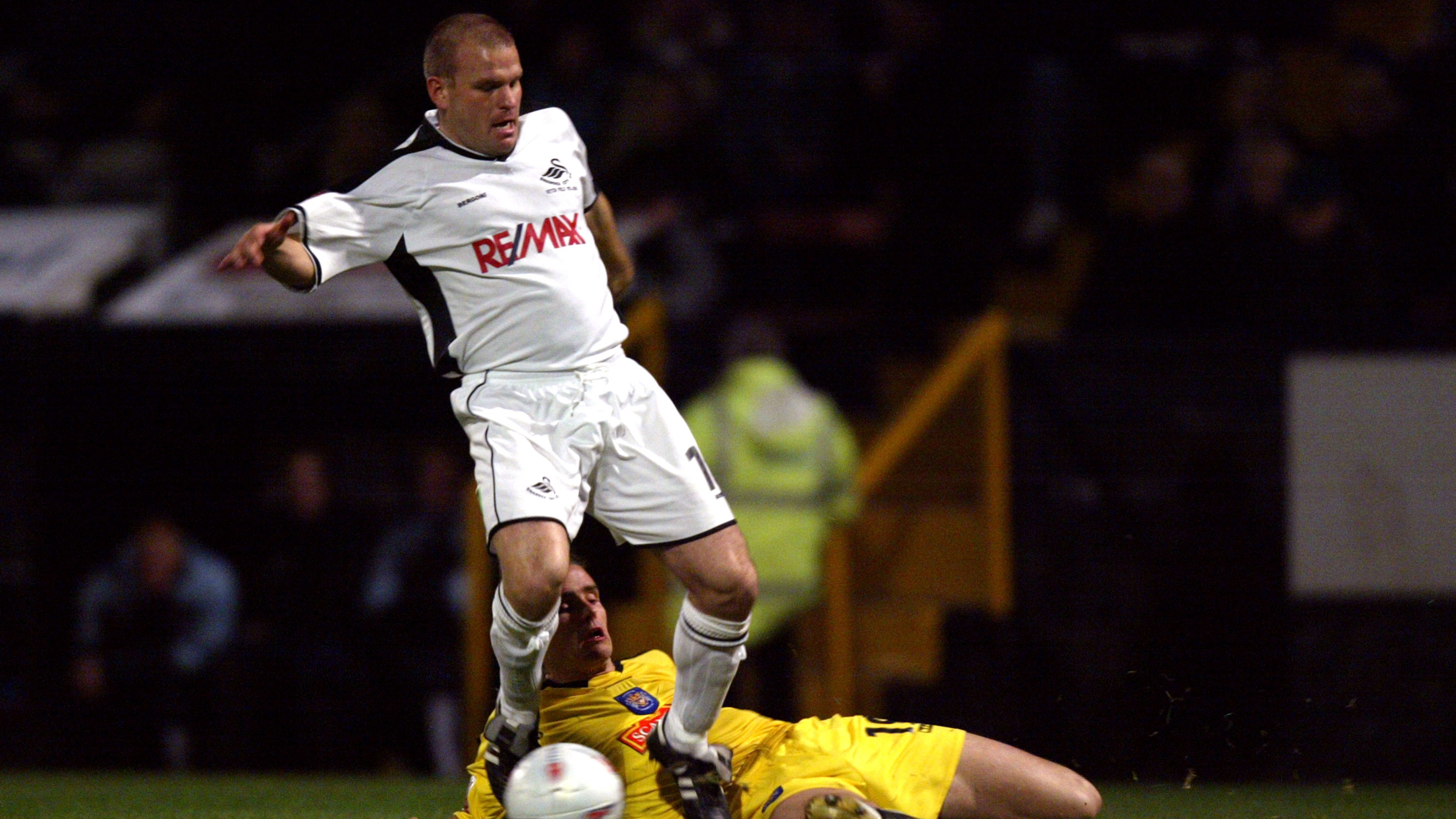 It would be the final goal scored at the Vetch, bringing down the curtain on 93 years of history.
When the final whistle went, it was time for one more pitch invasion as seats, turf and numerous other items were stripped out by fans keen to have a momento to remember the old place by.
"It was an amazing day," said Robinson.
"I remember the day because my father was struggling with cancer at the time and he came down to watch that game.
"I just remember the goal was a volley and Ben Foster was in goal for them, but it was a special day for me and my family because it was the last match my father actually watched at Swansea.
"It was a little bit emotional, but we were in the dressing room after the game and just hearing the noise of the fans ripping the ground apart was so endearing.
"I always remember looking over to Trunds and I said "This is crazy!," it was unbelievable. That was just the spirit of Swansea and the spirit of the Vetch.
"Everyone just wanted a little bit of the Vetch and I actually got a seat myself. I kept it and gave it to my son when he turned 18.
"It was such a moment and the Vetch was so special. It was also nice for me to get the last ever goal at the ground even though Forbesy reminds me that it wasn't the last ever league goal there.
"The Vetch was a special place for me, it is what I class as home as a footballer. That place shaped me as a footballer and a human being too.
"I will forever be grateful for what the Swans and the Vetch did for me."
But it was not just the fans who were keen to have a few keepsakes from the finale.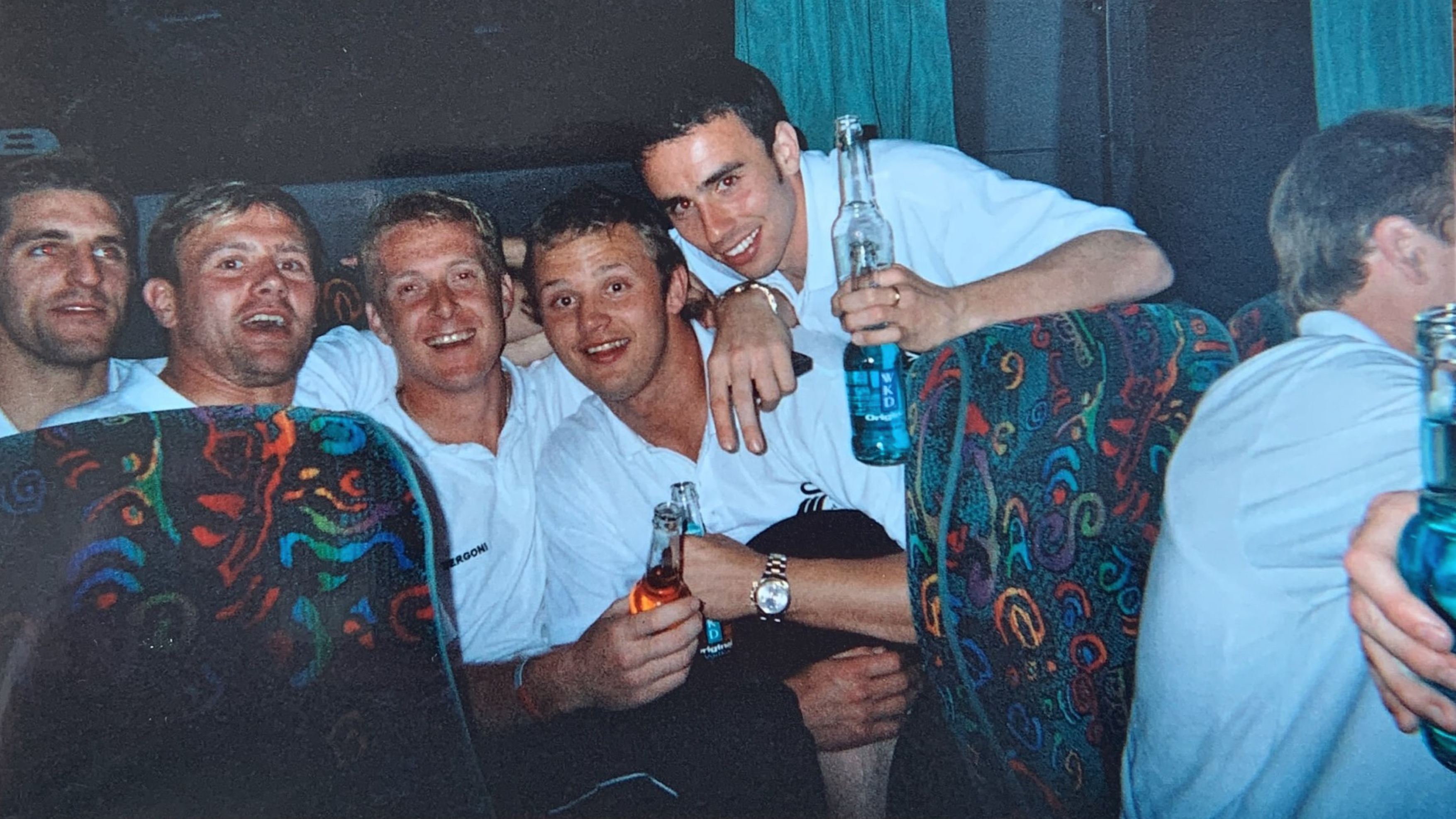 "It was carnage at the full-time whistle. Everyone is running on the pitch, ripping up seats, walking around with advertising boards and anything that wasn't screwed into the ground," says O'Leary.
"My sister ripped up her seat and I have two pieces of turf – one of which is in the garden."
For Forbes, a man who admits the significance of the ground had not really impacted him for much of that season, those scenes were powerful to behold when it came to the affection generated by what could be described as an ugly, lovely ground in the city once described in the same terms by one of its most famous sons; Dylan Thomas.
"That was incredible too, because there were people on the side of the pitch with shovels and pitchforks waiting for the whistle," he says.
"I think Kev Johns was on the tannoy trying to get people to stay off the pitch but there was no chance.
"For some people that ground held a lifetime of memories. Those who went as children and it had been part of their lives through grandparents and parents, through friends, through meeting their wives or girlfriends. There was such an attachment to it.
"There were so many valuable moments in people's lives that were shared at that ground, to be have made an impact in that sense that season is a momentous part of my life. It was special in my career.
"I played in big games, I played for England at age-grade level, but that period to score two big goals to take this great club into a higher division is up there in my career."
With the season now over, there were more celebrations, including that trip to Magaluf that O'Leary and Trundle had been finalising on the day of the Wrexham game.
And it would have one unlikely and amusing postscript, involving Michael Reddy, the Irish striker whose goal for Grimsby had restricted Southend to the draw that ensured victory at Bury sealed Swansea's promotion.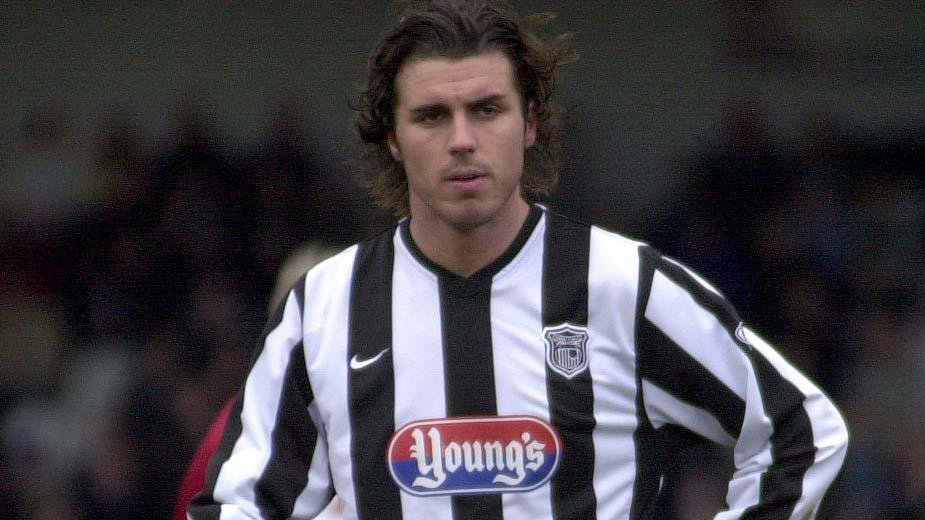 "We were walking down the street in Magaluf and we saw him coming the other way," says Trundle, unable to stymie a laugh at the memory.
"So we grabbed him and said "Reddy, come and celebrate!"
"He never bought a drink all night. We kept giving him drinks and I think his last one was a big fishbowl.
"About three hours later we saw him lying on the kerb with the fishbowl next to him.
"We finished him off with that, but he played a part in us getting promoted so it was great to see him and have him celebrate with us."
"It was our way of saying 'thanks mate'," says O'Leary.
And it is to O'Leary that we leave the last word.
All of those interviewed for these features spoke warmly and generously of their time at the Vetch, and you will be able to read and watch their thoughts in the days ahead.
But it feels fitting to leave it to the local lad to sum what that season, and that stadium, meant to him.
"To me, I was always thinking 'this is the last season at the Vetch'," he says.
"For a lot of the lads it was just another season because they obviously didn't have that attachment to the club or stadium yet. That changed a lot throughout the campaign.
"I left school and went to the Vetch. That was my life. I spent my lifetime in school and then walked into the Vetch.
"I wanted to enjoy it. Looking back perhaps we should have won the league, but it didn't turn out too badly to be fair.
"The Vetch deserved a special send-off, and that's what we gave it. It was a fitting end.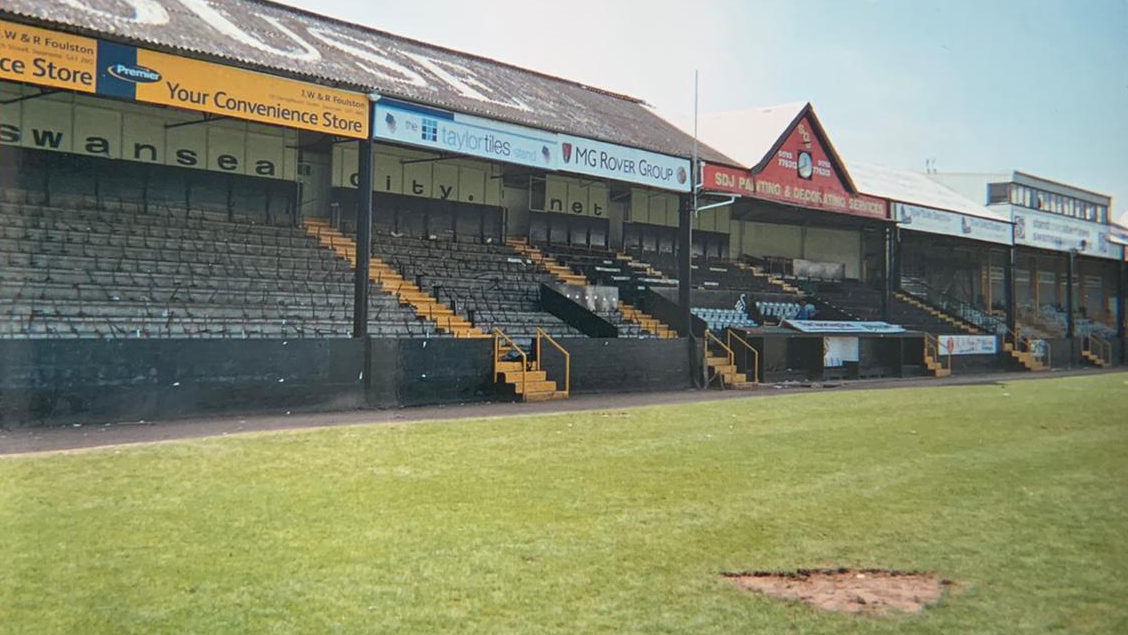 "I was a fan that became a player, not a player that became a fan.
"I was in the East Stand terrace one game, then I'd be in the Centre Stand and move up to the East Stand seats. Then, when it was allowed, I'd be in the North Bank.
"When I started playing for Swansea as a kid, I'd meet my team-mates in the North Bank and one group would kick the back of the boards and make noise.
"I can remember we played Bolton one Christmas and the traffic was really busy, so I jumped out of my mum's car and ran to the game and made it just after kick-off.
"I have great memories of the Vetch as a fan. The East Stand, the huge floodlight next it and the North Bank. Amazing. The North Bank earned us so many points because of the atmosphere they created.
"As a player it was home for me. I knew everyone and saw them every day at the Vetch – the tea ladies, the apprentices, the office staff –  it was a great family.
"It may have been not the nicest looking place to those outside of Swansea, but to me it was home.
"I'd come in sometimes and there'd be cockroaches everywhere, while the lights wouldn't work in the changing room.
"I didn't realise how special it was to play for the club until I was a little older.
"That was the best season in my career. It was everything I had dreamt of in football – all in one year."
Vetch Field 1912-2005