Wayne Routledge hoping for a repeat of his play-off success
21st May 2021
First team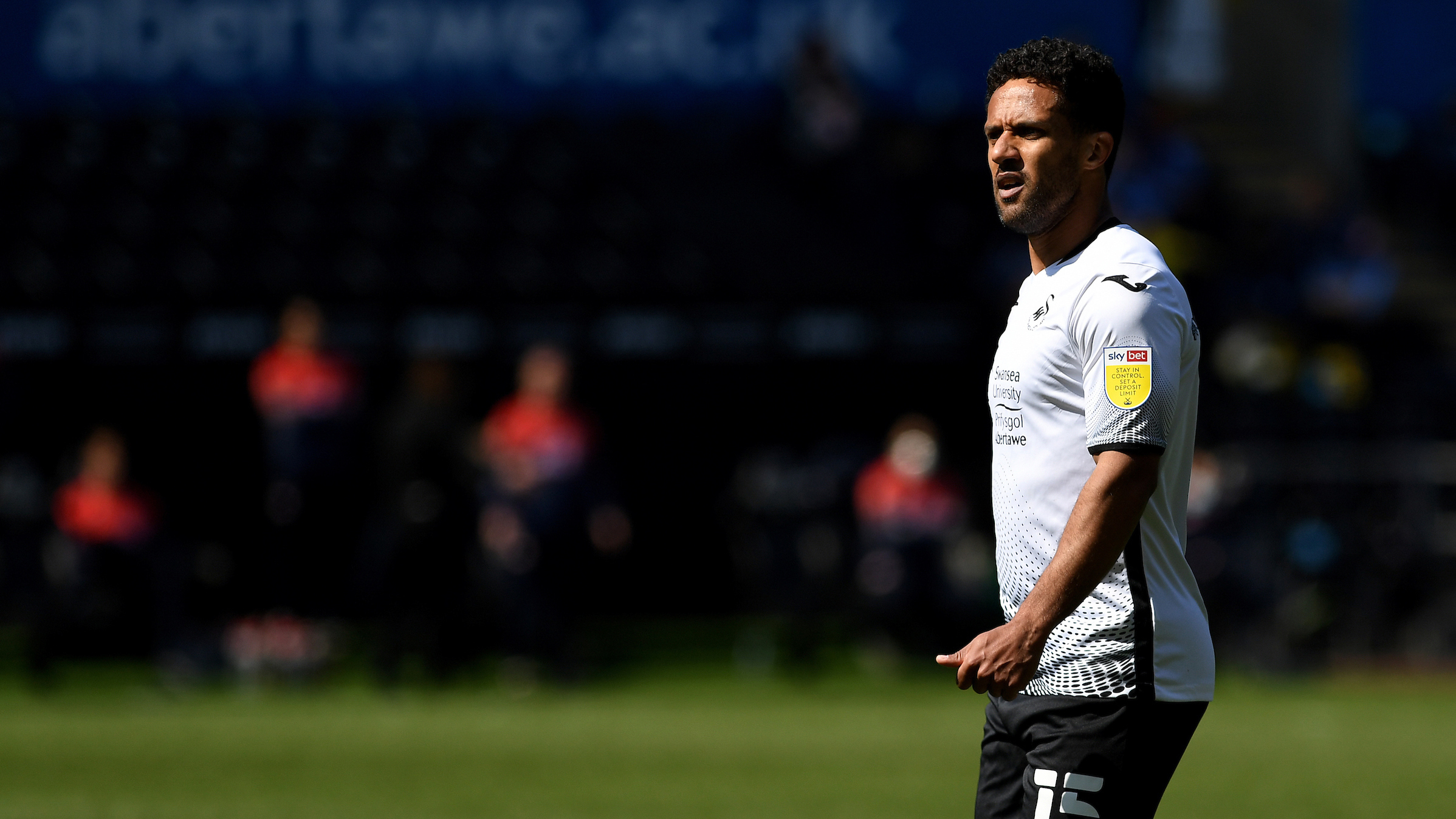 His involvement in Monday night's win at Barnsley ended a 17-year gap between play-off appearances for Wayne Routledge, with the experienced forward hoping to replicate his success from his previous outing.
The 36-year-old's heroics last season fired the Swans into the play-offs following a dramatic final-day win at Reading, which saw Steve Cooper's side upset the odds on a memorable day for the Jack Army.
Routledge scored twice that day, but then missed the play-off semi-final encounters with Brentford due to injury.
That meant for his previous play-off appearance you had to go back to 2004 in Cardiff, where he was part of Crystal Palace's 1-0 win over West Ham in the final.
He now hopes to play his part and help the Swans see off Barnsley in the second leg on Saturday to book a return ticket to the final and, hopefully, the Premier League.
Here, Routledge discusses his decade of service to the Swans that has included 33 goals in 304 appearances, Saturday's crucial clash with the Tykes, revelations about the League Cup, and what lies ahead in the future.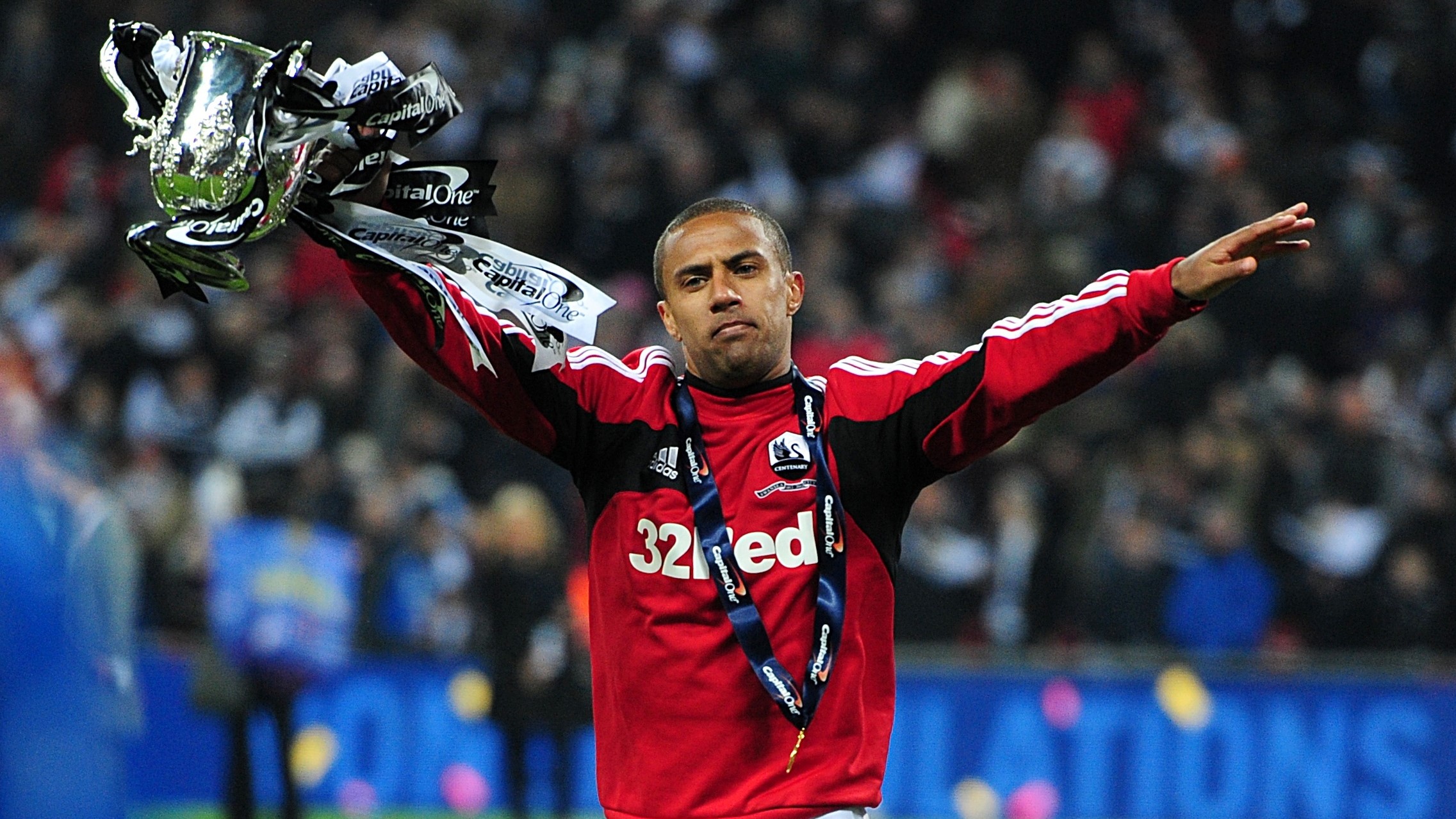 DECADE OF SERVICE
"I'm proud. I think it's a really good achievement.
"If you go back to when I signed here, I think if you'd have said I'd be here 10 years then people would have laughed at you given my previous spells.
"I owe a lot to Brendan for spending a lot of time with me and showing his vision moving forward.
"I was floating around in my career, but I came to Swansea and re-educated myself on football under Brendan Rodgers, and then Michael Laudrup
"Each year we kept going and progressing. Now we're at 10 years.
"My role has definitely changed in the sense of what I offer and bring to the table.
"I've got years of experience, but it's not just on the pitch. I've dealt with situations that the young players are going to experience, and I can help them on their path.
"I came here and I've evolved from that person in 2011. It's given me a happy family and it's a great place to be."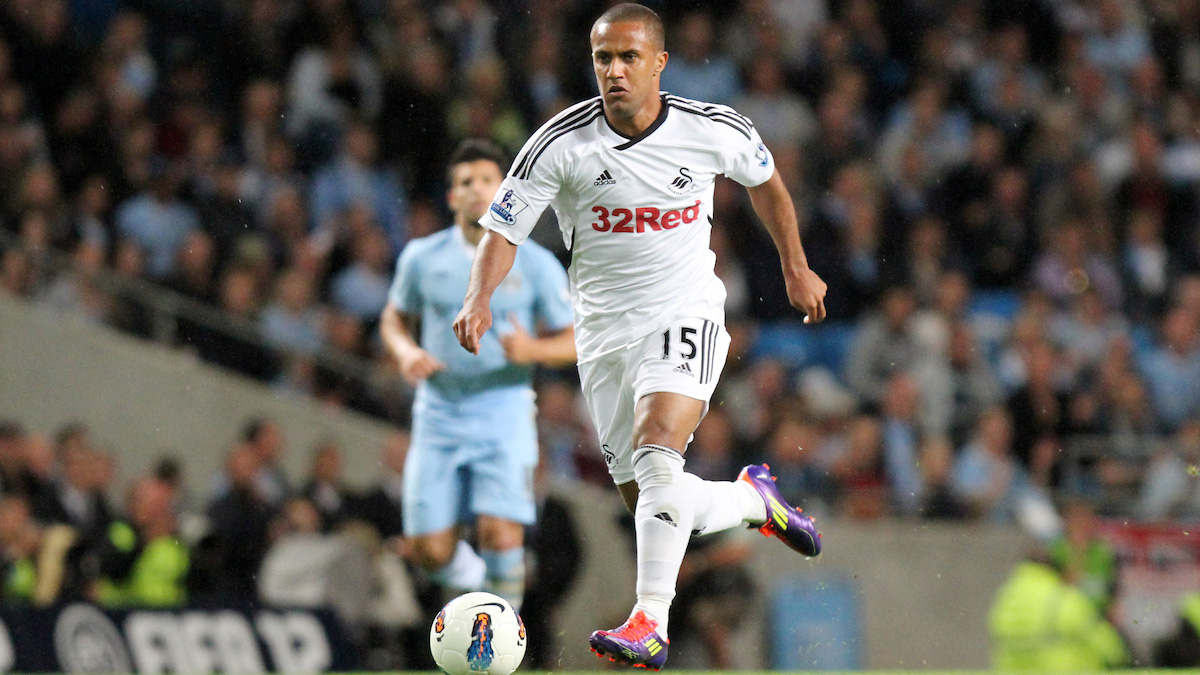 DEBUT
"I understood in principle how big it was for the club, but my first overriding thought during the first half against Manchester City was 'wow, how do I get into this team?'
"I came on for Stephen Dobbie in the second half, and we looked a team that could really play.
"We played really well, which people who didn't see that game will think I'm daft for saying that because we ended up losing 4-0. But that performance gave us a lot of belief.
"We progressed through that first season, and I saw what it meant in our first game at the Liberty.
"Everyone still understands what it brought to the city as a whole. That's what we are working to now."
FIRST GOAL
"I remember my celebration the most. I had a little chip on my shoulder about playing this many games for this amount of clubs, and I'd not scored in the Premier League.
"It kept chipping away at me.
"The irony was that it was with my left foot! It was our first away win in the Premier League too at one of my former clubs Aston Villa. It put us on a really good path that season, and we really pushed on from there.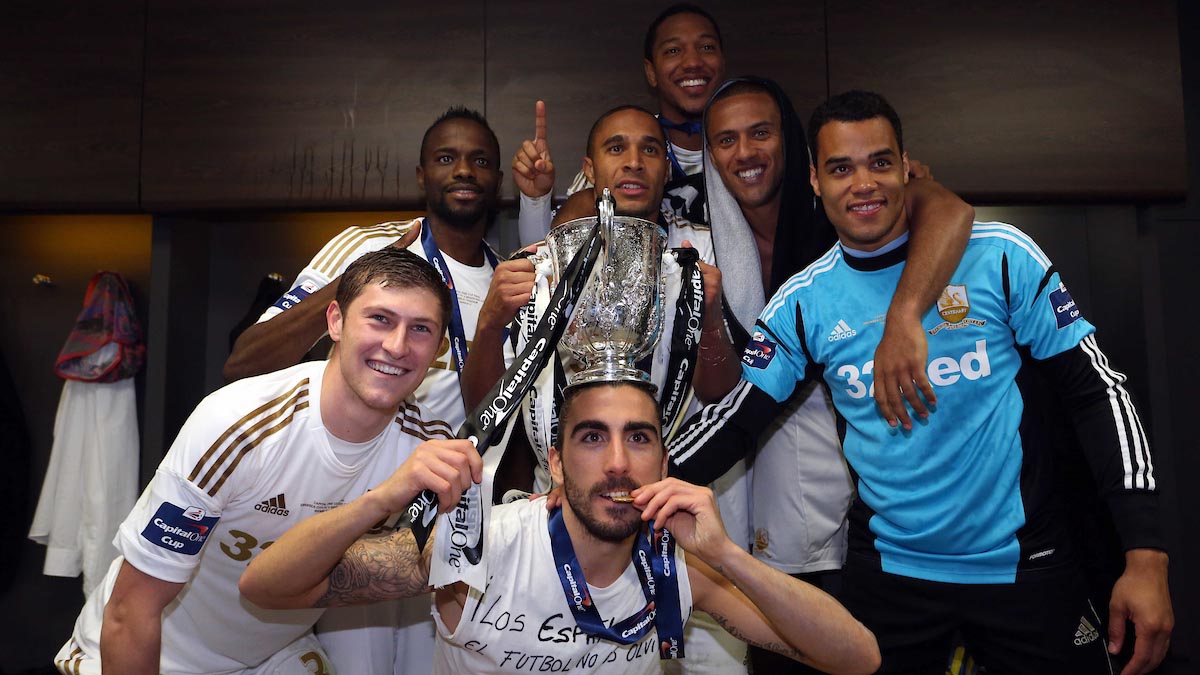 LEAGUE CUP SUCCESS
"It's definitely one of the biggest moments of my career.
"In the week leading up to the game, and even on the day itself, I was so ill. I could barely leave the house and couldn't eat. But there was no way I was missing that game.
"I actually left the celebrations early as I was shivering.
"We turned up for that game and we didn't only win in a high goalscoring manner, we won the Swansea Way.
"It was so evident that people were so engrossed with what they were watching at the time.
DERBY DAY GOAL
"It was Garry Monk's first game in charge, and it was a very important one against Cardiff.
"We weren't in great shape – that's why a change was made in manager - but the fact that one of us got the job was massive. We gave him everything, and it was a derby game too so there was no way we were going to lose that game.
"My goal was one I'll treasure, and it was a fantastic pass from Pablo Hernandez to get me in on goal.
"The way we won it too was lovely for us, Monks and the whole of Swansea."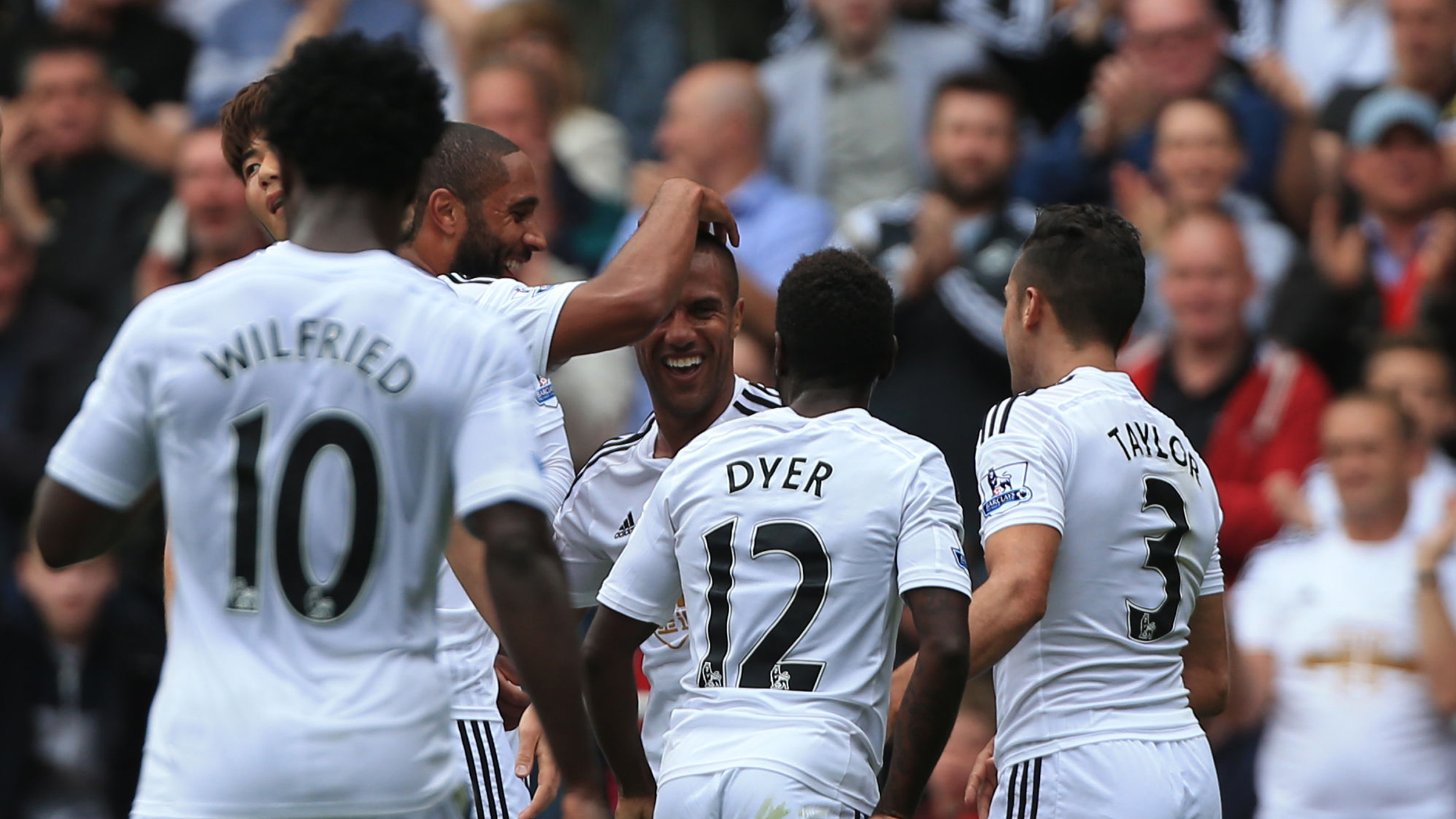 ACROBATICS
"That goal against West Brom was the best goal I've scored. It's the best because I wouldn't be able to do it again!
"These days, there are patterns of play and all that, but this was pure instinct. Gylfi crossed it, it was cleared properly, and in a normal world you'd take it down, recycle it, or maybe took a touch or shot.
"Me being me at the time, I thought it was on to jump in the air like I was Bruce Lee and kick a ball in a certain way that I don't think I could do again.
"Play off instinct and magical things happen. That was a magical moment in my career."
READING HEROICS
"Big games and big moments - that's what will define you as a player. If you can step up to the plate and provide in big moments, then you become a big player.
"That night against Reading will be one that everyone involved in will remember forever. It was crazy, but I'm just happy I could contribute and help the team.
"You saw that in the last game against Barnsley – Naughts puts a good ball down the line for Andre, and he produces a big moment."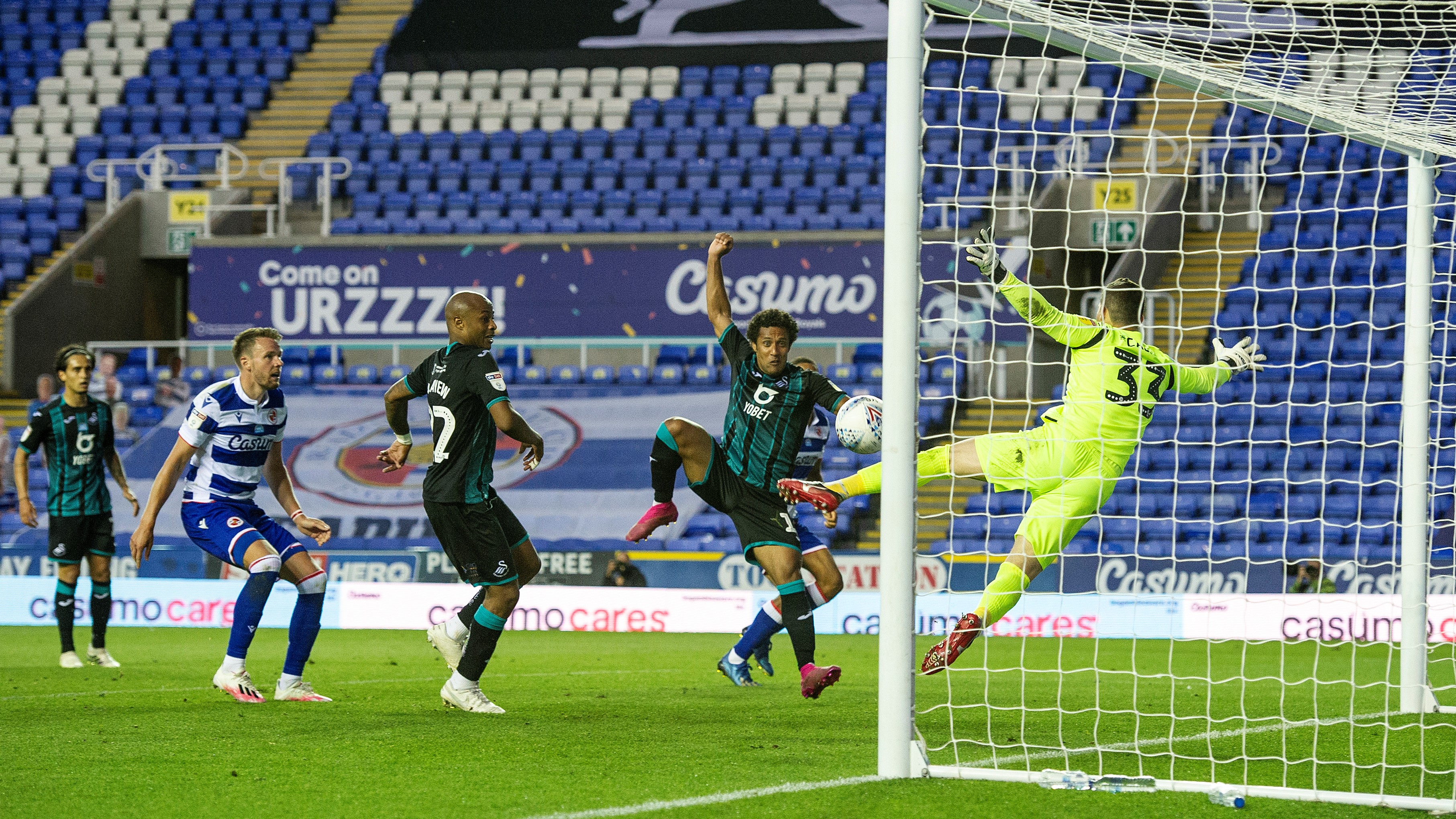 300 APPEARANCES
"I've always tried to give everything I have, and that's why I think people say nice things about me.
"It's nice to get 300 and pass that mark, hopefully there's a few more to come.
"I've won the cup with this club, been part of a team playing fantastic football, and have been captain too.
"But I've never been promoted here yet. That would be nice."
MANAGERS
"I've picked up a lot from the managers I've played under.
"I'm someone who always tries to learn. The more you learn, the better person you become and the more you have to offer.
"I don't want to go through every single manager – there's been quite a few in my time – but it's important that I took even the little snippet from each one to better myself.
"There are more strings to my bow than being just Wayne Routledge. I'm Wayne Routledge the dad, and the footballer, not just Wayne Routledge."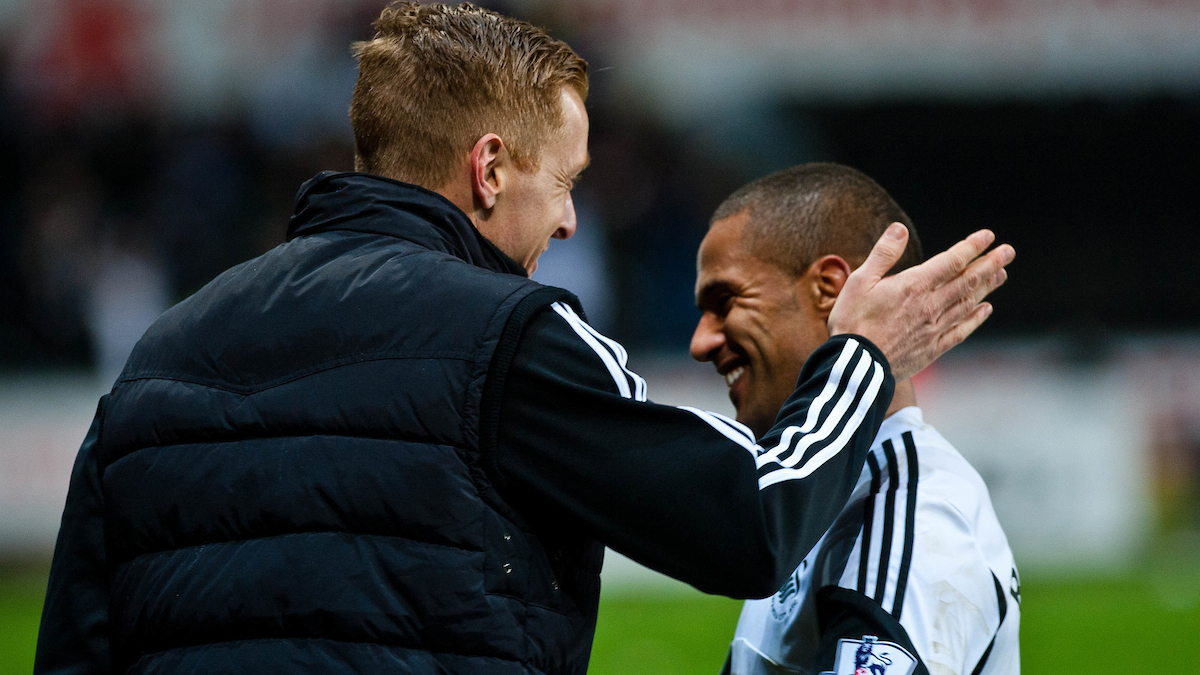 TEAM-MATES
"It's been amazing because in a sense I've been around a lot of players for so long.
"You get to know their mannerisms, like if they're having a good or bad day.
"On the pitch it's almost telepathic. The bond between us was really good. We've always tried to have a good dressing room and got on well on and off the pitch.
"I've been lucky to have some great team-mates that are also friends.
"Over nine years we have had some magical moments, but for me, the team-mates I have had rank higher than certain matches.
"I've built up such a strong bond with guys inside that changing room over the years. I'm obviously very close with Nathan (Dyer), the same too with Ashley Williams, while there are lots of others with whom I've become really friendly with.
"We've had some amazing changing rooms in terms of characters."
SEVENTEEN-YEAR WAIT FOR A PLAY-OFF APPEARANCE
"It's funny because I'd not played in a play-off game since the final with Crystal Palace in 2004. We were certainly not the favourites to go up, because we'd started the season poorly and then had a bit of a resurgence. But West Ham were clear favourites, but we pipped them thanks to Neil Shipperley's goal.
"So to get on against Barnsley ended that long wait for a play-off game.
"You could see what it meant to us to be in the Premier League. You could see what happened when we lost and got relegated from the Premier League.
"So to put the club back to where it belongs and should be would mean everything, to be honest with you."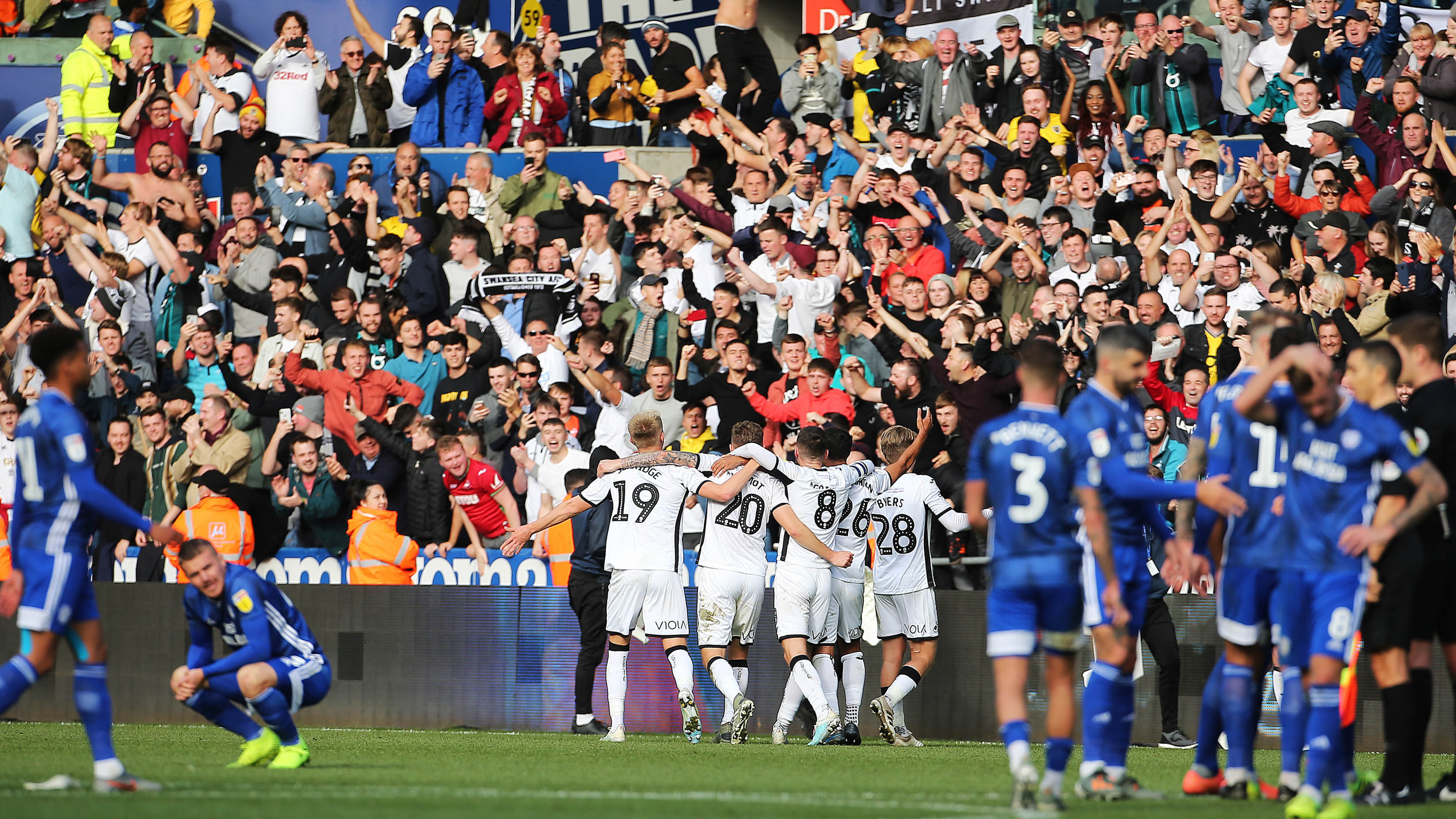 FANS RETURNING
"It's going to be mayhem! It was a good but different experience playing at Barnsley on Monday.
"They were loud and made it hostile. God only knows what it will be like at the Liberty on Saturday.
"It will be chaos, I'm sure, and I'm looking forward to it."
FUTURE
"I don't know, is the honest answer. There are a lot of grey areas that need filling in, so I can't give an answer on that.
"We have talked about a few options, but I don't know right now."
LEGACY
"When the time comes to hang up my boots, I want to be remembered as someone who loved playing football and gave his best.
"I've loved playing football – always have, always will – and tried my best even it may not have looked that way.
"I'd like to be remembered as someone who learned to adapt and understood the game of football, which is not as easy as it looks."