Kris O'Leary | One to eleven
11th June 2020
First team
In another new feature, a current or former Swansea City player turns manager as he picks an XI from those he has played with.
Here, former midfielder and coach Kris O'Leary selects his starting XI from his long service at the Vetch and Liberty.
Kristian O'Leary's One to Eleven
Formation: No formation!
There is no proper formation – I just want my team to go out and win! The players can sort themselves out per position. I think they are all so good that they would fill in the gaps left by others, so I wouldn't have to tell them much.
I'm not including myself in the team as I could just watch on from the sidelines and enjoy watching them play.
We'd have a great laugh, play great football and score some great goals.
I've selected guys who are all former Swansea team-mates, which means I can't put in the best footballer I've seen live – Michael Laudrup.
I've been fortunate enough to meet Ronaldo and see Messi play, but watching Laudrup on the training pitch was absolutely incredible. His skill was insane!
At the age he was, he would still make Premier League players turn around and go 'wow that was special'.
He was the top, top level of the game. We were in the Premier League, but he was better than a lot of the players in the top-flight even at his age.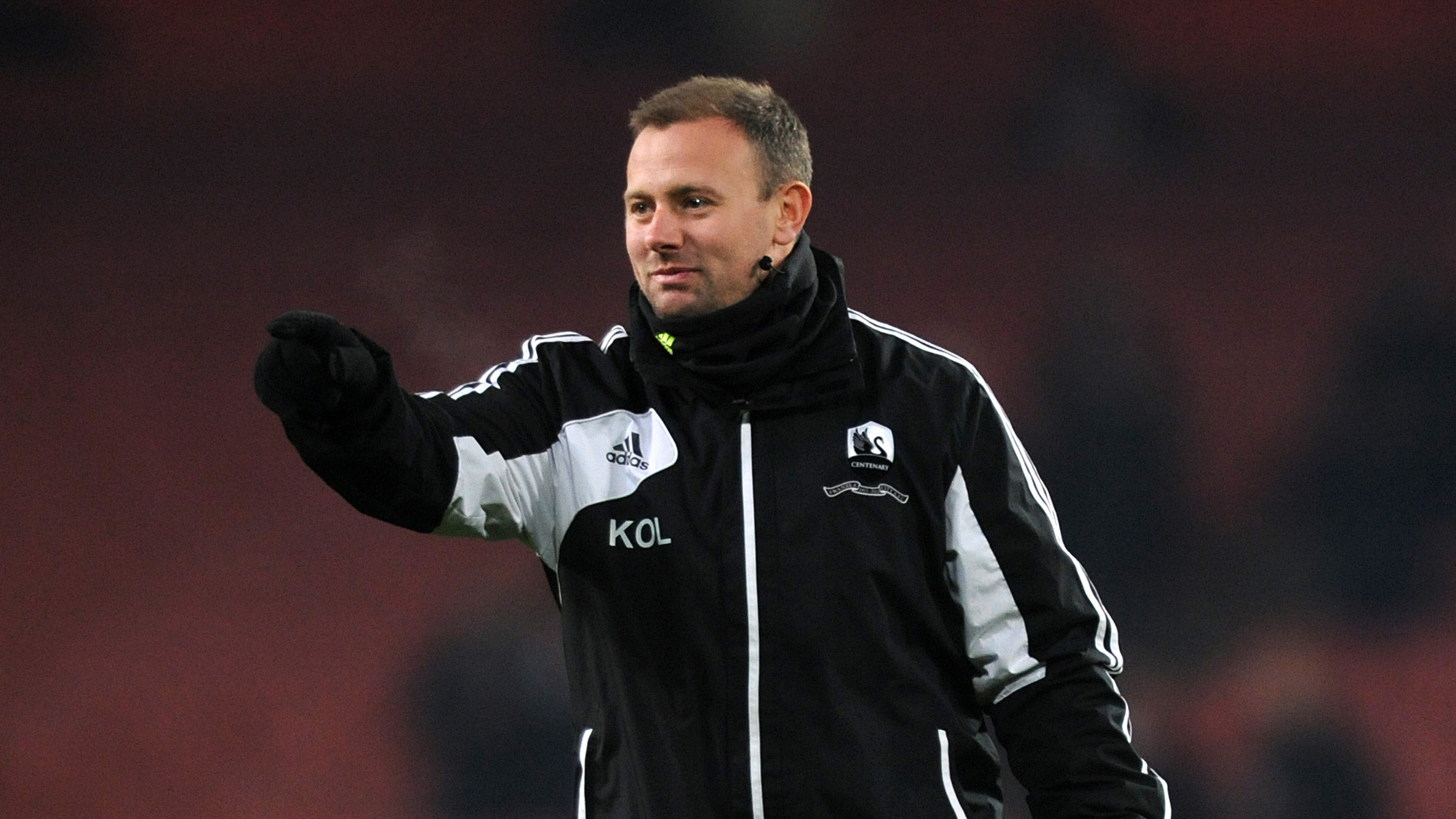 GOALKEEPER: ROGER FREESTONE
He was there when I arrived as a schoolboy, and I'd watch him as a kid.
A great guy and unbelievable keeper who should have gone on to play at a higher level. Thankfully for Swansea, we managed to keep hold of him. Saying that, getting him out of his home back in Newport just for training and games was some feat!
His calmness and communication was amazing. I learned so much from him.
I have so much respect for him and when we talk about legends, he is a proper legend of the club.
DEFENDER: ASHLEY WILLIAMS
He was a bargain when we signed him, and he went on an impressive run of consecutive games for us.
He had the disappointment of being released as a kid by West Brom, but what a career he has made for himself.
A tough, reliable defender who was mobile and could pass as well as a midfielder, he grew so much while with us. He was pivotal in our rise to the Premier League, and then did very well for the club in the top flight.
With Ash, you didn't want to rest him. The best thing for him was to play him over and over and over again.
He took that onto Wales, where he has led by example and was a big figure at the Euros.
DEFENDER: SAM RICKETTS
Could play either side, and he was one of a few players who went on to progress in his career when he left the club.
Another to go on to play international football, and did really well for us after arriving from non-league.
He was a very intelligent footballer and person who you could rely on.
DEFENDER: ALAN TATE
He could play anywhere, including in goal! We all know the song!
Not the brightest fella, but football-wise he was very clever.
I was intrigued when we first signed him because I wanted to tap into the knowledge of how things were done at Manchester United.
I was expecting this elite professional, and then Tatey walks in!
I remember walking into the physio room before a friendly game, and Tatey was lying down trying to have a kip. It was 20 minutes before kick-off!
I remember turning up for pre-match once and we were 30 minutes earlier than normal. He went to the bar and bought a ham sandwich – no butter - and crisps! I was like 'mate, you were at Manchester United, what are you doing?' He said 'yeah, I'm hungry.' Fair enough, I thought.
But he was a really intelligent and reliable player. He was a player you needed in the team.
DEFENDER: ANGEL RANGEL
Unbelievable bargain for the club.
I remember when we came in and he made his debut at Oldham. I thought 'this will tell us a lot about him'. He took to it like a duck to water.
I always thought if foreign players, in particular, bought into our history, what we were trying to do, and what we are about as a city and football club, then they would make it here. Angel bought into it straight away.
And look at the service he gave to the club after that. Not bad for £10,000.
MIDFIELDER: JAN MOLBY
He gave me my debut and I was fortunate enough to pay alongside him.
He was fantastic for Liverpool – winning three league titles and the FA Cup twice - and played at the World Cup and Euros for Denmark.
Amazing to think a player of his stature was both a player and manager at our club.
MIDFIELDER: FERRIE BODDE
An incredible talent, but incredibly wild.
It was such a shame for him to pick up that big injury when he did. It takes a lot of mental strength and determination and grit to get over something like that.
You get one chance to get the rehab right, but unfortunately things didn't work out for him.
He was a ridiculous talent, and I mean ridiculous! It was such a shame he didn't play at the highest level.
MIDFIELDER: LEON BRITTON
Leon arrived as a tiny little winger who could also play in midfield.
He just loved football and was just keen to play. He wanted to learn as much as he could, and to be fair it was a massive risk dropping down so many divisions.
He bought into what we wanted to do and he had the right mentality.
He made the club his home and, aside from a brief spell away from the club, has served the club incredibly well.
He deserves everything he gets as he's a top bloke as well as a fantastic footballer.
MIDFIELDER: JOE ALLEN
A special talent. We could all see it when he broke into the first team as a young lad.
He may look like a nice innocent boy, but he's got a nasty streak in him too.
Such a good player, and he was a joy to watch before he left for Liverpool.
Has proved his worth for Wales too and, with his injury the delay in the Euros has been Wales' gain as he's a key cog in that team. He's impossible to replace.
FORWARD: LEE TRUNDLE
Obvious choice.
There are very few players like him. What he had as a player was uncoachable. He saw it and did it.
You can't say to him 'when this happens, do this' because he was instinctive. Just look at some of the goals he scored – like against Carlisle in the EFL Trophy final in Cardiff.
He took the club onto a different level of interest with his antics.
FORWARD: ANDY ROBINSON
Robbo came from a non-league background and was a proper street footballer.
He was very aggressive and loved to score. I see a lot of Robbo when I watch Bersant Celina now.
Robbo would cut in from the left and he would think 'sod this, I'm shooting'. I see elements of that when I see Celina cutting in.
Like Trunds, he had qualities that couldn't be coached.
It was a big shame that he left the club when he did, and he probably regrets that now. But he was a big talent for us and was a really great character in our squad. Was a laugh-a-minute kind of guy.