Report | Aberystwyth Town Ladies 0 Swansea City Ladies 2
21st May 2021
Ladies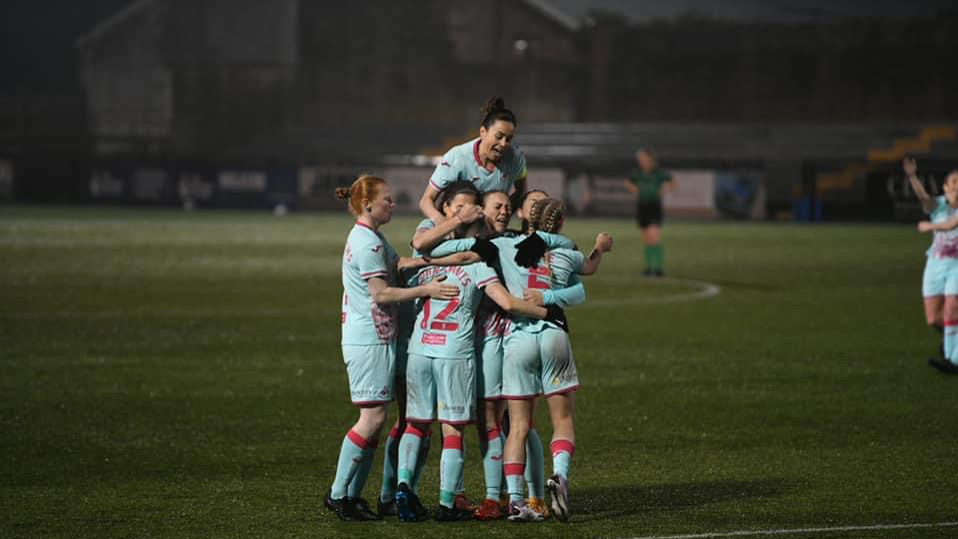 Swansea City Ladies sealed their spot in the Welsh Premier Women's League Cup final with a victory in extra-time over Aberystwyth Town at Park Avenue.
The first half was evenly contested with both sides causing threat to each other's goals.
Swansea looked the more likely to bag the crucial goal in the second half after pinning Aber back in spells.
However, the game had to go to extra-time to find a winner, with Stacey John-Davis finding the back of the net twice to send the Swans into the final.
John-Davis had a great opportunity to break the deadlock in a one-on-one situation in the early stages but her touch got away from her, which allowed Aber keeper Ffion Ashman to close the striker down.
Laura Davies got her head onto Katy Hosford's corner but Ashman was able to collect it comfortably.
Swansea had two scares in a matter of minutes after Tania Wylde and Hannah Pusey both hit the woodwork for the hosts.
The match began to open up towards the end of the first half as John-Davis had another opportunity but she was once again denied by Ashman.
Davies then came close to breaking the deadlock as she cut onto her left foot but Ashman was able to get down to her right promptly to keep the scores level.
The majority of the second half lacked any clear-cut chances for both sides until a goal-line scramble in the Aber penalty area, but the Swans were unable to find a way through.
Davies came close once again but the midfielder saw her shot from inside the box dragged wide of the far post.
Swansea piled on plenty of pressure in the closing stages of the second half but Aber's defence stood firm and remained resilient and difficult to break down.
Hosford couldn't have come any closer to bagging the winner as she struck the woodwork from a tight angle with a powerful strike, with just one minute of normal time left.
It took until extra-time for the Swans to take the lead and it was John-Davis who was on hand to tap in Hosford's rebounded shot.
The Swans then sealed the win as substitute Chloe Chivers squared it to John-Davis to double the lead and secure a spot next week's final against Cardiff City.
Swansea City Ladies: Gemma Border, Ellie Lake, Shaunna Jenkins, Alicia Powe (C), Jess Williams (Ria Hughes 50'), Tija Richardson (Kate Searle 110'), Emma Beynon (Chloe Chivers 84'), Laura Davies, Kelly Adams (Nieve Jenkins 106'), Katy Hosford (Chloe Tiley 106'), Stacey John-Davis (Kelsey Thomas 110').
Aberystwyth Town: Ffion Ashman, Josie Pugh, Rebecca Mathiaa, Lucie Gwilt (Ffiona Evans 65') Niamh Duggan, Caroline Cooper (C), Siani Evans (Dwynwen Davies 54'), Kelly Thomas, Flavia Jenkins, Tania Wylde, Hannah Pusey.
Subs not used: Jessica Baker, Alaw Davies, Lucy Walker.