Report | FC Dinamo Minsk 2 Swansea City Ladies 0
21st August 2021
Ladies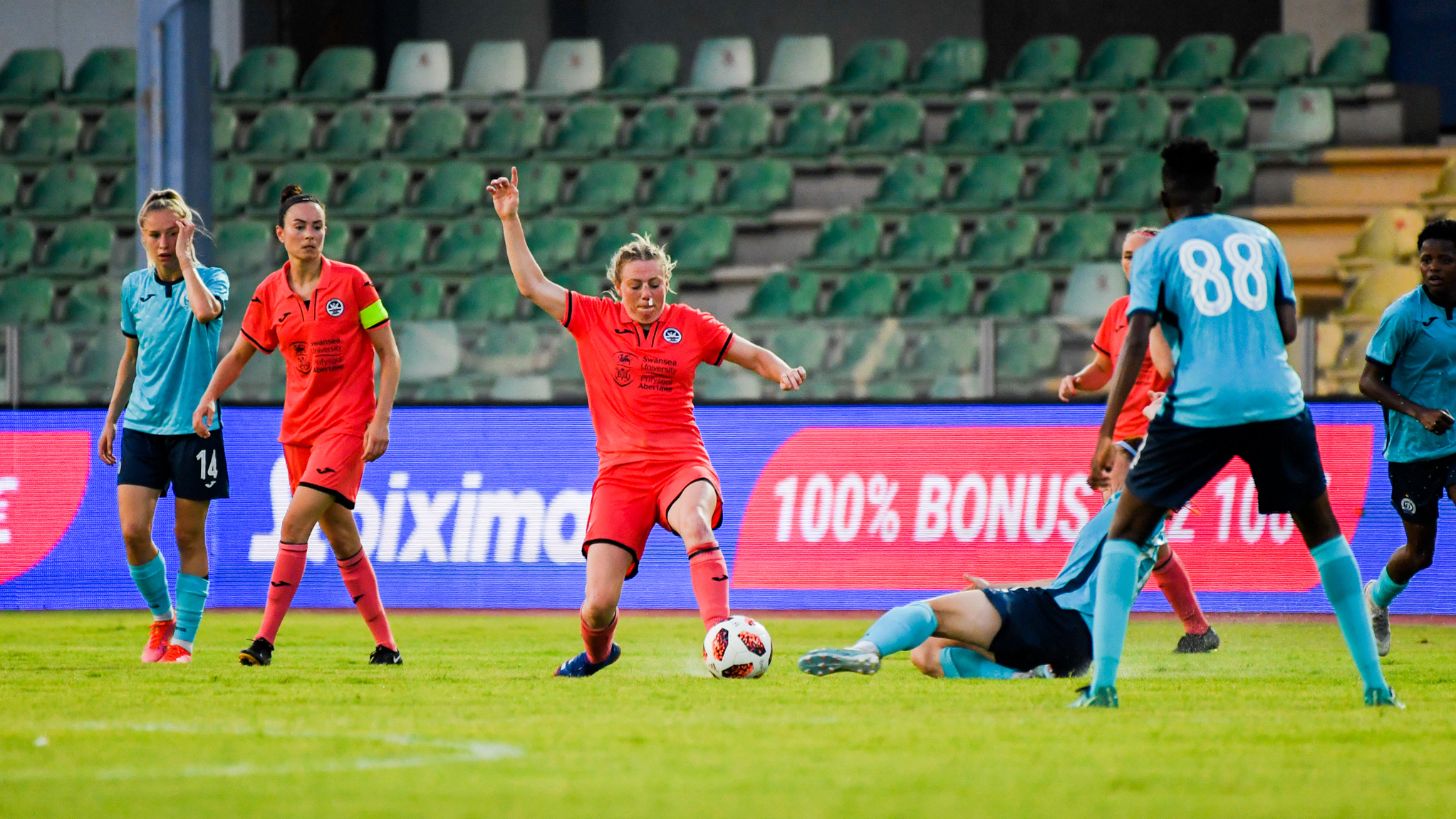 Swansea City Ladies' UEFA Women's Champions League experience ended with defeat at the hands of FC Dinamo Minsk in Cyprus.
The Swans conceded at either end of the first half through an own goal and a set-piece from Collete Ndzana Fegue.
The second half witnessed a battling attempt to get back into the fixture, But the two-time defending Welsh champions couldn't salvage anything from the match in the end.
The Swans fell behind early on after an attempted clearance on the line from Shaunna Jenkins unfortunately ended up being turned into her own net.
Dinamo controlled the play and they nearly converted it into a second goal but, fortunately for the Swans, Kelly Adams was there to clear Anastasiya Shalpkova's shot inside a crowded penalty box off the line.
The Belarusian side had another great chance, but Claire Skinner was able to keep hold of Viktoria Valyuk's header from close-range.
After a slow start, Swansea began to force some mistakes out of Dinamo and grew into the match.
However, their hopes were dented when Ndzana Fegue found the top corner with a superb free-kick from the edge of Swansea's box to double Swansea's deficit.
The opening of the second half lacked any clear chances with the closest coming from Lebohang Ramalepe; the midfielder had sight of goal from an acute angle but didn't pose much of a threat on Skinner's goal.
The Swans posed danger after Chloe Chivers put a looping pass over the top of the Dinamo defence to feed in Katy Hosford, however, Ekaterina Ulasevich was quick off her line to put an end to the attack.
Skinner then made a fine reaction save with her left foot in a one-on-one situation to deny Lebohang Ramalepe as the Swans bowed out beaten, but with plenty to be proud of having taken professional Russian champions WFC CSKA Moscow to extra-time in their group six semi-final in midweek.
Swansea City Ladies: Claire Skinner, Alicia Powe (captain), Shaunna Jenkins (Jess Williams, 85), Ellie Lake, Kelly Adams (Laura Davies, 73), Ria Hughes, Tija Richardson (Nieve Jenkins, 85), Emma Beynon, Chloe Chivers (Chloe Tiley, 85), Katy Hosford, Stacey John-Davis (Rhianne Oakley, 78).
Subs not used: Gemma Border, Sarah Adams, Gwen Horgan, Melissa Sartain, Brooke Llewellyn, Jemma Parfitt, Caitlin Llewellyn.
FC Dinamo Minsk: Ekaterina Ulasevich, Anastasiya Shalpkova (Darya Stezhko, 88), Viktoria Valyuk (Tatiana Markushevskaya, 75) , Claudia Voulania Dabda, Colette Ndzana Fegue, Karina Olkhovik, Anastasiya Novikova (captain), Viktoriya Kazakevich, Anna Pilipenko, Lebohang Ramalepe, Nadege Cisse (Vita Nikolaenko, 88).
Subs not used: Natalia Munteanu, Darya Stezhko, Yuliya Duben, Anastasiya Popova.