Report | Swansea City Ladies 6 Port Talbot Town Ladies 0
16th December 2021
Ladies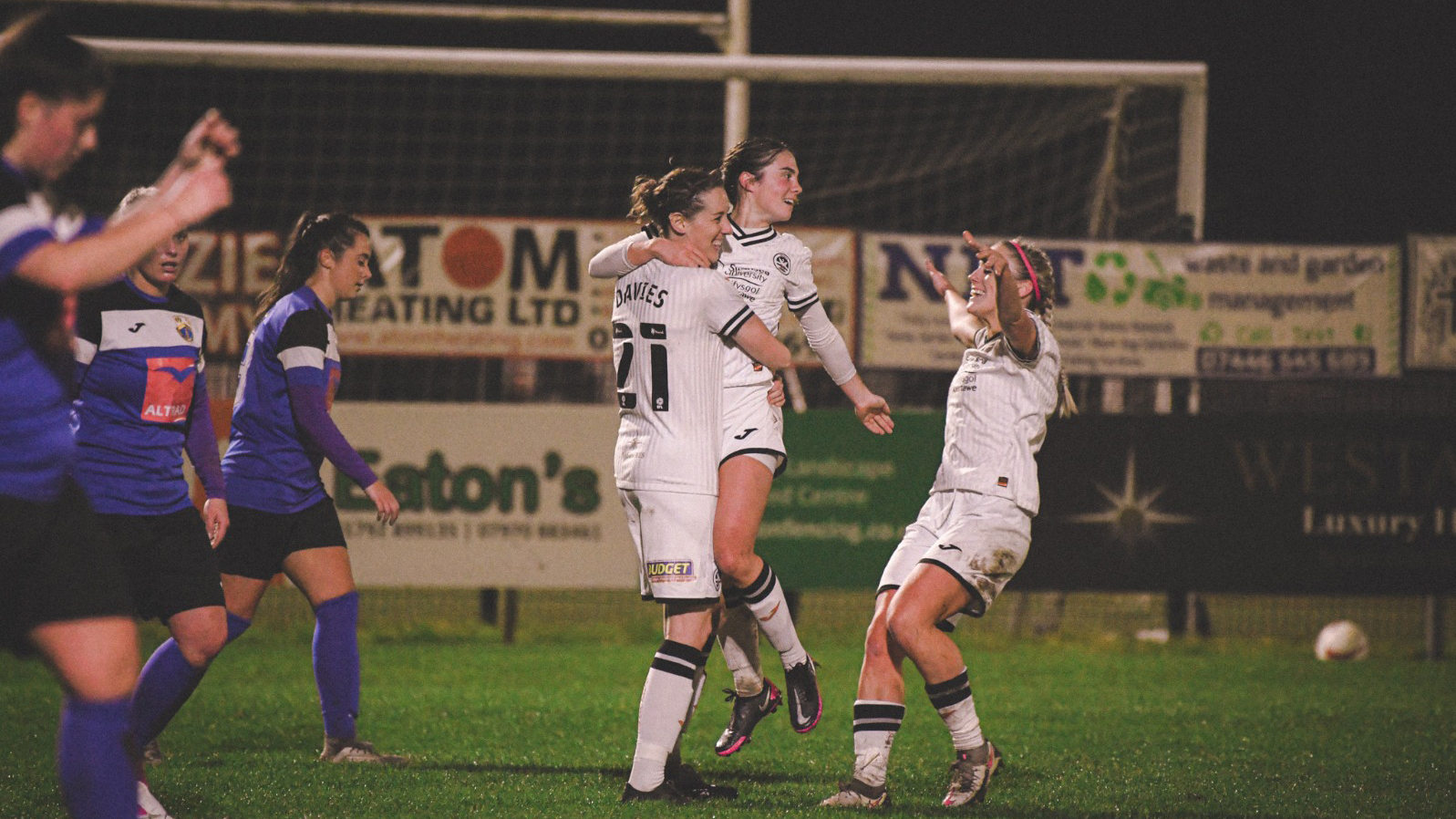 Swansea City Ladies concluded phase one of the Genero Adran Premier with a convincing win over Port Talbot Town Ladies at Llandarcy.
Nia Rees opened the scoring on the half hour mark after coming off the bench.
The Swans were clinical in the second half and put Port Talbot to the sword with Katy Hosford (2), Stacey John-Davis and Karmyn Carter (2) all getting on the scoresheet.
In the early stages, Hosford forced a quick reaction save from former Swan Emily Roberts with a strike from inside the box.
Hosford then saw her shot denied by the post as she pulled the trigger from outside the box after Laura Davies picked the winger out with a precise through ball.
Swansea was fully in control of proceedings and were nearly given a gift of a goal as Roberts mishit her goal kick, Chloe Chivers picked it up but could only drag her shot wide of the mark.
The Swans were denied by the woodwork again when John-Davis saw her effort hit the far post.
All the pressure was eventually converted into a goal by Rees with a fine first-time finish, hitting the post on the way in.
At the start of the second half another scuffed goal kick from Roberts went straight to Chivers, she played the ball through to John-Davis, but the winger could only fire wide of the far post.
The lead was doubled after Chivers drilled a cross into Hosford which she buried it into the top corner.
Straight after, Hosford claimed for a penalty but John-Davis played on and poked the ball home to increase the lead.
Carter made it a night to remember as she got on the end of Hosford's corner to secure her first goal for Swansea.
Chivers then played an outrageous pass to Hosford taking every Port Talbot player out of the picture, which was then finished by the winger who took the ball around the goalkeeper and calmly rolled the ball into an empty net.
Carter further asserted Swansea's authority with her second goal of the night as Hosford was picked out by Lake at the back post and nodded it back to the American for her to finish it.
Swansea City Ladies: Gemma Border, Ellie Lake, Jess Williams, Alicia Powe (captain) (Karmyn Carter 62), Ria Hughes, Laura Davies, Nieve Jenkins (Nia Rees 6), Kelly Adams, Stacey John-Davis (Chloe Tiley 75), Katy Hosford, Chloe Chivers.
Port Talbot Town Ladies: Emily Roberts, Becca Rees (Nia Probert 70), Terri Beddows, Chelsey Harris (captain), Kirsty O'Donnell, Coryn Sexton, Vicky Beddows, Jess Denscombe, Freya Davies, Maisy Fahey-Pennell, Caitlin Owen.