David Cotterill | One to Eleven
6th July 2020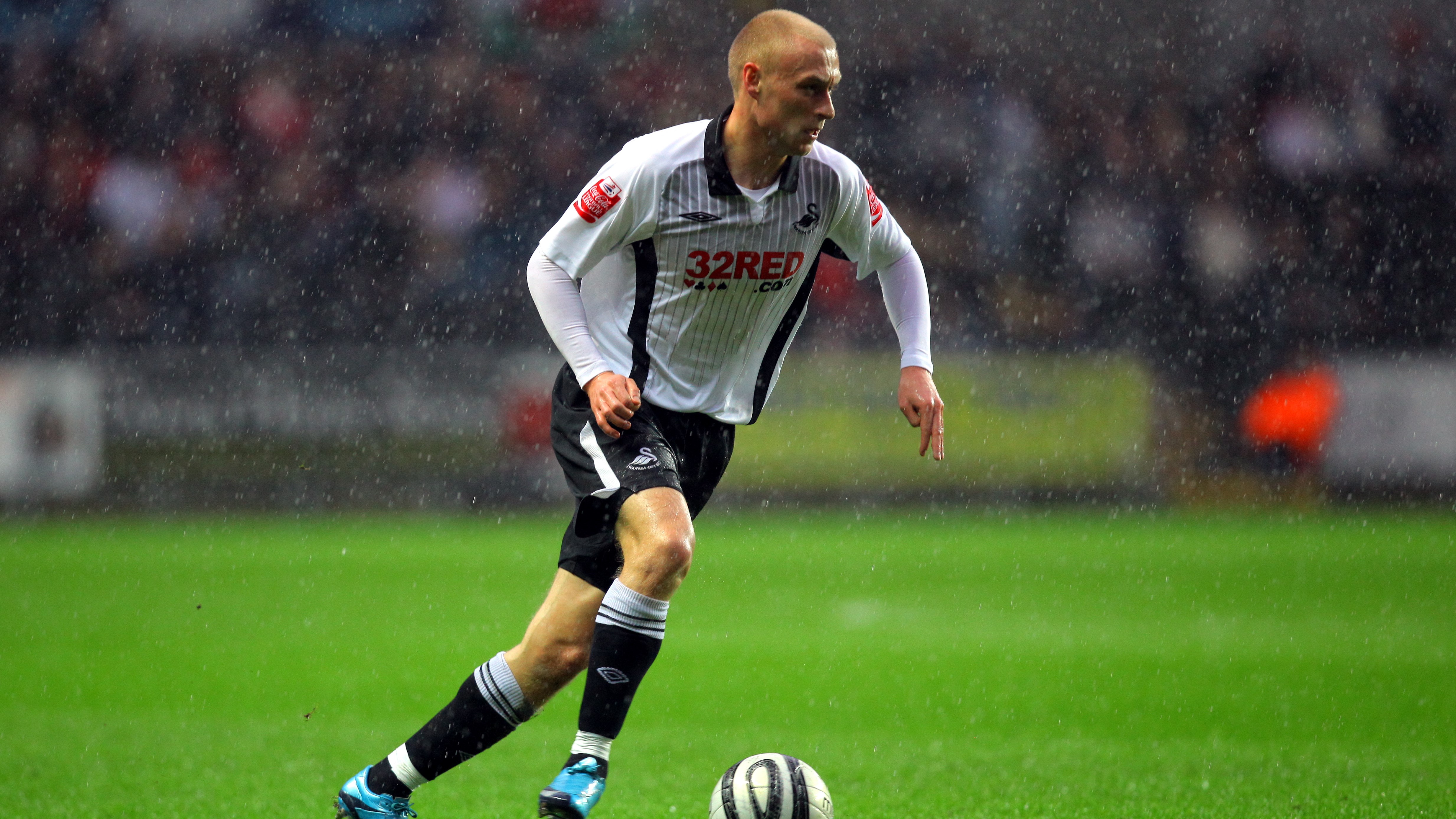 In a new feature, current and former Swansea City players turn manager and pick an XI from those they have played with and against. Next up is former Swans forward, David Cotterill.
Here, the former Welsh international has chosen to pick his side from players he played with and against at both for club and country throughout his career.
Formation: 4-4-2
GOALKEEPER: DAVID DE GEA
I'd have to say David de Gea is the best goalkeeper I have played against. His shot-stopping is amazing and his distribution with his feet is great too. I always like to have goalkeepers who can be both a good shot-stopper but can play well with their feet too. He knows how to build up play from the back rather than booming it forward. In terms of that, there aren't many technical goalkeepers better with their feet than him.
RIGHT-BACK: MAICON
I played against Maicon in a friendly for Wales against Brazil and he was unbelievable. It's close between him and Kyle Walker, as Walker is definitely the best right-back I have played with, but if we're combining both it has to be Maicon.
CENTRE-BACK: RIO FERDINAND                 
Rio always looked composed, I very rarely saw him get caught out. He was never seen diving into challenges because he just read the game so well. On so many occasions it just looked so easy for him. I loved watching him too, especially being a Manchester United fan myself.
CENTRE-BACK: JOHN TERRY
He is a great leader and is a great passer of the ball with both his feet. He's brave and a dominating player and led Chelsea to numerous titles.
LEFT-BACK: ASHLEY COLE
I played against him and I feel I actually did alright against him to be fair. But in terms of longevity and the career he has had, he's an amazing player. I played against Marcelo too but I think Ashley Cole edges it because he can defend and go forward. He's got a lot in his game.
RIGHT WINGER: GARETH BALE
I've got to put a Welshman in there. It was quite tough for me because I played against Rooney and I played with Giggs as well as a number of other great players too. I know he doesn't get the plaudits that he deserves but he has scored in a lot of Champions League games and has won the trophy a number of times. He's produced at the highest level and, from playing with him at Wales, it just made me realise that he is a superstar.
CENTRAL MIDFIELDER: PAUL SCHOLES
Scholes is one of the best players to have ever played in the Premier League. Whatever tempo he wanted to play at the team would follow and play at that tempo, so he would dictate the whole game. His range of passing was incredible too.
CENTRAL MIDFIELDER: STEVEN GERRARD
Gerrard is just an all-round unbelievable player. When I played against him he was exactly the same really, if he wanted to turn on the gas he would just turn it on whenever he wanted to.
LEFT WINGER: CRISTIANO RONALDO
I remember when I played against Manchester United at Old Trafford, I think it was 0-0 and we were actually doing alright but he came off the bench and scored two goals. He ripped us up! His longevity in his career and his stats right now are crazy, I think he's the best of all time.
STRIKER: RONALDINHO
Ronaldinho is probably the best player I have played against. He has unbelievable ability and is just an amazing player.
STRIKER: DIDIER DROGBA
Drogba had everything, he was quick, strong, good in the air, he could hold the ball up and could take people on. He scored vital goals and scored in probably every final when the team needed him. He produced week in week out.