Swansea City Community Trust launch online FIFA 20 tournament
12th April 2020
Foundation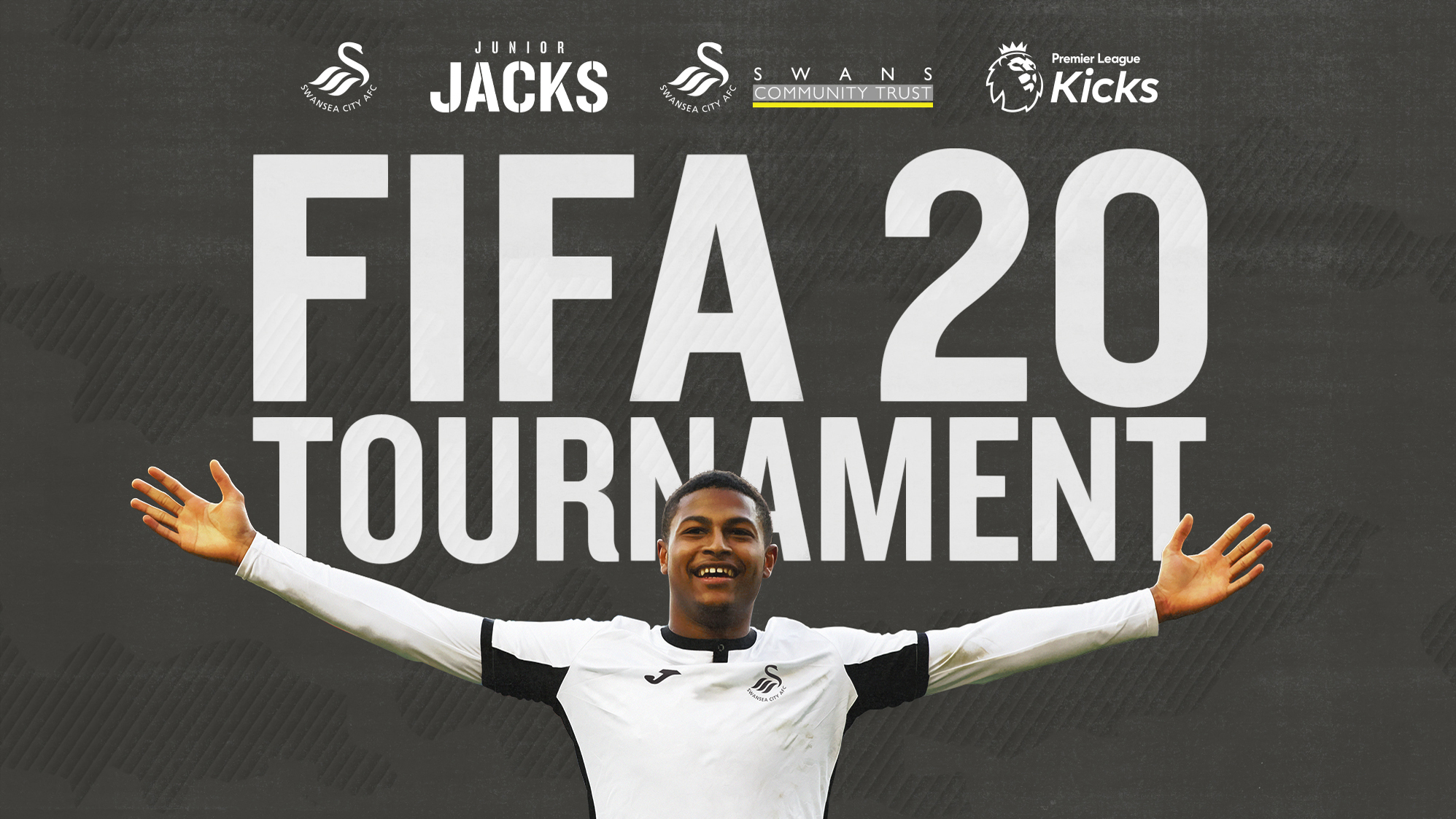 Swansea City AFC Community Trust are launching an online FIFA 20 tournament for Junior Jacks members and Premier League Kicks participants in a bid to engage with young people who are isolating at home.
Hosted and moderated by Community Trust staff, the FIFA 20 tournament will be a group stage and knockout-style challenge that allows participants with an Xbox One or PlayStation 4 to get involved and show off their FIFA skills.
Participants must be aged between 13 and 17 and be a registered member of either the Trust's Premier League Kicks sessions or the Swans' Junior Jacks scheme to take part.
Those who want to get involved will need their parent or guardian to register HERE.
Places will be filled on a first come, first served basis and participants will have until Friday, April 17 to sign up.
There are 32 spaces available – 16 for Xbox One and 16 for PlayStation 4 – so be sure to state your preference on the consent form provided.
The winner of the tournament (one from Xbox, one from PS4) will have the chance to play against a Swansea City player and will also win a signed copy of FIFA 21 when it is released!
Before you register your interest, please read and become familiar with our rules:
32 teams will play in total – 16 on Xbox One and 16 on PlayStation 4.

Games must be played within 24 hours of release and for proof, both players must report the score via a photograph sent to Corey@scfccommunitytrust.co.uk or via Facebook Messenger (@SwansCommunity).

Games must be played via Online Season not Ultimate Team to ensure this is fair for all.

You can select any team to play with for all matches you play.

Games will be six minutes each half – 12 minutes in total.

Any foul or abusive language through online chat must be reported to Corey@scfccommunitytrust.co.uk and will result in the offending player being dismissed from the tournament.

Using headsets during gameplay is not permitted.  It is the player's responsibility to not wear headsets. We cannot police this and therefore, cannot take any action if any foul or abusive language is reported. 

You must have all settings set to Default.

You can only pause the game if you want to make substitutions, otherwise it is not permitted to pause the game.

If your opponent doesn't play a designated fixture by choosing to opt out, you will automatically receive a 3-0 win.

In the group stage, players will be rewarded three points for a win, one for a draw, and no points for a loss.

You must use different coloured kits to your opponent to avoid clashing.

The final game will be played until a conclusion. If it's a draw at 90 minutes, extra time and penalties will be played.

The winner of the Xbox and PlayStation tournaments will have the chance to play a Swansea City FC player!
If you are below the age of 13, worry not, the Swans Community Trust are also inviting younger participants to get involved offline by sending in their best attempts at skill game challenges that will be set twice a week (Monday and Thursday) on their Facebook and Twitter pages.
To access the skill games section of FIFA 20, please follow the guide below:
On the FIFA 20 homepage, scroll right to the 'PLAY' section.

On the 'PLAY' section, select the 'SKILL GAMES' tile on the bottom right of the screen.

You will then see five categories of skill games: 'BASICS', 'PASSING', 'DRIBBLING', 'DEFENDING' and 'SHOOTING'.

Be sure to check our Facebook and Twitter pages to see what challenge we will be setting!

Note: when sending in your scores, please avoid publicising your online ID.
For any further queries, please contact Corey via email (corey@scfccommunitytrust.co.uk) or visit our Facebook and Twitter page (@SwansCommunity).