Swansea City re-launch Schools Project with Community Trust
9th February 2020
Foundation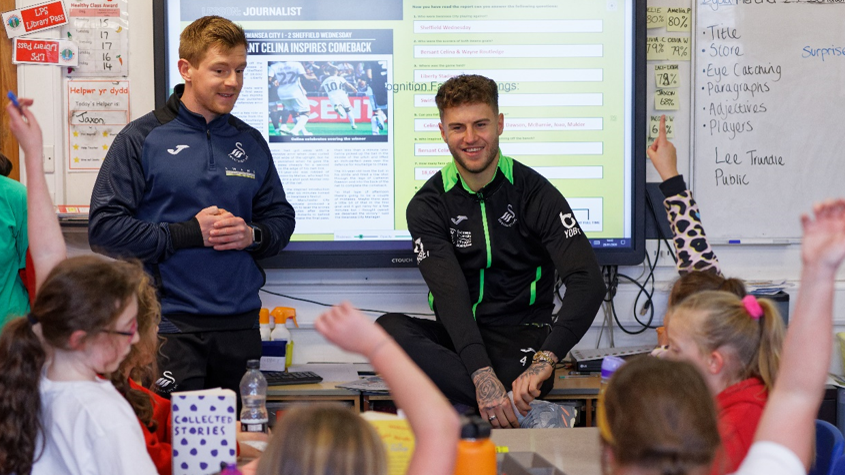 The Swans have linked up with the Swansea City Community Trust to re-launch a school project that unites players with pupils in the classroom across South West Wales.
The project sends Swans stars back to their old primary schools to discuss their journey with pupils, teaching them about community values and professionalism in sport.
It works closely with the Trust's Premier League Primary Stars programme, and it hopes to provide pupils with an understanding of the sporting world and the role literacy and numeracy plays within it.
Curtis Grant, primary education lead at the Community Trust, is excited to see this project once again in operation.
"I'm excited to see the impact that this project will have. It consists of a classroom lesson and a PE session delivered by Community Trust staff to a range of primary school pupils," he said. 
"The project is supported by club ambassadors, as well as first team and under-23 players to use the appeal of sport and Swansea City to inspire and engage pupils of all ages to become ambitious, fair and connected.
"Throughout the project we will work closely with a number of our partner schools across South West Wales to thoroughly implement its benefits to our local communities."
One of the players taking part in the scheme is Swansea and Wales star Joe Rodon, who visited the classroom in his old primary school, Llangyfelach, to talk about his footballing journey from concrete playgrounds to sold-out stadiums.
"It's crazy coming back here. I left in 2009 and I haven't been back since. It's weird for me, but it is lovely to come back", he said.
"It's been a pleasure chatting with the kids. They are all great and it's always nice to give back. For me, this is where it all started. I loved every minute of it.
"I wasn't the best footballer back in the day and there were many better players than me, but it's a long road and there are loads of changes along the way. It is all about patience and the opportunities that come along with that."
Through the collaboration between club and community, this school project will have a profound impact on how players interact with the community, inspiring the next generation to follow a similar path and make positive changes on how they interact with education.
For more information on this project, please contact Curtis Grant at curtisgrant@scfccommunitytrust.co.uk.