Young Swans win 'Fixture Within a Fixture' Tournament at Stoke
6th February 2020
Foundation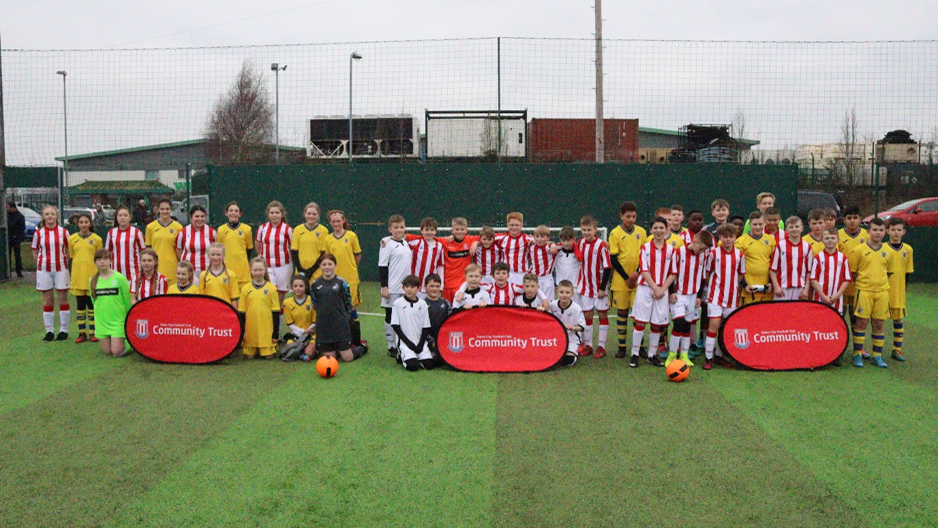 Representatives from Swansea City Community Trust's Premier League Kicks, Girls and Primary Stars programmes travelled to play a pre-fixture tournament against members from Stoke City's Community Trust on the day the club's senior sides faced each other in the Potteries.
The 'Fixture Within a Fixture' event is a partnership with Stoke City's Community Trust that occurs during every scheduled fixture in a Championship season, home or away. The partnership aims to deliver fun and engaging football sessions for young participants who get the opportunity to represent their clubs by donning their colours.
After several healthily competitive fixtures, our young Swans came out victorious as overall winners, with participants from the Trust's Premier League Kicks, Primary Stars and Girls projects all performing excellently on the day.  
Thanks to a warm welcome from Stoke City Community Trust, participants who shone throughout the tournament, both talent and attitude wise, were invited pitchside of the bet365 Stadium at half-time during our Championship fixture against the Potters to lift the trophy in front of thousands of supporters.
Jamie Thomas, Premier League Kicks co-ordinator at Swansea City's Community Trust, had nothing but praise for the event.
"The fixture within a fixture provides young people with memorable experiences and opportunities to develop as a young person," he said.
"Having the opportunity to represent Swansea City and to put on the kit is the highlight of their day and it is so rewarding to see the smiles and pride on their faces.
"To then go and experience a first-team match in the stadium and watch their role models is a feeling that not all young people are fortunate enough to experience and for many it is their first time in watching a live game or being away from their family, and even taking responsibility for themselves.
"So, thank you to Stoke for their hospitality and well done to all participants that represented the clubs and their families on the day."
For more information about the sessions the Community Trust deliver, please head on over to their Facebook and Twitter pages (@SwansCommunity).